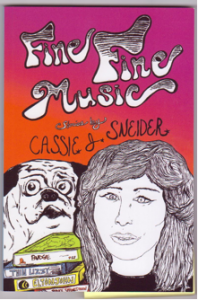 FINE FINE MUSIC is a collection of stories about the other side of rock and roll and coming of age in the land that time forgot. Lake Ronkonkoma is stuck in 1981, an alcoholic blackout of unnatually tan people waxing their Camaros to Foreigner on cassette and knowing the words to every Billy Joel song whether you want to or not. From an internship making Seamonkey costumes, a childhood fear of My Buddy dolls, and a heartbreaking crush on Aerosmith, funny lady Cassie J. Sneider delivers her tales of growing up in a land of fist-pumping Snookies with the antagonistic wit of a record store clerk.
Cassie J. Sneider grew up in the murky depths of Lake Ronkonkoma, New York, a town with a haunted lake, a trailer park, and a record store. She put 240,000 miles on a Toyota Echo doing readings all over the country. Cassie J. Sneider collects 8-tracks and new friends. You can catch her on the Sister Spit 2012 national tour. For more info: cassiejsneider.blogspot.com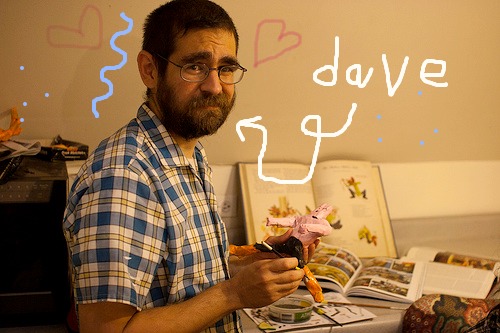 Dave Roche is the zinester behind such titles as On Subbing and About My Disappearance. He is a Quimby's favorite.
And now, one more name has been added! It's Danny "Ratso" Rathbun, who writes about openly and honestly about failed relationships, drugs and depression, but always with a wink and a smile. He runs a number of tongue and cheek columns like, 'Drunken Letters to Abstract Concepts', 'Copyrighted Material Used Without Permission', and 'Punk rock trading cards', that have drawn comparisons to Mad Magazine. Ratso's work has been printed in over twenty different newspapers around Virginia, including The Virginia Gazette, The Williamsburg-Yorktown Daily, and others.  He is a regular contributor to Grassroots magazine, and the Commonwealth Times.  He publishes the zine Don't Tread on Me, regularly performs standup comedy and gives readings across the state of Virginia, and is currently on a nationwide tour, doing readings across the country. For more info:  dtmzine.blogspot.com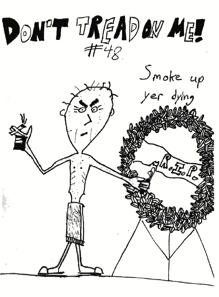 Sat, July 23rd, 7pm