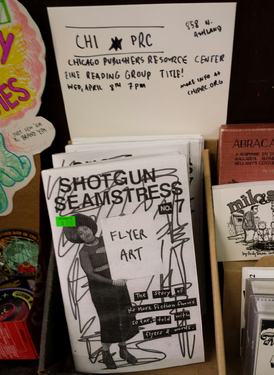 Off-site Event: Zine Reading Club at CHIPRC Discussing Shotgun Seamstress #7
Wed, April 8th, 7pm
at
The Chicago Publishers Resource Center (CHIPRC)
858 N. Ashland Avenue (not Quimby's)
$3 donation asked at the door
CHIPRC's Zine Reading Club gets together periodically to discuss and support zine culture. At each event, new self published zine and comic titles will be selected to read and discussed. This month's community partner, Stranger Danger Zine Distro select this month's work to read: Shotgun Seamstress #7 by Osa Atoe. In this issue, Osa shares her experience with booking woman-positive, queer-positive, all-ages DIY shows in New Orleans, detailing the joy and struggle found in organizing such a project. Don't forget, you can also bring in your favorite titles and come join the discussion! Pick up this month's comic here at Quimby's, with Stranger Danger Zine Distro or at CHIPRC  (while supplies last). Go to chiprc.org for more information. This event is NOT AT QUIMBY'S. It is at CHIPRC at 858 N. Ashland Avenue.