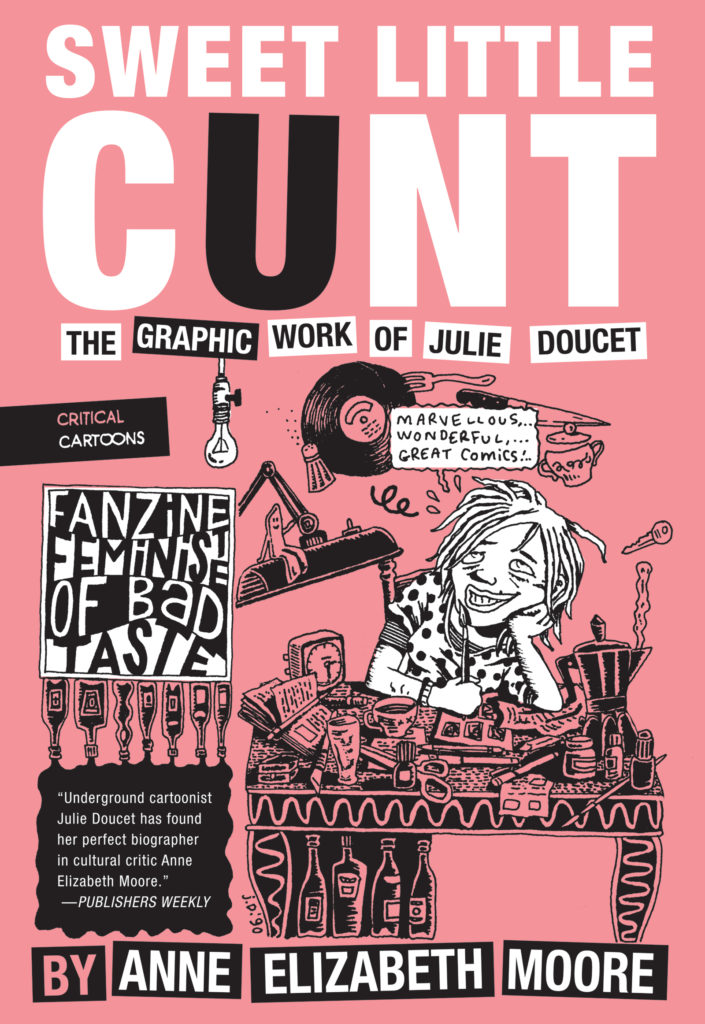 In Anne Elizabeth Moore's new book Sweet Little Cunt: The Graphic Work of Julie Doucet (Uncivilized Books), long considered one of the most influential women in American independent comics—although she left the field, and is Canadian—Julie Doucet finally receives a full-length critical overview of her work, from Anne Elizabeth Moore, a noted chronicler of independent media and critical gender theorist. Sweet Little Cunt is the first book-length critical analysis of a female cartoonist by a female theorist in the English language. It is a landmark production, both in Moore's unique and defiant analysis of Doucet's work, and the significance of a woman reorienting the entire dialogue around Doucet and comics in general, in a field that is so thoroughly and toxically dominated by men.
Anne Elizabeth Moore is an award-winning journalist, best-selling comics anthologist, internationally lauded cultural critic, and called "one of the sharpest thinkers and cultural critics bouncing around the globe today" by Razorcake, a 'general phenom' by the Chicago Reader, and "a critic" by the New York Times. She is the former editor of Punk Planet and the Best American Comics series from Houghton Mifflin, as well as a Fulbright Senior Scholar. Her book Unmarketable was named Best Book of 2007 by Mother Jones. Body Horror is on the Nonfiction Shortlist for the 2017 Chicago Review of Books Nonfiction Award and was named a Best Book of 2017 by the Chicago Public Library. She teaches at the School of the Art Institute of Chicago and the College for Creative Studies. Quimby's would like to congratulate Ms. Moore on her new position as editor of the Chicago Reader!
John Porcellino was born in Chicago in 1968, and has been writing, drawing, and publishing minicomics, comics, and graphic novels for over twenty-five years. His celebrated self-published series King-Cat Comics, begun in 1989 and still running, has inspired a generation of cartoonists. He lives in Illinois. His most recent book is From Lone Mountain, which collects stories from King-Cat Comics.
About Body Horror by Anne Elizabeth Moore:
"[D]evastating in its unwillingness to flinch … Body Horror is an incredible, touching, intelligent collection that looks beyond what's comfortable to examine what is true."
– Foreword, Five Star Review
Sat, Nov 1st, 7pm – Free Event
For more info:
emma(at)uncivilizedbooks(dot)com
Facebook Invite for this Event