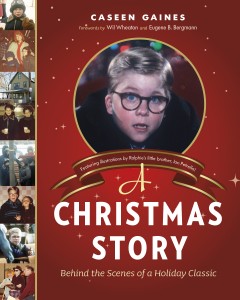 Calling all A Christmas Story fans! Award-winning author Caseen Gaines (Inside Pee Wees Playhouse) is returning to Quimby's Bookstore to discuss and sign copies of his brand-new book, A Christmas Story: Behind the Scenes of a Holiday Classic with special guest Ian Petrella, who played Ralphie's little brother Randy Parker in the film!
This definitive guide to everything fans want to know about A Christmas Story shares the inside story behind the film's production, release, and unlikely ascent to the top of popular culture. In conjunction with the 30th anniversary of its theatrical release, this is the untold story of the making of the film, and what happened afterwards. Complete with rare and previously unreleased photographs, now fans of the movie and film buffs alike can learn all they didn't know about the timeless classic.
"Fans of the film — and film fans in general — will love this book. Extremely detailed and immensely fun to read, Caseen Gaines' book only adds to the magic that is A Christmas Story. Expertly told in a style and tone that would make Jean Shepherd and Bob Clark proud." — Michael Ambers, producer of the TV Guide's The Cast of A Christmas Story: Where Are They Now
For more information about A Christmas Story, visit www.facebook.com/AChristmasStoryBook
For press inquiries, contact Jenna Illies, jenna(at)ecwpress(dot)com

*Celebrate National Doughnut Month with Quimby's that day too with coffee (from Big Shoulders Coffee!) and doughnutty treats! This event kicks off The 12 Weeks of Quimbas, and this is our first gift to you!
Saturday, October 12, 7:00pm