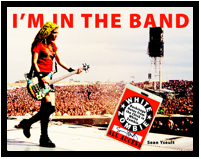 Art rock? Noise rock? Punk-metal? Alternative? White Zombie may have been unclassifiable, but it didn't stop them from carving out a place for themselves in music history. The band became a multi-platinum, two-time Grammy nominee with the release of their 1992 album, La Sexorcisto. But while most people will remember their bizarre look and macabre lyrics, what many failed to realize was that their lanky, high-octane bass player was a woman.
I'm in the Band charts White Zombie's rise from the gritty music scene of New York's Lower East Side in the eighties to arena headliners during the nineties alternative-explosion that followed in Nirvana's wake, while sharing the unlikely story of a female musician who won the respect and adoration of male metal musicians and fans. From 1985 to 1996, Sean Yseult was the sole woman not only in White Zombie, but in the entire metal scene: bands, roadies, managers, you name it—with the exception of girlfriends and groupies, Yseult was in a world by herself.
With I'm in the Band, Yseult combines eleven years of tour diaries, flyers, and personal photos and ephemera—many featuring rock icons such as Lemmy Kilmister, Iggy Pop, Joey Ramone, and Lux Interior—into a striking visual memoir. She offers fans a unique vantage on the life of a mega-band during rock's last golden age.
Sean Yseult played bass and wrote music for White Zombie from its inception in 1985 through its breakup over a decade later. Since then she's played with Famous Monsters, Rock City Morgue, and The Cramps; exhibited her photography in galleries across the country; and formed the design company Yseult Designs. She divides her time between New Orleans and New York City.
"This book has more good stories than a salty old sailor:  tattoos, evil deeds and alcohol breath included!"
-CJ Ramone, The Ramones
For more info: seanyseult.com
Monday, April 4th, 7pm
********************
Tuesday, April 5th, 9pm
And then the next night, April 5th, we'll be selling books at Delilah's where Sean will  be guest DJing!
Metal Shop at Delilahs, Chicago's longest-running metal DJ event, is excited to announce that on Tuesday April 5th, former WHITE ZOMBIE bassist SEAN YSEULT will guest DJ! Sean Yseult and DJ Platz will also have rare White Zombie items to giveaway, along with 5 hours of the best in new and classic metal and hard rock!
Delilahs
2771 N. Lincoln Avenue. Chicago
773-472-2771
Metal Shop is from 9pm-2am, the first Tuesday of each month. As always, NO COVER.
For more information:
delilahschicago.com
seanyseult.com