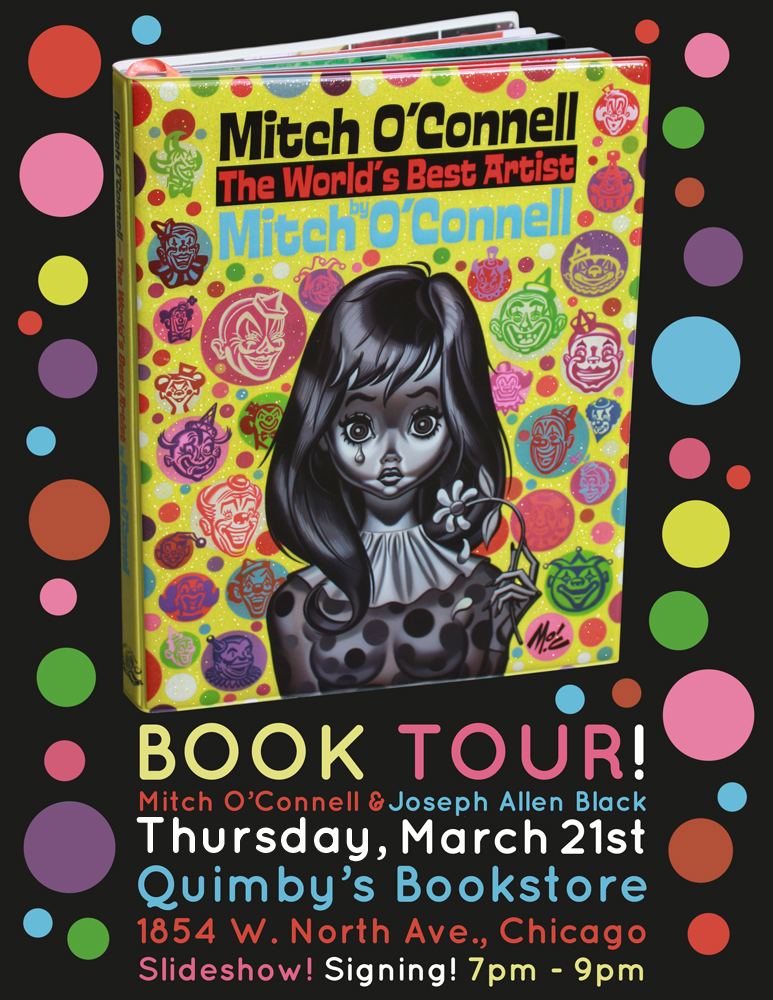 Humorous and masterful, Mitch O'Connell: the World's Best Artist by Mitch O'Connell, (Last Gasp Publishing) is a career-spanning retrospective of work from the king of kitsch, Mitch O'Connell. This full-color, 284 page tome—resplendent with a foam-filled, vinyl, glitter-enhanced cover—collects all the good stuff (the crappy art is under lock and key) from this prolific pop artist. If you appreciate the finer things in life, such as beehives, boobs, and big-eyed kittens, you will not want to miss this book.
 "I am stunned by how remarkably talented he is … I've been jealous of him for over 30 years!"-Mark Frauenfelder, Boing Boing
"What David Lynch might read to his kids at night! Great!" – Boston Globe
Mitch O'Connell's work has been featured in such places as: Playboy, The New York Times, Rolling Stone, The New Yorker, GQ, Entertainment Weekly, Newsweek, and Juggs. He has made campaign art for Coke, McDonalds, KFC, Kelloggs, and more. His tattoo designs can be found on bodies belonging to people with impeccable taste the worldwide. His previous books include Mitch O'Connell Tattoos, Pwease Wuv Me, and Good Taste Gone Bad.
Mr. O'Connell will  be joined by the book's designer Jospeh Allen Black.
For more info: mitchoconnell.com  lastgasp.com and jospehallenblack.com
Thursday, March 21st, 7pm – Free Event