The store Printed Matter in New York reaches out. If you want to support the importance of print, take a look at this e-mail from Printed Matter's executive director James Jenkin.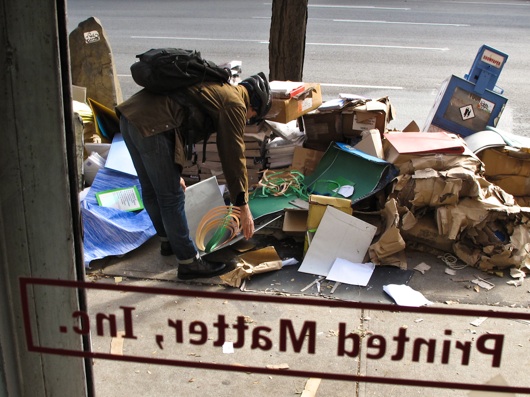 Dear Friends of Printed Matter,
On behalf of the whole team here at Printed Matter I wanted to say thanks to the many of you who have reached out over the past few days–the response has been a bit overwhelming. I'm sorry we have been unable to respond directly to everyone, but I wanted to update everyone briefly on the situation here. Like much of Chelsea, our non-profit store was hit rather hard. While thankfully we were spared ground-level flooding, our basement storage facility took on more than 6 feet of water and as a result we have lost a sizeable amount of our inventory, including large quantities of Printed Matter publications, fundraising editions, as well a range of other stock, much of historical interest and value.
Unfortunately, the Printed Matter Archive was also badly damaged, a portion of it irretrievably. Compiled since the organization's founding in 1976, the archive held important documentation pertaining to the field of artists' books as well as a record of the non-profit's own history. This included early ephemera relating to exhibitions and programming that was important to the field, printed catalogs featuring now rare artist books, and correspondence between the organization's founders. In addition, an extensive collection of slides and photographs providing a visual history of the organization's programs and activities was also damaged, including, notably, a full record of the window exhibition program organized by Lucy Lippard. About 20 boxes with archive material deemed to be possibly salvageable has since been sent for emergency conservation. While we are hopeful these efforts will be successful, we expect that it will be a difficult and costly process.
And yet, while this has been a difficult week, the overriding feeling at the shop today has been a positive one. During the week we have received a humbling show of support from artists in the community, local gallerists, ex-employees, present and former interns, passersby, our non-profit peers, and other volunteers. Friends and strangers have biked in and walked from Brooklyn and elsewhere to lend a hand with the daunting and rather messy clean up. This has meant so much to us. We would also like to thank those who have sent messages of support from all over the world. It has been of great comfort to hear that our small organization means so much to so many people.
We have also been grateful for the kindness shown by individuals and organizations that have already approached us to offer support in various ways. Many others have asked how they can help. While we are still wading through the mess, getting a full sense of the damage, and planning our next steps, we do know that our first hope is to save what we can from the archive. We would like to see this material digitized, so that it continues to exist in some form, even if the printed version has been lost to water and mold. If anyone would like to contribute towards this urgent initiative, please feel free to reach out to me directly, or contributions are kindly accepted via our website, using the "donate" button on the right hand side.
Rest assured we are working hard to get Printed Matter open as soon as possible and are hopeful this will be soon. You will have to please excuse the mess (which is far worse than our usual).
I hope you are all getting by okay. We know many others in our community have been equally affected and Printed Matter wishes everyone the best getting back on their feet.
Sincerely,
James Jenkin
Executive Director