Many of the events experienced by the main character of Rebekah Mercuri's debut novel echo the true-life experiences of the author, who herself, was involved in a Christian Cult.
Weeding the Seeds of Deceit is a story of Hope Locker, a young woman seeking closure to the haunting and vivid memories of an impoverished life, beginning with the manipulations and contradictions from a Christian Cult her parents joined in her youth.  When the prophet of the cult threatens their lives, the family escapes to Texas to live with Hope's paternal grandfather. The deep affliction her parents feel from dragging the family into such annihilation leads them down an even more despairing and destructive path. Despite the cult experience, Hope maintains her faith through prayer, and music later becomes her sole outlet from life's chaos, and provides her with the inspiration to follow her dreams.
REBEKAH MERCURI is a writer and mother of two. She had a unique and nomadic childhood as a member of a Christian cult. Her experiences inspired her to pen her debut fiction novel, Weeding the Seeds of Deceit. Mercuri was born in Anaheim, California and was educated at Columbia College Chicago, where she received a Bachelor's degree in Fiction Writing. She also holds an Associate's degree in Marketing and Business Management from Cincinnati State Community College. She resides in Chicago, Illinois and is currently working on a her next novel.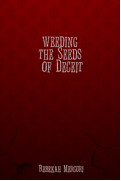 Thurs, Sep 15th, 7pm