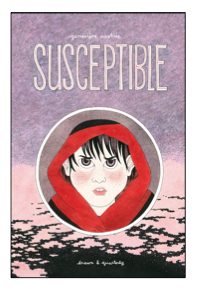 Goglu is a daydreamer with a young working mother, a disengaged stepfather, and a father who lives five thousand miles away. Drawing, punk rock, and the promise of true independence guide Goglu to adulthood while her home's daily chaos inevitably shapes her identity. Susceptible is a devastating graphic novel debut by Geneviève Castrée about the heartbreaking loss of innocence when a child is forced to be the adult among grownups
Praise for Geneviève Castrée:
"With mesmerizing honesty Castrée resurrects the obscenely disorienting turning points of a childhood, the ones that haunt a person for a lifetime. After reading the last page I closed the book and wept a little bit about its simple, perfect ending." –Miranda July,authorofitchoosesyouand noonebelongsheremorethanyou
"[Castrée] offers three connected minimalist fables dreamily portraying a young woman's reactions to depression, domesticity, and mother hood in delicate watercolors that, thanks largely to her keen graphic skills, made them whimsical without being cloying." –Booklist
"[Castrée's work], illustrated in a delicately watercolored style that suggests Richard Scarry in the throes of an Edward Gorey obsession, is an episodic
meditation on love, belonging, and personal identity. The visual metaphors for depression and home will break your heart; the care taken with their rendering will join the broken pieces back together on every page." —The Austin Chronicle
GENEVIÈVE CASTRÉE was born in Quebec. She has been drawing since the age of two. Castrée lives and works in the Pacific Northwest, where she makes visual art, and records and plays music under the name Ô PAON.
For more info, see quimbys.com
Preview the book here.
Sat Feb 16th, 7pm – Free Event