"We fight illegal advertising using the rule of law," Rami Tabello says when asked to describe the Toronto organization he founded to fight criminal billboards, Illegal Signs. It's funded through donations and Tabello's gambling take—a crazy support system for a group that spends a lot of time scrutinizing city bylaws and calling in complaints to the proper authorities. Tabello's been called both "a fearless advocate for public space" and "annoying" by Toronto city residents and elected officials. He'll present his work fighting—and beating—corporate criminals at Quimby's in Chicago, a city with a massive illegal advertising problem of its own.
Tabello is presented by Chicago author Anne Elizabeth Moore on the occasion of the re-release of the underground hit The Manifesti of Radical Literature (MRL). Out of print for over a year, MRL is an anarchist style guide for cultural producers, with chapters on such foundational political acts as throwing away one's dictionary, creating one's own system of punctuation, and refusing to abide by the language imposed upon us by corporate entities. Also, it is funny and of a pleasing form and light heft, perfect for spiriting away in one's back pocket for an evening of street stenciling or shopdropping. The expanded second edition, features a new Introduction and Afterword­ and improved jokes. Moore's Unmarketable received favorable reviews in Forbes, the LA Times, Advertising Age, and the Guardian, and was called "an anti-corporate manifesto with a difference" by Mother Jones and "sharp and valuable muckraking" by Time Out New York.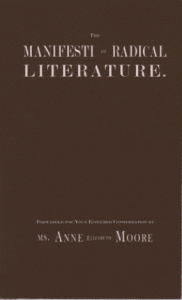 Come hear about the work of Illegal Signs, pick up a copy of MRL, and meet Tabello and Moore at 7 p.m. on Friday, November 12.
For more info: