A children's book made #1 this week?! That's crazy. But true.
Also! Here's footage from an event here at Quimby's for the Continuum's 33 1/3 series about albums of the past 40 years. This event on 9/17/11 featured NIU prof Joe Bonomo who did a book about AC/DC's Highway to Hell, Editor-in-Chief of Pitchfork Media Scott Plagenhoef who did a book about Belle and Sebastian's If You're Feeling Sinister, and managing editor of Pitchfork Mark Richardson who did a book about the Flaming Lips' Zaireeka. The footage below is of Mark Richardson reading from his book and then attempt to sequence the four CDs of the album to play simultaneously. Click on the image below and go watch it on YouTube.
1. Counting In The Studio by Cecilia Pinto and Megan Williamson  $10.00 – This attempt to show the process of creative expression to young readers. A dog lives with an artist who has also depicted her own studio in the book. Inside the studio it is possible to stare out windows just like those in the book. The studio, at the back of the artist's home, is nestled on a side street in a Chicago neighborhood. The artist and the writer met at the studio to talk about the project before and after making their own separate work. The dog was always present and lent his inestimable support even when napping on the comfy, pillow-strewn chaise lounge which is up against a wall with drawings on it, just like in the book.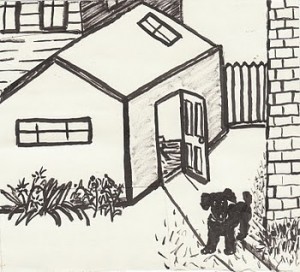 2. Spoken Nerd Revolution by Shappy Seasholtz (Penmanship) $15.00
3. Mister Wonderful: A Love Story by Daniel Clowes (Pantheon) $19.95
4. Gentlewoman #3 Spr Sum 11 $10.95
5. Burn Collector #15 by Al Burian (Microcosm) $3.00 – Al Burian takes on his new home town, Berlin with a little help from a Chicago All-Star team of Anne Elizabeth "Unmarketable" Moore and Liam "Secret Beach" Warfield.
6. Archiving the Underground #1 by Jenna Brager and Jami Sailor $2.00
7. OP Original Plumbing #6 Trans Male Quarterly $8.00 – The theme this round is "Schooled", highlighting a twin commitment to both the "It Gets Better" and the "Make It Better" campaigns targeted at queer youth.
8. Cartooning Philosophy and Practice by Ivan Brunetti (Yale) $13.00 – This is about as close you are going to get to having Ivan Brunetti come to your house and teach you how to make great comics. Turns out, it's pretty damn close – Philosophy and Practice serves up a concise and well-honed crash course on finding and fine tuning your comics voice. -EF
9. Hi Fructose #19 $6.95
10. Hot Teen Slut by Cristin O'Keefe Aptowicz (Write Bloody) $15.00