1. X'ed Out HC by Charles Burns (Pantheon) $19.95 – Ever wonder what would happen if Charles Burns took over drawing TinTin? Today's your lucky day, punk. You like eggs, don't you? It was nice seeing all of you who came out to meet Charles Burns when he was here. Here's proof he was here!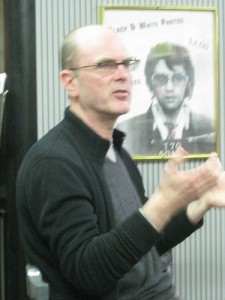 2. Exquisite Book 100 Artists Play a Collaborative Game by var. (Chronicle) $29.95 – The design dream team behind Also has somehow coordinated 100 of their favorite artists to participate in ten huge fold-out exquisite corpses. It means you get a little bit of everyone, and a whole lot of a whole lot with some amazing inadvertent collaborations erupting. -EF
3. Gaylord Phoenix #5 by Edie Fake $4.00 – A new issue from our Edie! Don't miss the book release for his book of the same title Dec 9th!

4. Acme Novelty Library #20 Lint by Chris Ware (D+Q) $23.95
5. Straight To Hell #67 $6.00 – Anonymous reader submitted high-raunch gay sex stories – Feels like heaven to me.
6. Juxtapoz #118 Nov 10 $5.99
7. Trubble Club vol 4 by Trubble Club $3.00 – A new offer from this local alternative comics collective.
8. Brilliant Mistake #1 by Carrie $1.00 – What a gem of a debut zine! Beautifully quilted together from bits of a questioning heart, Brilliant Mistake #1 pares down the aches of the social games we play. -EF
9. Scam #7 The Return of Miami by by Erick Lyle $3.25 – Back to the weird Miami wildness goes Scam, straight into the Belly of the Basel, back through the Memory Maw of the Free Trade of the Americas Agreement protests, and then rounding off the issue with a scene report from Miami's badass squatters rights movement. Kinda leaves you awestruck, pummelled and breathless. -EF
10. Brilliant Mistake #2 – Carrie's second issue lays it bare, rips it raw, burns, shreds and begins to rebuild a devastated heart. Reading Brilliant Mistake #2 cuts to the chase and takes you right there – that place of the furious senselessness of love in tatters – and through reading it you sort out your own wreckage. Trial by fire, and feeling it hard. -EF