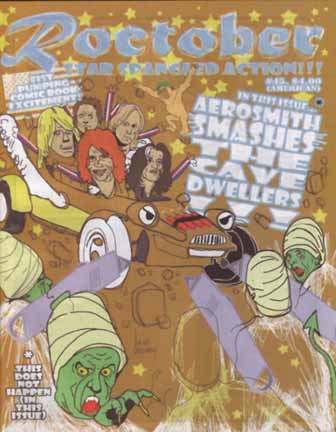 Wow what a week. I think Erotic Harry Potter Vol 1 may have out sold Watchmen! Guess we will find out on Monday when Liz does the top ten. Not a lot of new stuff but what we did get is quality. New Doris. New Thomas Frank Book. The second oversized volume of Little Nemo. Wow!!!
New Stuff Aug 9th 2008
Zines
Doris #26 $2.00
Tabu Tattoo #37 $6.99
We Are Haunted by Daniel Prinkl $10.00
Artyfucked #5 Heft 999 $9.00
Comics & Graphic Novels
Little Nemo in Slumberland Many More Splendid Sundays Vol 2 $125
DMZ vol 5 Hidden War by Brian Wood $12.99
Concatenations Autobiography In Comics by Ryan Claytor $12.00
Stinky by Eleanor Davis $12.95
Comics Comics #4 $2.95
Buffy the Vampire Slayer #17 $2.99
Art of Herge Inventor of Tintin 1907 1937 $39.95
New Books
Wrecking Crew by Thomas Frank $25.00 How Conservatives Rule
Street Legends Vol 1 by Seth Ferranti $15.00
Cheech & Chong Unauthorized Biography by Tommy Chong $23.95
Peter Saul $55.00 New Monograph
Sonora Magic Market Mexico City $25.00 Botanica, Black Magic and More!
Long Way Gone by Ishmael Beah $12.00 Memoirs of a Boy Soldier
Better Angel by Chris Adrian $23.00
Porn and Erotica
Burning Angel $44.95 Joanna Angel and punky frisky friends make you blush!!!
Super Beauties Nude and Natural $44.95
Housewives At Play Alone With Me $9.95 New book of saucy drawings
Gifts and Stuff
Tons of different Moleskine now available!