Awesome thingy of the week:
Big Questions Extras Outtakes and Random Scraps Book Tour Zine Thing by Anders Nilsen $5.00 – Our buddy Gabe up in Brooklyn at Desert Island hooked us up with this VH-1 Behind the Music of Chicago-based comics superstar Anders Nilsen's masterpiece Big Questions. Not to be missed, and not easily found in lots of other places. -LM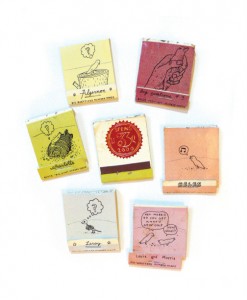 ZINES & ZINE-RELATED BOOKS
Negative Insight #1 by Aaron and Erik SN $6.50
Waiting Slowly for Death by Leto (Bongout) $28.00
Map #4 Floods Manual of Architectural Possibilities $10.27 – MAP aims to merge science and research on one hand, and architectural design on the other. Research and data on one page, and architectural projects on the other. This issue deals with the spatial implications of inundation, presenting projects in The Netherlands, Italy, the US and the Maldives. A phenomenon that crosses multiple boundaries and scales, flooding can occur in seconds or hundreds of years, surface from multiple directions, be natural or artificial in origin, of water, mud or even molasses. Intro by architect Peter Cook.
Jenny Shimizu: The Life and Times of Butch Dykes vol 3 #2  by Eloisa Aquino $6.00
Martina Navratilova: The Life and Times of Butch Dykes vol 3 #1 by Eloisa Aquino $6.00
All Hands On THE2NDHAND after 10: 2000-2011 A Reader ed. by Todd Dills $16.00 – Thanks to everybody who came out to the release event for this anthology earlier this week, which collects pieces from this celebrated broadsheet, founded here in Chicago. Head autour Todd Dills, who in the past has been known to read from a novelized version of Dukes of Hazzard in front of audiences here at Quimby's, came back for this book's release. Yes, we have a few issues available of THE2NDHAND in our free zine area, but for maximum enjoyment, a collection of older pieces are collected in this fancy volume. – LM
Summoning Sickness #1 by Adrienne Kammerer $7.00
Walk #1 by Laura Curley $10.00
Melted Light #1 by Jesjit Gill $7.00
Tim Tadabrucki #1 by Adam Buttrick $5.00 – The adventures of mushroomy, oozing, crying little Tim Tadabrucki, in a land that looks like The Residents would feel at home. -LM
Serial Killers Unite #8 $2.00 – No (edible) bones about it, this one's for all mayhem-intrigued  true crime "fans." Letters from serial killers for reals. All sorts of things run through one's mind when reading it, the least of which, it's not surprising we always sell out of this zine when it comes in. Is it exploitation? Shocking? Strangely "normal" prisoner correspondance? Descriptions of killers you haven't heard of? Do you feel dirty and freaked out reading it but then you can't put it down? Is "entertaining" a dirty word for this? Are we hard-wired to take pleasure in gossip but then we experience cognitive dissonance because we don't want to seem shallow so we call it a "sociological document?" The answer to all these questions: YES. Come get your copy now. -LM
Mana Leak #1 by Patrick Kyle etc. $5.00
Regional  An examination of American Cuisine #1 Spr 11 and #2 Sum 11 by Cassie Tompkins $8.50 each
DB Drawing Book by Daniel Blumberg $10.00
Carpet by Leland Meiners $6.00
Statelines by Leland Meiners $8.00
Whet #1 by Ryan Dodgson $6.00 – Geometric fantasy shapes, brown ink. Satisfying.
Savage Messiah by Laura Oldfield Ford (Verso) $29.95 – London's less-than-exquisite social realities as drawn in the black-and-white, cut 'n' paste-style zine  Savage Messiah. Part graphic novel, part artwork, the book is both an angry polemic against the marginalization of the city's working class and an exploration of the cracks that open up in urban space.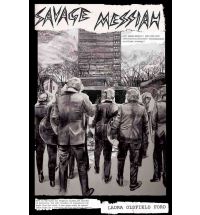 COMICS and COMIX
Sexy Guns by H. Reumann (Bongout) $28.00
Von Vorne Is Auchalles Schick by Franzizka Schaum (Bongout) $25.00
Issues of Retard Riot by Noah Lyon $2.00 – #37-40: A variety of people show up in Noah Lyon's comics: ABBA, Britney Spears. A weird conglomeration of pop culture references and little kid humor: a drawing of what looks like Smurfs! With the words "The Diaper Hat Four" underneath. And he often has guest drawers like Mat Brinkman and Brian Chippendale. Lyon's work is always bizarre, but strangely compelling. We also sell 1″ buttons by him here, which often solicit guffaws, bragging "I am farting right now" or "I beat up Henry Rollins" with a Black Flag logo. You're not gonna find that at no big box store.
Valentine Comics by ES Olsen $5.00
Portrait in 3 Months #1 by Sara T. $5.00 – Awfully cute! Profound in it's minimal petiteness, with maxims of truth like "Honesty is the best fallacy." You want this. Too bad stocking stuffers aren't a year round tradtion. – LM
GRAPHIC NOVELS and TRADE PAPERBACKS
MetaMaus: A Look Inside a Modern Classic, Maus by Art Art Spiegelman (Pantheon) $35.00 – An inside look at the 25 year anniversary of the Pulitzer prize–winning Maus. Includes a bonus DVD that provides a digitized reference copy of The Complete Maus linked to a deep archive of audio interviews with his survivor father, historical documents, and a wealth of Spiegelman's private notebooks and sketches.
Frank Book by Jim Woodring (Fantagrtaphics) $34.99 – Jim Woodring's collection of Frank comics compiled in one book, now in soft cover.
Mail Order Mysteries: Real Stuff from Old Comic Book Ads by Kirk Demarais (Insight) $19.95
Nuts by Gahan Wilson (Fantagraphics) $19.99
Post-It Note Diaries: 20 Stories of Youthful Abandon Embarrassing Mishaps and Everyday Adventure  ed. by Arthur Jones (Plume) $15.00 – Personal stories from an all-star lineup-immortalized in beautiful, black Sharpie(r). When former Chicago local Arthur Jones cocreated a reading series centered around ubiquitous Post-Its(r), the series struck a chord. It grew in popularity and was ultimately featured on a This American Life live simulcast broadcast across the nation. Inspired by the series and spanning a wide and weird range of topics from an A-list roster of contributors, Post-It(r) Note Diaries captures everyday occurrences from a job interview gone hilariously awry and a nude run-in with a neighbor to hair-raising events like an overnight encounter at Nicholas Cage's house (it's not what you think!), and nearly drowning while trying to paddle across the East River in a homemade canoe. Post-It(r) Note Diaries is perfect for NPR addicts and fans of unique graphic favorites like Postsecret and Blankets.Diarists include: John Hodgman, David Rakoff, Hanna Tinti, Arthur Bradford, Chuck Klosterman, Andrew Solomon, Starlee Kine, Kristen Schaal, Mary Roach and Andrew Bird.
Fantastic Four 1234 by Grant Morrison and Jae Lee (Marvel) $19.99
Walking Dead Book Seven by Robert Kirkman etc. (Image) $34.99
All Star Superman TPB by Grant Morrison (DC) $29.99
ART & DESIGN BOOKS
Tatt Book Visionaries of Tattoo by  JK5 and Carlo McCormick (Universe) $29.95
Amazing Everything the Art of Scott C (Insignt) $24.99 – With a foreward by Jack Black.
MAYHEM & MISC
Negropedia: The Assimilated Negros Crash Course on the Modern Black Experience by Patrice Evans (Three Rivers) $14.00 – Suitable for all melanin levels.
Empire of Death: A Cultural History of Ossuaries and Charnel Houses by Paul Koudounaris (Norton) $50.00 – Fantastic bone-encrusted creations, religious masterpieces of art created from human bone, mummified or skeletal remains lovingly dressed.
3 rule-realted books! What's up with that?! Guess we're all about minding our manners this week, drinking tea with our pinkies up!
1. How to Behave a Guide to Modern Manners by Caroline Tiger (Quirk) $14.95 – Share elbow space on an airplane armrest? Contend with road rage? Position yourself when boarding a crowded elevator? A guide to proper behavior in the twenty-first century.
2. Great Typo Hunt: Two Friends Changing the World One Correction at a Time by Jeff Deck and Benjamin D. Herson (Broadway) $14.00
3. Divination by Punctuation by Craig Conley $9.95 – Punctuation in tarot decks! There is much to say about it.
FICTION
Lightning Rods by Helen DeWitt (New Directions) $24.95
Best American Nonrequired Reading 2011 ed. by Dave Eggers and Guillermo Del Toro (Mariner) $14.95
Ghost Lights by Lydia Millet (Norton) $24.95
Saamaanthaa by DT Neal $19.99
Rector and the Rogue by W.A. Swanberg (Mcsweeneys/Collins Library) $18.00
DIY
Microcrafts: Tiny Treasures to Make and Share by Margaret McGuire etc. (Quirk) $16.95
MUSIC BOOKS
Strangest Tribe: How a Group of Seattle Rock Bands Invented Grunge by Stephen Tow (Sasquatch) $18.95 – The 20th anniversary of Nirvana's Nevermind is being celebrated with a number of grunge retrospective books, including this one. -LM
House of Cash: Legacies of My Father, Johnny Cash by John Carter Cash (Insight) $39.95
MAGAZINES
Randy #2 by AK Burns and Sophie Morner $8.00
Fortean Times #280 Nov 11 $11.99
Dazed & Confused vol 3 #2 Oct 11 $9.99
Uncut Nov 11 #174 $9.99
CHILDRENS BOOKS
Operation Alphabet, Ministry of Letters by MacCuish, Lozano, Bletsas (T&H) $19.95
Nina In That Makes Me Mad by Hilary Knight and Stven Kroll (Toon) $12.95
SEX & SEXY
Book of Kink: Sex Beyond Missionary by Eva Christina (Perigree) $14.00
POETRY
Some Math by Bill Luoma $14.95
Passion For Apathy: Collected and Rejected Poems by Vittorio Carli $10.00
OTHER STUFF
Quimbys Patch $5.00 – Our Quimby's logo patches are 3? round and printed by our roller derby friends down the street at Broken Cherry. Heat-adhesive, 4 color beauties. They will be available on our website soon, but for now, ya gotta come in and get 'em here in person. Guess you'll just have to come in and say hi!


Tape Recorder Photo Print Bag $16.00 – They took the word cassette out of the OED! Protest the digital revolution and show off your analog sensibility. The irony is that we're writing about it here on our blog! -LM
Extra Small Tape Dispenser $8.00 – For extra small street teams hanging extra small flyers. -LM