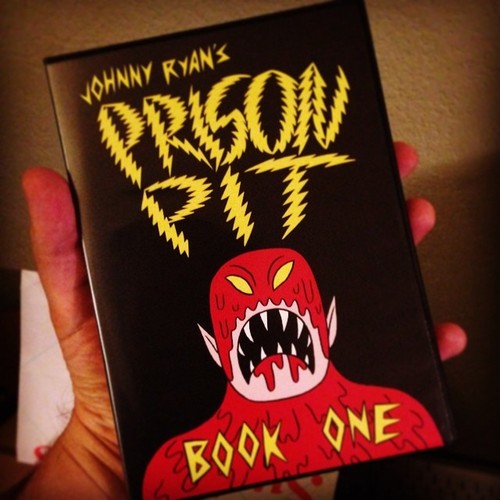 Prison Pit book 1 DVD (Six Point Harness) $9.99 – Includes the uncensored animated adaptation of Johnny Ryan's PRISON PIT: Book One (monster men beating the living shit out of each other) and the bonus feature, PRISON PIT: The Fuckumentary.
Zines

KerBloom #109 Jul Aug 14 And Back Again by Artnoose $2.00 – Have three cabinets of letterpress type, will travel. Artnoose leaves Pittsburgh for Berkeley.
Seemingly Endless Line of Random Thoughts Strung Together in Short Story Form by Dan Gleason and Theresa Currie $3.00
Let Down #3 Punk Rock Fanzine by Blake Karlson $2.00
Guck #1 Melbourne Music Zine $5.00
Horror Haiku #2 by Kathryn $1.00
Touch and Go vol 2 novel in increments by Lisa Quintero $4.00
Circle Hills #1 World Apart by Benjamin Castle $2.00
Miley Zine Cherchez La Femme by Jen Rickert $1.00 – Yes, as in Cyrus.
Comics & Minis


You Don't Get There From Here #30 by Carrie McNinch $3.00 – This issue of Carrie's memoir comic in diary form, you'll read all about things like fighting the new home blues, omnipresent belly fat, cats, running, Disneyland, new car buying, twerking (not being able to), her trip to Oaxaca to celebrate Dia De Los Muertos plus much, much more.
Chips #1 and #2 A Tale of Lust by Hamish Storrie $2.00 each
Squaby #1 by Elizabeth Kordeluk $5.00
The Anthropologists by Whit Taylor (Sparkplug) $6.00
Prophet Strikefile #1 by Brandon Graham $3.99
Dumb issues #3-#5 by Georgia Webber $8.00 each
Force Majeure #1 by Keenan Marshall Keller (Drippy Bone Books) $6.00
Treasure Island #2 by Connor Willumsen (Breakdown) $16.00
Graphic Novels & Trade Paperbacks
The Hospital Suite by John Porcellino (D&Q) $22.95 – Don't miss John Porcellino here at Quimby's on 9/27 at 7pm!
Distance Mover by Patrick Kyle (Koyama) $20.00 – Collects pieces published originally published in installments from May 2012-August 2013. Don't miss Patrick Kyle at Quimby's on 10/2 at 7pm (with Simon Hanselmann, Michael DeForge!)
In a Sense Lost and Found by Roman Muradov (Nobrow) $19.95
Shoplifter by Michael Cho $19.95
Cringe an Anthology of Embarrassment, ed. by Peter Conrad (Birdcage Bottom Books) $8.00 – With contributions from Cara Bean, Box Brown, Jeffrey Brown, Chris Carlier, Peter Conrad, Chad Essley, Andrew Farago, Shaenon Garrity, Delaine Derry Green, Gabby Schulz, Sam Henderson and more.
Cyanide and Happiness: Punching Zoo by Kris Wilson, Matt Melvin, Rob Denbleyker, Dave McElfatric (It Books) $14.99
Adventure Time TPB vol 5 by Chris Houghton $14.99
Misadventures of Dreary and Naughty by John LaFleur and Shwn Dubin $14.99
Mutiny Bay by Antoine Cosse (Breakdown) $24.99
Flowering Harbour by Seiichi Hayashi (Breakdown) $17.99
Gardens of Glass by Lando (Breakdown) $24.99
Art & Design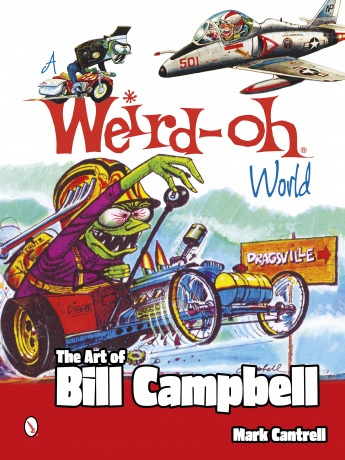 A Weird-Oh World: The Art of Bill Campbell by Mark Cantrell (Schiffer) $39.99 – From his early days painting model box tops for the Hawk Model Company to his invention of the iconic Weird-Ohs model kits, national ad campaigns and editorial cartoons, Bill Campbell has continued to create some of the most unique artwork the world has seen. Now much of that work has been gathered into one volume that traces the entire arc of Bill's career, including his connection to the Manhattan Project, an initiative that may well have saved his life. Much of the art is presented here for the very first time.
Skulls Sticker Bomb by Studio Rarekwai (Laurence King) $24.95 – Latest edition in the Stickerbomb series, this time around SKULLS.
Fiction
Hard Boiled Detective #1 by Ben Solomon $13.95
To Touch The Sun  by Laura Enright $11.99
Music Books
Let's Talk About Love: Why Other People Have Such Bad Taste ed. by Carl Wilson $19.95 – For his 2007 critically acclaimed 33 1/3 series title, Let's Talk About Love, Carl Wilson went on a quest to find his inner Céline Dion fan and explore how we define ourselves by what we call good and bad, what we love and what we hate. The original text is followed by lively arguments and stories from Nick Hornby, Krist Novoselic, Ann Powers, Mary Gaitskill, James Franco, Sheila Heti and others.

33 1/3 books including: Sonic Youth's Daydream Nation, MBV's Loveless, Public Enemy's It Takes a Nation Of Millions To Hold Us Back, Danger Mouse's The Grey Album, Aphex Twin's Selected Ambient Works vol 2, Portishead's Dummy, Gang Of Four's Entertainment, Richard Hell and the Voidoids' Blank Generation and more.
Essays
No Future for You: Salvos from The Baffler, ed. by by John Summers, Chris Lehmann and Thomas Frank (MIT Press) $27.95 -The counternarrative you've been missing, proof that dissent is alive and well in America. Contributors include: Chris Bray, Barbara Ehrenreich, Susan Faludi, Thomas Frank, Ann Friedman, Anne Elizabeth Moore, and more.
Of Dice and Men: The Story of Dungeons and Dragons and the People Who Play It by David M. Ewalt $16.00 – The story of D&D, now in cheap soft cover so nerds won't feel bad about spilling pizza and Coke on it in the basement at mom's house.
Kids Stuff
Cast Away On the Letter A: A Philemon Adventure by Francoise Mouly (Toon) $16.95
Magazines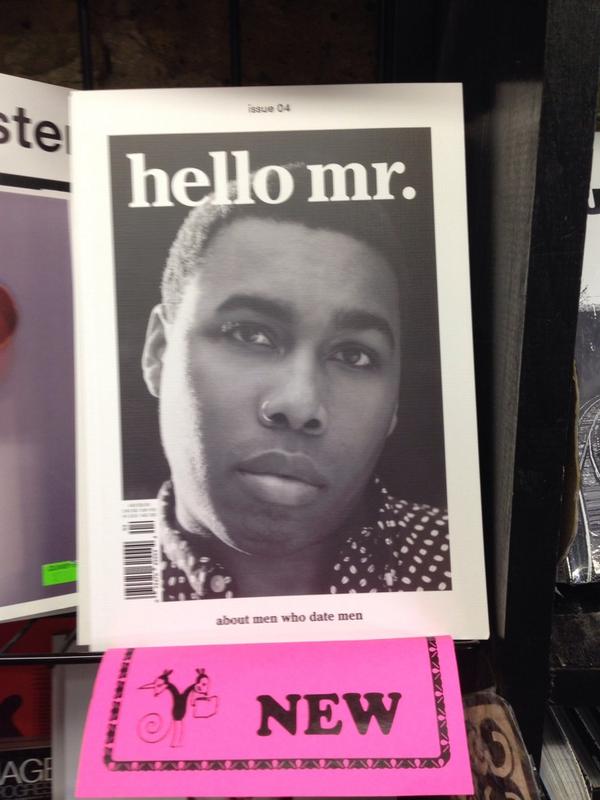 Hello Mr #4 About Men Who Date Men $20.00
The Great Discontent #1 $32.00