CAKE Digest 2015 $10.00, ed. by Paul Nudd. with all sortsa folks like Onsmith, Lale Westvind, Krystal DiFronzo, Keith Herzik and more!
Zines
SO MUCH NEW STUFF since Chicago Zine Fest was this past weekend & all the scrappy zinesters were in town! Thanks to everybody who came by & said hi!!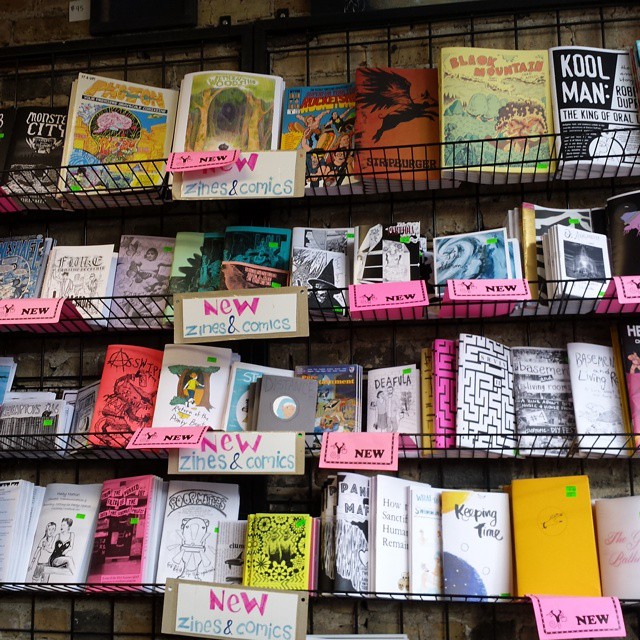 Masculinities: Interviews by Cindy Crabb $4.00 – Interviews with Shane Parish, Brontez & more!
Gnostic Unified Liberation Front by Lane Williams $1.00
Rainy Day Activity Books: Twin Peaks and X-Files $4.00 each
The Corrections: Jonathan Franzen by Taylor (Pegacorn Press) $5.00 – On Franzen's book. Not like, the book itself. Only 150 made!
East Village Inky #55 by Ayun Halliday $3.00
Wure by Zachary Bizzarro $5.00
Mineshaft #31 Spr 15 by Everett Rand $9.00 – Crumb, Spiegelman, Billy Childish and more!
Dark Matter Collected – Daily Drawings January and February 2015 by Michael R. Heck $8.00
Astronomy Tales and Truths by Elena Franck $10.00
Deafula #8 by Kerri Radley $3.00 – The relationships issue.
This Will Help by Leah Wellbaum $10.00 – Photo zine about dolls!
Asswipe #5-#7 by Vanessa Asswipe $2.00 each
Rad Rag Your Flow is Fly by Nyxia Grey $3.00
Did That Hurt? Self-Advocacy for a Safe and Awesome Tattoo Experience by Nyxia Grey $4.00 – Created by a couple that owns a tattoo shop!
Girls Bathroom by Caroline Tompkins $7.00
Astronomicon by Steve Rogers, King Felix & Captain America $3.00
Basements and Living Rooms, issues #4 & #5 $3.00 each – About DIY music, house shows & DIY festivals.
Cheap Toys #16 $2.00
Poop Matters #1 by Shira Mario $3.00
Gnawbone vol 3 by Mooncasket $5.00
Clumsy #8 by Kara Comegys $1.50
Year Of the Scape Goat by Morgan Claire Sirene $5.00
What To Keep What to Give Away #2 $3.00
Hoax #9 Feminisms and Embodiments by Rachel $3.50
Pander Mafia Twenty Year Anniversary Tribute Zine by Mimi $5.00
Haay Hottie Consent Communication and Boundary Setting in Party Spaces by Rachel $1.00
From the Punked Out Files of the Queer Zine Archive Project $5.00 – Stuff from the QZAP Zinesters Residence Program.
Rumpy Pumpy #3 by Milo $3.00
Us Amazonians: A Kristy MacColl Fanzine $3.00
Dig Deep #7 Tongueswell #3 split by Heather & Jen $2.00
I Have Nothing Special to Draw #3 $2.00
Cretins of Distortion #6 $4.00
Srviv #2 by Jonas, with work from Adam Gnade, Rust Belt Jessie & John Jughead Pierson & more $3.00
Hex Key #2 $2.00
Motor City Kitty #24-#26 $2.00-$3.00
Radical Domesticity #5 Food and Friends $3.00
Skinned Heart #6 by Nicole Gomez $3.00
Hard To Look At by Emma Karin Eriksson $3.00 – Zine about acne.
O Avalanche #4 Cybernetic Revolt and Communicating by Wheelhouse $3.00
Why You Will Live vol 1 Why You Will Die vol 1 $3.00
BFF Big Fat Femme by Lauren Melissa $3.00 – Also don't miss by Melissa a few other  new titles including Fat In Public $3.00 & Oh It Aches and Tears: Real Talk on Pet Death and Getting Through $3.00
Plus various Cometbus restocks!!!
Comics & Minis
Sleazy Slice #8 by Robin Bougie $6.00
Black Mountain Crab Apples by Henry Guerra $8.00
Golden Age Of Souvenirs by John Orth (Pegacorn Press) $6.00
Primordial Cooch by Caroline Paquita (Pegacorn Press) $6.00
Fluke Fanzine #12 Presents Loisada by Bobby Madness $5.00
Many Mysteries of Inspector Scrambles by Katari Sporring $2.00
Perfidia #1 by Xin Xu $5.00
Dream Lifes and Dust Collectors by Mary Ruth Butterworth $2.00
Weak Chin #1 Comics Feb 15 by Steve Schaberg $3.00
Return of the Panty Beast by Gabi Mendez $5.00
What to Wear While Swimming and Bathing: A Western Historical Overview by Erin Dreis $5.00 – Also by this artist with Victoria Harley: How to Sanctify Human Remains $5.00 – Cool illustrations of and facts about ossuaries!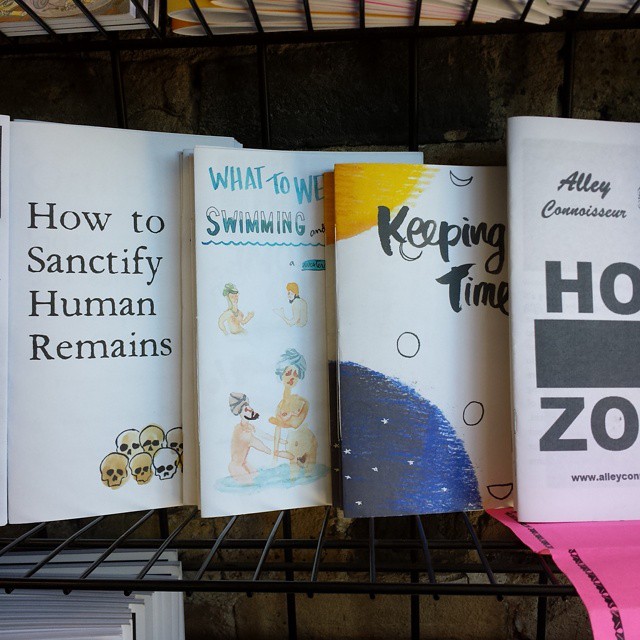 Life Is Posers vol 3 a Hard Days Oi $5.00
Transparent Metaphor Comics by Kat Tuesday $5.00
We Are Not Who We Are: An X-Files Fanzine $8.00
Any Other Time #2 by Nick Kuntz $2.00
Storm Signal #1 by Mike Madsen $5.00
Within the Woods by Elyah Oster-Bainnson $7.00
Monster City #1 Phantom & #2 Dreamer by Timothy Compton & Aaron Nicholson $5.00 each
Helper Bot, various issues by Jeff Gibbons $6.00 each
Ei Muistikuvaa I Don't Remember by Bendik Kaltenborn $12.00
Orbiters Prism by Drew Miller (Neoglyphic Media) $5.00
Love Wins #12 aka Spider Palace by Jazor Spark (Neoglyphic Media) $1.00
Field Guide to the Leafy Seadragonish by Shin Yin Khor (Sawdust Press/Center For Otherworld Science) $4.00
Potluck Battle anthology $5.95
Graphic Novels & Trade Paperbacks
Wuvable Oaf by Ed Luce (Fantagraphics) $29.99
AAMA vol 3 the Desert of Mirrors by Frederik Peeters (Self-Made Hero) $19.95
Trash Market by Tadao Tsuge (D&AQ) $22.95
Hasty Pastry vol 1 by Ali Cantarella $20.00
Impressions by Aiden Koch $15.00
Adventure Time Sugary Shorts vol 2 Mathematical Edition by Pendleton Ward $24.99
Fiction
Familiar vol 1 One Rainy Day in May by Mark Z. Danielewski $25.00
Colorless Tsukuru Tazaki And His Years Of Pilgrimage by Haruki Murakami $15.95 – Now in soft cover.
The Ghost Network by Catie Disabato $16.95
Church of Marvels by Leslie Parry $26.99
Confabulist by Steven Galloway $16.00
Almost Crimson by Dasha Kelly $15.95
How Some Abuelitas Keep Their Chicana Granddaughters Still While Painting Their Portraits In Winter, Short Stories by Myriam Gurba (Manic D Press) $15.95
Music Books
First Collection of Criticism by A Living Female Rock Critic by Jessica Harper (Featherproof) $17.95 – Don't miss Jessica Harper here at Quimby's on 5/29!
Sex Guides/Culture & Erotica
Love Not Given Lightly: Profiles From the Edge of Sex by Tina Horn $14.95
Come to My Brother by Danny Wylde & Christopher Zeischegg $14.95
Cement by Jesse Clark $5.00
Lonesome Cowboy #1 Sean by Johnny Murdoc $12.00
Spunk #10 $9.00
Humor
Boo by Neil Smith $14.95
George Washington Is Cash Money: A No Bullshit Guide To the United Myths of America by Cory O'Brien $14.95
Mayhem
Crack, Rap and Murder:: The Cocaine Dreams of Alpo and Rich Porter Hip-Hop Folklore from the Streets of Harlem by Seth Ferranti $15.00 – From the Street Legends series.
Most Dangerous Animal of All: Seaching for my Father Finding the Zodiac Killer by Gary L. Stewart and Susan Mustafa $15.99
DIY
Life Hacks: Helpful Hints to Make Life Easier, More Than 130 Amazing Hacks by D
an Marshall $15.99
Politics & Revolution
When the Word Becomes Flesh Language and Human Nature by Paolo Virno (Semiotexte) $17.95
Militant Anti Fascism: A Hundred Years of Resistance by M. Testa (AK Press) $18.95
Magazines
Juxtapoz #173 Jun 15 $6.99
Super Market #5 Representation Invisibility $14.00
Man About Town #16 Spr Sum 15 $19.99
High Times Jul 15 $5.99
Cereal vol 9 Travel and Lifestyle $27.95
Dazed and Confused vol 4 Sum 15 $10.95
Tank Moto #6 $15.00
Fader #97 Apr May 15 $5.99
Lit Journals & Chap Books
Armchair Shotgun #5 $12.00
Chicago Review vol 59 #1 #1 $18.00
Evolution of the Skeletal Bird by Jenna Citrus $15.00
Ladies Night In by Caroline Tompkins $7.00
Homo Ludens by May Jernigan $5.00
Other Stuff
Cards Against Humanity First Expansion Pack $10.00 – The people have spoken: the resounding cry is that they want is Expansion Packs for Cards Against Humanity.
"Cosmic" Lined Notebook $12.00