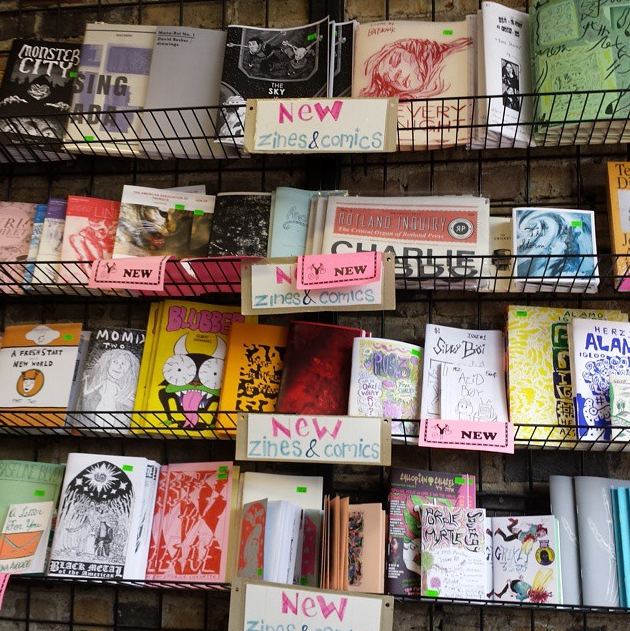 Usually we get about 75 new items a week. With CAKE being last weekend, we have over 150 new items! This list is but only a sample!
Zines
Fallopian Falafel #16 by by Hadass S. Ben-Ari $3.00
Purple Myrtle Squeegy #10 Apr 2015 A PMS Perzine $1.50
Best of Gene Lubin $1.75 Excerpts from the author's best lesser-known novels.
After the Ball: A Zine about Sir Andrew Lloyd Webber's Cats by Paul Reilly $4.00
Chasing Posada: A Macabre Populist in the City by Ryan Standfest $10.00
Mono Rot #1 by David Becker $6.00
Projected Gore Monstrous Mothers the Sublime and Inside a L'interieur by Piss Off Productions $7.00
Alamo Igloo #23 2015 by Keith Herzik $12.00 – Mad scientist-artist Keith Herzik's 2015 screenprinted zine offers a collage of shapes and colors that pop and gurgle. There's even different sizes of paper bound in. Is it possible to convert a candy shop to a screenprinted zine? Because that's apparently the alchemy that Herzik possesses. Who knows what goes on in his mind? Best not to ask, only appreciate. -LM
War is War is War #2 by Jason File $3.00
Acid Boy by Matt Z. $.50
Journal of Aesthetics and Protest #9 Spr 15 Tectonic Disobedience $20.00
Comics & Minis
Sky is Falling: A Short Comic About Interstellar Philosophy and Eggs and Eryn Williams $2.00
Every Night by Batskank $7.00
Rotland Inquiry #1 Charlie Hebdo, edited by Ryan Standfest / designed by S. William Schudlich $10.00 – The Critical Organ of Rotland Press in tabloid form, by editor/publisher Ryan Standfest, straight outta Detroit. With critical essays and art examining the content of and media responses to the French weekly "Charlie Hebdo." With contributions by Stéphane Blanquet, Hugleikur Dagsson, D.B. Dowd, Mort Gerberg, Jeet Heer, Danny Hellman, David Hughes, Paul Krassner, Mark McKinney, Tony Millionaire, Leigh Phillips, Martin Rowson, Johnny Sampson, Mahendra Singh, Art Spiegelman and Matthias Wivel.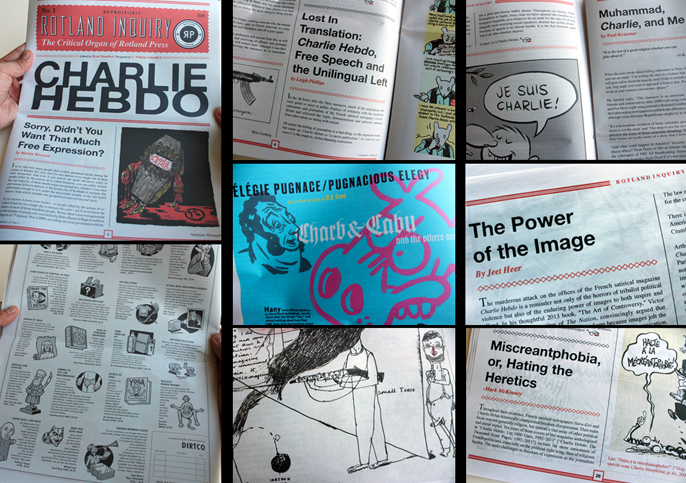 Providence Comics Consortium comics: Buddies 2015 Yearbook Anthology $8.00, PCC Showcase, various issues, $5.00 each: #16 Invisible Toilet, #17 (With Alison Rutsch & Brendan Tobin), #20 Washington Park Library Sep 2014, Sparkle #1 Apr 15 by Arthur Middleton & Caitlin Cali, Math Warriors #1 Kill All Math Haters Always Pet Cats, Baboon Banana Dog and Other Stories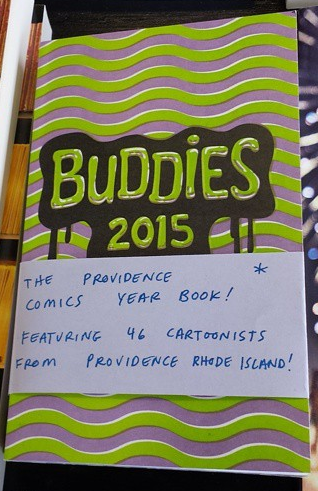 New Nightmare and Sleepy in Borrowed Time by Peter Faecke $4.00
Titan #1 Francois Vigneault (StudyGroup) $4.95
Twenty First Century Tank Girl #1 by Jamie Hewlett and Alan Martin $3.99
It Will All Hurt #1 by Farel Dalrymple (StudyGroup) $8.00
Secret Voice #2 by Zack Soto (StudyGroup) $8.00
Blubber #1 by Gilbert Hernandez (Fantagraphics) $3.99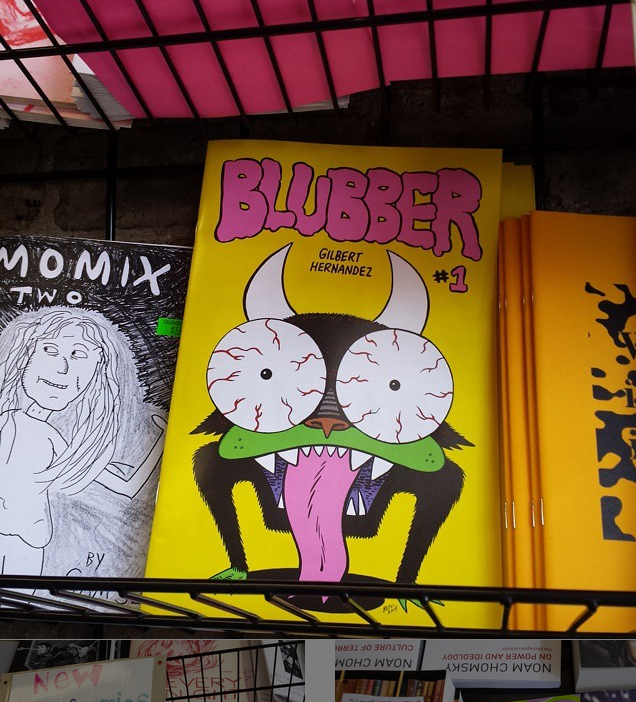 Baseline Blvd by Emi Gennis $8.00
Cricket $10.00
A Letter For You by Fiona Avocado $4.00
Poly Glot Cunning Linguist Love Life Comics by Hazel Newlevant $3.00
If This Be Sin s by Hazel Newlevant $10.00
Goodbye Or the State Of Nature by Ben Passmore $5.00
Hello Stranger Travel Comics by Robin Ha $7.00
Brandon's Car World by Eddy Rivera $5.00
Ley Lines $5.00 each: Thank God I Am in Love by Cathy G. Johnson, Unholy Shapes by Annie Mok, Golden Smoke by Warren Craghead
Butch Pony Tail #2 by O. Hovarth $5.00
Then What by Robyn Jordan $4.00
Lyric Sheet by Kevin Czap $1.00
Inaction Comics #1 Productivity by Anderson Kimball $12.00
Cyanide Milkshake #6 by Liz Suburbia $2.00
various issues of Rotland Dreadfuls, $4.00 each: vol 2 #1 Red Swan by Marc Brunier-Mestas, vol 1 #4 Make It Look Fancy by Gregory Jacobson, Trie Scream Pig Trie by Chris Cilla, vol 1 #7 Headlines by Onsmith & Sanya Glisic
A Giant's Rant by Jo Dery $3.00
New issues of Coin Op, $6.00 each:The Morning After the Day the Music Died & Dial Nine For an Outside Line
Culture Guide by Faye H. Kahn $8.00
Space Opera #1 & #2 by Sam Szabo $2.00 each
Blown Away #1 by Alyssa Jo Varner $5.00
Soft Violence by Danielle Chenette $7.00
Its Still Happening a Sequel by Theora Kvitka $5.00
Lightning Peach Trees by Alex Kostiw $4.00
Cum Lung issues #1-#3 by Aaron Manczyk $4.00 each – Time traveling in a, erm, adult fashion.
Grixly issues #32 & #33 by Nate McDonough $2.00 each
Plush #3 by Brett Maning $5.00 – Tasty treat! It's the third installment of Brett Manning's uber cutetastic, colorful, magickal and fun minicomic Plush. Replete with mystical beings, trippy fruit and sassy critters, this drippy installment may just give you a toothache, friend. Find your true self with a quiz worthy of a witchy version of Sassy mag entitled "are you perhaps maybe actually a magical, ethereal being?" A spirited yet refined sugar rush.-NY
Hi Mom I'm Going to Chicago by Hanna Pirita Lehkonen $2.00
Graphic Novels & Trade Paperbacks
Finnish comics!: Without You by Hanna Pirita Lehkonen $7.00, Hirsute Hazard $15.00, Team Parvelo 5 v Artbook anthology $10.00, Lepakkoluola $15.00
Grip: The Strange World of Men by Gilbert Hernandez (Dark Horse) $19.99
Adventure Time: The Flip Side by Pendleton Ward $19.99
Art Masters Series: Pablo by Julie Birmant& Clement Oubrerie (Self-Made Hero) $27.50
Eat That Toast by Matt Czap $19.95
Towerkind by Kat Verhoeven (Conundrum) $15.00
Mike's Place: A True Story Of Love Blues and Terror In Tel Aviv by Joshua Faudem & Jack Baxter (First Second) $22.99
Fiction
My Eyes Are Black Holes by Logan Ryan Smith $10.00
Household Spirit by Tod Wodicka $26.95
Book of Numbers by Joshua Cohen $28.00
Hieroglyph: Stories and Visions For a Better Future ed. by Ed Finn and Kathryn Cramer $15.99 – Stories by authors such as Cory Doctorow, Gregory Benford, Elizabeth Bear, inspired by the author Neal Stephenson, an anthology of stories, set in the near future.
Viral by Emily Mitchell $15.95
Humor
English is Not Easy: A Visual Guide to the Language by Luci Gutierrez $18.00
Neighbors From Hell: An American Bedtime Story by Jan Frel & Jon Dolan, illustrations by Taras Kharechko (Feral House) $14.95 – Neighbors From Hell finds itself nestled in the "children's book for adults" niche in the vein of Go the F*ck to Sleep. The book tells the story of the real life monsters in America who could be living next door, people like a repo man, a reality TV star, or a slumlord.
Essays & Memoirs
Brooklyn the Black by Asha Veal Brisebois $13.00 softcover or $24.00 hard cover
Preparing the Ghost: An Essay Concerning the Giant Squid and Its First Photographer by Matthew Gavin Frank $14.95
Mayhem
Working Stiff: Two Years, 262 Bodies, and the Making of a Medical Examiner by Judy Melinek MD MD and T.J. Mitchell $16.00
Feral Cities: Adventures with Animals in the Urban Jungle by Tristan Donovan $16.95
DIY
Paper Ninja: Thirteen Easy to Make Ninjas, Plus Full Sized Master Killer Dojo and Weapons by Daniel Stark and Chris Carfolite (PowerHouse) $14.95
Politics & Revolution
2 Noam Chomsky titles from Haymarket Publishing! Culture of Terrorism $19.00, On Power and Ideology: The Managua Lectures $16.00
Magazines
Bitch #67 $6.95
Majestic Disorder #4 $18.99
Laphams Quarterly vol 8 #3 Sum 15 $17.00 Philanthropy
Hip Mama #57 $5.95
Little White Lies #59 Truth and Movies $12.99
Shock Cinema #48 $5.00
Atlantis Rising #112 $6.95
Ladygunn #11 Wiz Khalifa the Discovery Issue $9.99
Cannabis Now #15 $7.99
Victory Journal #9 Youth $16.00
Modern Farmer #8 Sum 15 $7.99 – Did you hear the news? The new goat!
Monocle vol 9 #84 Jun 15 $12.00
The Big Takeover #76 $5.99
Man of the World #12 Michael Huisman $20.00
Lit Mags
Ninth Letter vol 12 #1 Spr Sum 15 $14.95
Brick #95 Sum 15 A Literary Journal $15.00
The Oxford American #89 Sum 15 Fiction Issue $6.95
Sexy
Meat #17 $20.00 – Men in and out of their trousers while in and out of the shower and pools while in and out of each other! Plus: a Q & A with The Backyard Boys Harley McGuire and Dearon South, who agreed that the one thing that would improve their quality of life is a swimming pool in the backyard. I couldn't agree more. But it would be nice if they were in it. -LM