Kelsey Brookes: Psychedelic Space (Gingko Press) $60.00 – Kelsey Brookes is a trained biochemist, and this book consists of pieces based on the molecular structure of subatomic particles of, you guessed it, hallucinogenic drugs. Guess what else that will blow your mind? HE HAS THOSE MOLECULAR STRUCTURES MEMORIZED. My brain is falling out of my head just thinking about this. Oh! And! It has gatefold spreads, a sticker sheet, and a clear molecular overlay on one of the LSD pieces so you can see how the molecules match up with the painting. There's another booklet bound within (books inside of books, like a fucking fractal). There's even some glow-in-the-dark business here. If this isn't all enough to melt your mind, there are essays by Hamilton Morris, Leoni Bradbury, Richard M. Doyle, and a visual essay by Ryan McGinness, as well as a dialogue with Kelsey Brookes by Anthony Kiedis. 

Check out them stickers!!!!
Zines
Proof I Exist #21 by Billy McCall $3.00
Self Care Zine Food $10.00
Solo #1 $5.00
Born Dead: The Artwork of Adam Niemara $10.00
Comics & Minis
Lauren Ipsum #5 by Roman Muradov $5.00
Snail Comix Presents Snail Bro #0 $4.00
Graphic Novels & Trade Paperbacks
Saga TPB vol 5 by Brian K. Vaughan and Fiona Staples $14.99
Terror Assaulter (O.M.W.O.T.) by Benjamin Marrs (Fantagraphics) $14.99 – Terror Assaulter must defeat Terror at all costs, as long as it leaves time for steamy dates with hot chicks. The man's codename is O.M.W.O.T. (One Man War On Terror) and he is the world's greatest protector, and a villain's worst nightmare. This is a hilarious satire of American foreign policy over the last decade, neocon philosophy, the state of American masculinity and sexuality, and male power fantasy in escapist entertainment.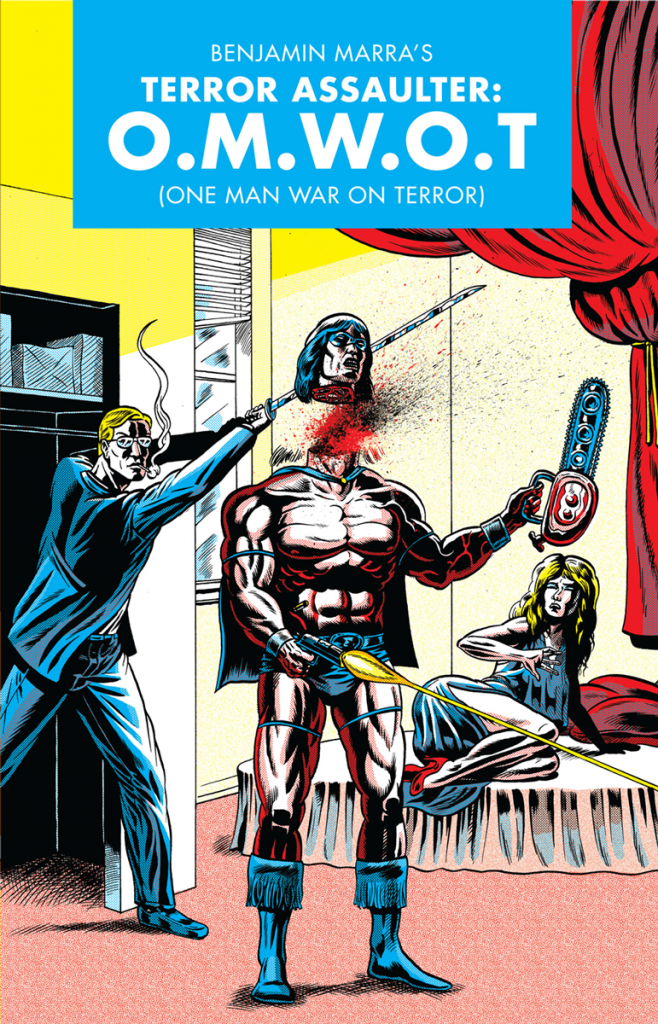 Intro to Alien Invasion by Owen King, Mark Jude Poirier, Nancy Ahn $17.99 – Aliens on campus during spring break!
Crossed + One Hundred vol 1 by Alan Moore & Gabriel Andrade $19.99
Darth Vader and Son Vader's Little Princess Deluxe Box Set by Jeffrey Brown $35.00
Descender vol 1 Tin Stars by Jeff Lemire and Dustin Nguyen $9.99
Zombies vs Robots vol 1 Inherit the Earth $19.99 – Collects issues #1–6.
Art Books
Freeman's The 100 Helmets of The Vader Project by by Dov Kelemer & Sarah Jo Marks (Gingko Press) – A bunch of different lowbrow artists painted Darth Vador masks and then auctioned them off. Work by Shag, Gary Baseman, Ron English, Mitch O'Connell, The Pizz (R.I.P.) and more.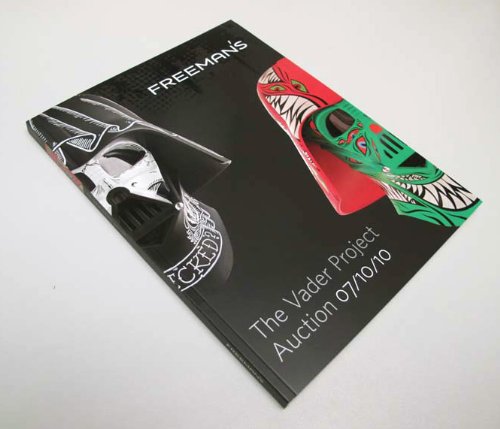 Urban Scrawl Notebook by Bianca Dyroff (Publikat) $12.95 – Plan out your next graffiti piece by drawing and working it out on these blank walls, boards and real-life-y backgrounds, like the one below. How did nobody think of this until now? Genius: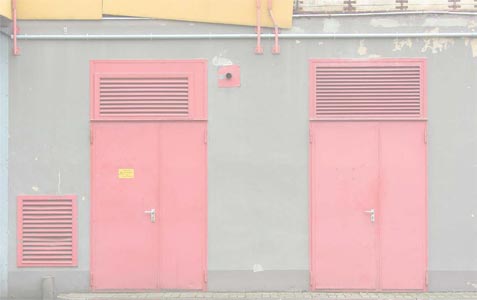 Danish Tattooing: Director's Cut by Jon Nordstrom (Gingko) $59.95 – A look at the beginning of the scene in the early 1900s and following it into the 1980s with photography, profiles of artists throughout Scandinavia, characters, tattooing hotspots, flash books, custom tattooing machines, and ribald stories, all in the Danish tattooing tradition.
I Am 1UP One United Power (Gingko Press) – The work of 1UP (aka One United Power) has appeared all over Berlin in small subway tags as well as large-scale blockbusters and pieces on walls, skyscrapers and trains; nothing has been safe from this crew since! The public demanded a reprint of this 140 page self-published book.
In Progress: See Inside a Lettering Artist's Sketchbook and Process, from Pencil to Vector by Jessica Hische (Chronicle) $29.95
Film Book
The Modern Japanese Movie Poster For American and European Films by Karlheinz Borchert (Gingko Press) $35.00 – Includes over 400 posters dating from 1960 to modern day.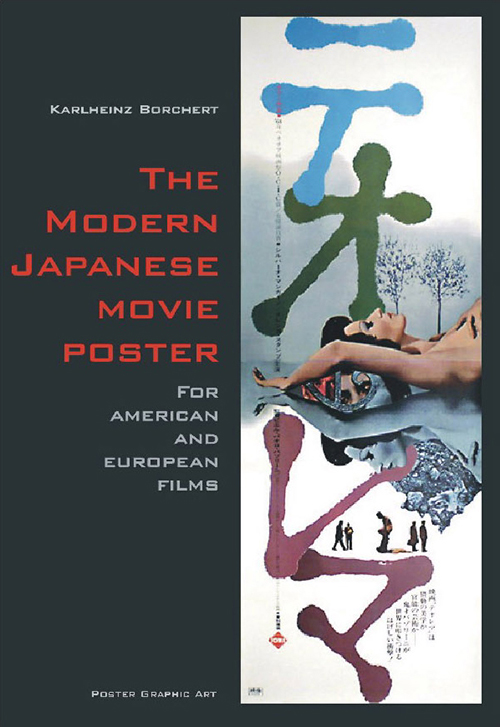 Cruising the Movies: A Sexual Guide to Oldies on TV by Boyd McDonald ((Semiotext(e) / Active Agents) $17.95 – A newly updated version of this classic 1985 text, reviews of movies by the the editor of the Straight to Hell paperback series, originally published in the Christopher Street series. Writing against the bleak backdrop of Reagan-era America, McDonald never ceases to find subversive, arousing delights in the comically chaste aesthetics imposed by the censorious Motion Picture Production Code of 1930-1968.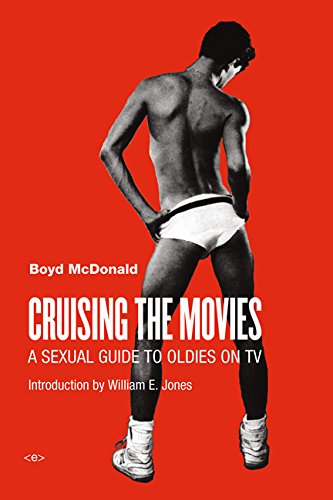 Politics & Revolution
Seeing Power: Art and Activism in the Twenty-first Century by Nato Thompson $23.95
Humor
William Shakespeare's Star Wars Part the Third: Tragedy of the Sith's Revenge by Ian Doescher (Quirk) $14.95
Magazines
Hello Mr #6 About Men Who Date Men $20.00
Purple Fashion vol 3 #24 Fall Win 15 16 $40.00
V Magazine #97 Fall 15 $8.50 – This issue: Lana del Rey
Heed Magazine Sep Oct 15 $5.99
Design Anthology #6 $9.95
Fashionable Lampoon #2 $24.99
Man of the World #13 $20.00
Upping The Anti  #17 Journal of Theory and Action $13.00
Other Stuff
Green: A Marijuana Journal by Dan Michaels $10.95 – Designed for a new generation of pot connoisseurs, the Green journal allows the momentarily forgetful to keep track of marijuana strains sampled and enjoyed. This handy journal features a primer on pot basics, fill-in diary pages, and "top ten" lists to inspire new experiences. Smorgasbord!
Native Trees of Canada Postcards box by Leanne Sharpton (D&Q) $14.95