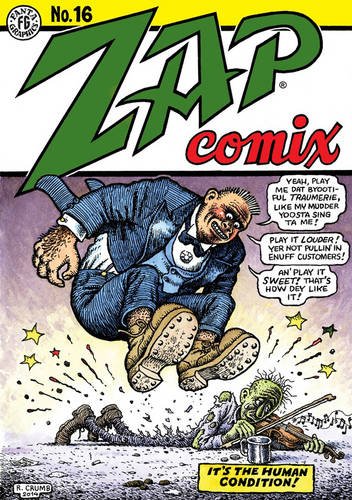 Zap Comix #16 It's the Human Condition (Fantagraphics) $14.99 – The final, previously-only-available-in-a limited/collector's-edition issue of the the most important comic book series of all time! This blowout issue not only includes work by all eight Zap artists (plus a collaboration with cartoonist Aline Kominsky), but also three double-page jams by the group. Plus: Zap's first-and-only color section, featuring comics by R. Crumb and Gilbert Shelton (his final Zap Wonder Wart-hog episode, no less). Paul Mavrides provides an alternately embellished version of Gilbert Shelton's and his Fabulous Furry Freak Brothers episode, "Phineas Becomes a Suicide Bomber" (originally inked in the Complete Zap by Shelton).
Skeletor's Guide to Self-Care by Skeletor (Eternia Press) $8.00 – The He-Man villain's philosophy on self-care, radical mental health, and battling depression. From cutting toxic personalities out of your life (read: He-Man, Orko, Teela, etc) to learning the joys of being single, Skeletor gives the goods on finding a happy, satisfied, balanced life for yourself.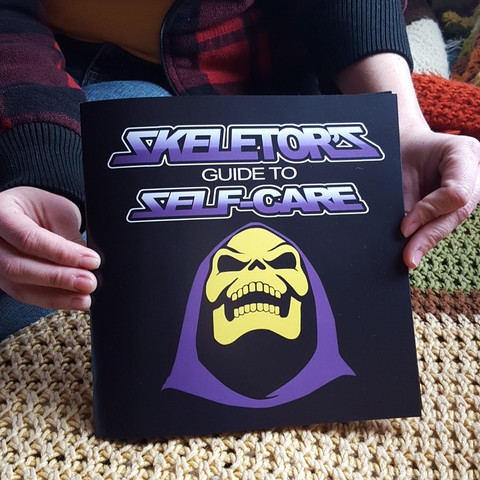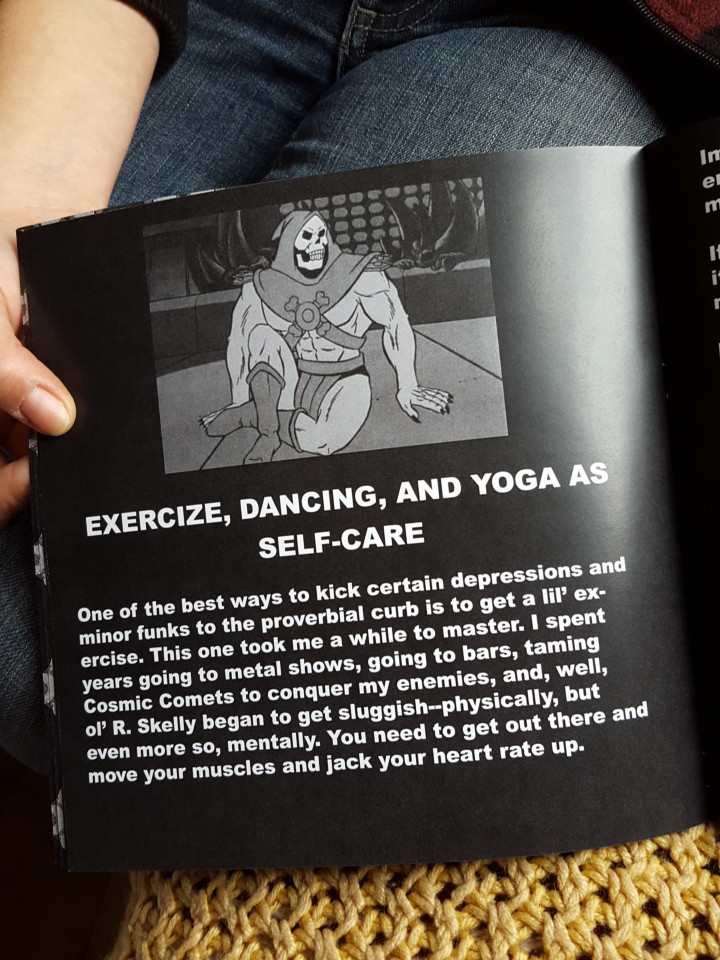 *ZINES*
Sorrows of Dan Gleason #57 by Dan Gleason, with illustrations to Luke Smarto $3.00
Just Call Me Joe by Jeremy M. Brownlowe (Pioneers Press) $4.00
Science and Such by D.W.G. Wilkerson (Pioneers Press) $6.00
Basic Recon Skills (Pioneers Press) $4.00
Social Anxiety by Chris Horner $5.00 – Photo zine!
Biff Boff Bam Sock #6 Hoja De Trampas by Anna Jo Beck $6.00 – A reference guide for Spanish grammar! Si!
KerBloom #118 Jan Feb 16 by Artnoose $2.00
Semen Leather #3 Fiction $5.00
Hardcore Architecture: Grace Ambrose Maximumrocknroll $5.00
12 Contributors 5 Publications 5 Years (Temporary Services) $7.00 -It's all right there on the cover — Temporary Services is up to their usual tricks, documenting the simultaneous rise & fall of print media with their patented, and risographed, meta-narrative edge. ~GS
Dog Zine #1 Guest Artist Peter Smyth $5.00 – For the love of Dog! Pallor Pink picks up the scent of comics artists and zine types and puts their paws together to muse artistically upon the splendor of our furry tongue-lolling pals. So smooth but so ruff! Cover sharply done up by in-house favorites Perfectly Acceptable. ~GS
Ack Ack Ack #4 by Matt Foster $5.00 – A succinct photozine taking halftone all the way, chronicling the spasmodics of today's LA punk scene. Good sharp pics, crucial strainings, eardrum-approvedTM. ~GS
*COMICS & MINIS*
Cyanide Milkshake #7 by Liz Suburbia $2.00
Ley Lines For Lives by Andrew White $5.00
Ley Lines Poems to the Sea by Erin Curry $5.00
comics from Miranda Harmon:
Inter-Galactic Dance Party $3.00
The Haunted Ring $4.00
Possum Girl $4.00
We Are Gonna Be Friends by Cathy Hannah $5.00
Time Depression and a Genius by Ryan Burns $3.00
Still Guilty by Erik Schneider $2.00
Unsolved Mysteries by Chloe Wilson $2.00
Grubby Plops and Piles by Alicia Obermeyer $3.00
Transformer #2 Yr Deth Trip by Josh Bayer $5.00
Comic Guide to Brewing by Lara Antal $7.00
Corpus Corpus #666 by Paul Nudd & friends $22.00
*GRAPHIC NOVELS & TRADE PAPERBACKS*
Jonny Negron Selected Works 2012-2013 (Floating World) $12.00
In The Sounds and Seas vol 3 by Marnie Galloway $12.95
Revenger vol 1 Children of the Damned by Charles Forsman (Bergen Street Press) $14.95
Fieldhouse: Based On a True Story by Scott Novosel and Sam Sharpe $24.99 – Based on the true story of a Kansas Walk-on, with art by Chicago local comics artist Sam Sharpe.
Macabre Magazine vols #1-4 The Shocking Story of Harold Pepper In Missing Parts by Donald H Herion Jr $7.95 – Over 100 pages of horror and suspense.
Dream Fuse by Xin Xu $7.00
Bug Boys by Laura Knetzger $12.99
Belushi: On A Mission from God by Alberto Schiavone & Matteo Manera $18.95
*ART & DESIGN*
Strike Art: Contemporary Art and the Post-Occupy Condition by Yates McKee $26.95
*FICTION*
Get in Trouble by Kelly Link $16.00
Oshiro Maru by Donald Herion Jr. $9.95
Surveys by Natasha Stagg (Semiotext[e]) $15.95 – Fame! Be careful what you wish for! An on-line romance turns into internet stardom in this tale of modern romance. But what happens after the whirlwind parties and sponsored events, when an internet buzz turns into buzz-kill?
2 books of fiction by Amiri Baraka from Akashic Books, $15.95 each:
System of Dante's Hell
Tales – Short Stories
*POLITICS & REVOLUTION*
From #BlackLivesMatter to Black Liberation by Keeanga-Yamahtta Taylor (Haymarket Books) $17.95
*ESSAYS*
I Am Sorry to Think I Have Raised a Timid Son by Kent Russell $16.00 – Now in soft cover!
Good Trouble: Building a Successful Life and Business with Asperger's by Joe Biel (Microcosm) $14.95
Narconomics: How to Run a Drug Cartel by Tom Wainwright (PublicAffairs) $26.99
*HUMOR*
How's Everything Going? Not Good by John Michael Frank $21.95 – A very messy David Shrigley meets something else entirely. We promise you'll like it. Or we'll eat this pizza. Mmmmm pizza.
*MAGAZINES*
Lucky Peach #18 Spr 16 $12.00
No Friends #2 Win 15 $6.50 – No Friends, no problem. Chicago's own HearattaCk/MRR-style newsprint P.A.F. scene mag enters its terrible twos with an orthodoxy of band interviews, record reviews, zine reviews, and a clear red flexidisc. Also a lot of opinions about The Scene. Includes interviews with W. Kamau Bell and The Cure's Lol Tolhurst, whoa. ~GS
Wire #384 Feb 16 $9.99
Purple Fashion vol 3 #25 Spr Sum 16 $40.00
Smith Journal #17 $17.99
Frankie #69 $14.95
Sub/Verse #4 Jan Feb 16 $5.00
Mojo #267 Feb 16 The Sex Pistols $10.50
Wire #383 Jan 16 2015 Rewind $9.99
Cabinet #58 Summer 15 Theft $12.00
True Crime Jan 16 $9.99 Featuring Britain's Godfather Darby Sabini
Monocle vol 9 #90 Feb 16 $12.00
*LIT JOURNALS*
New Pop Lit #1 $10.00
Wax Paper vol 1 #2 Win 15 $3.00
The Point #11 Win 16 $12.00 – Theme this issue: What is protest for?