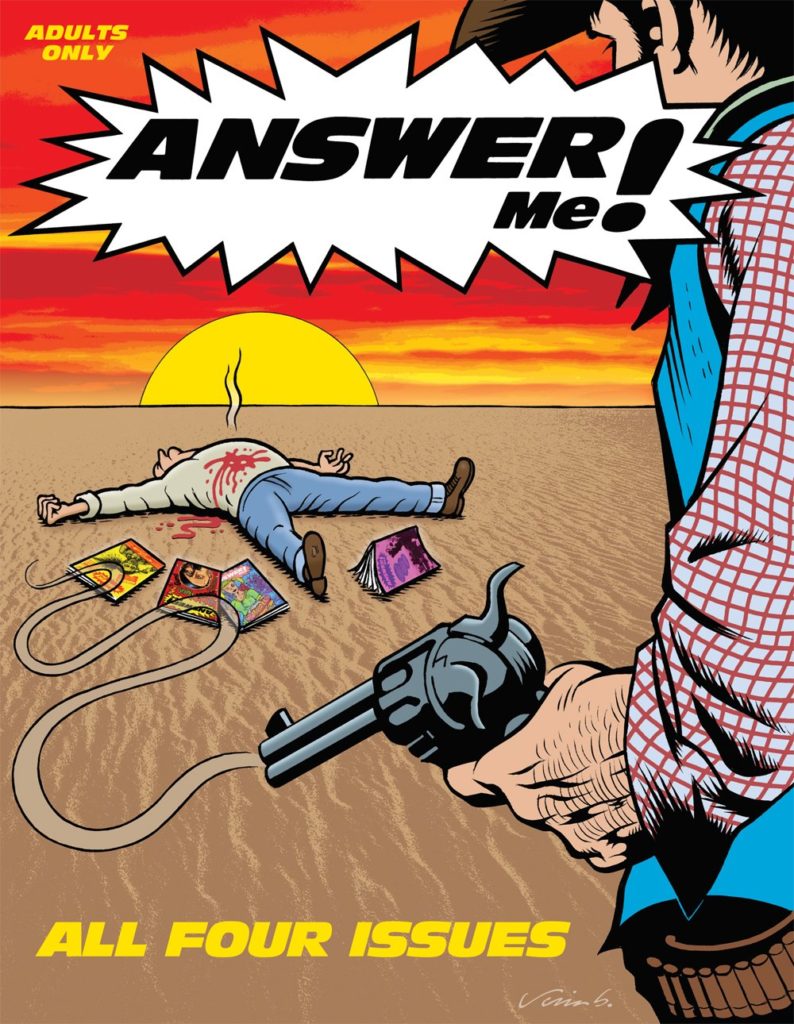 ANSWER Me! All Four Issues by Jim Goad and Debbie Goad (Nine-Banded Books) $30.00 – For the first time ever, all four issues (including THAT one, yes). Billed as "The Only Magazine Worth Hating," this version comes with extras, including previously unpublished material!
*ZINES*
Judas Goat Quarterly #73 Spr 17 by Grant Schreiber $1.50
The Match #116 Sum 17 $3.00
Chrome Shop Next Exit by Nick Capozzoli $6.66
Lot of Options by David Pregerson $10.00
Communicating Vessels #28 Spr Sum 17 $3.50
Revolutionary Women #1 Patsy T. Mink, #2 Dolores Huerta & #3 Ida B Wells $5.00 each
Sick Muse #7 Apr 17 $5.00
*COMICS & MINIS*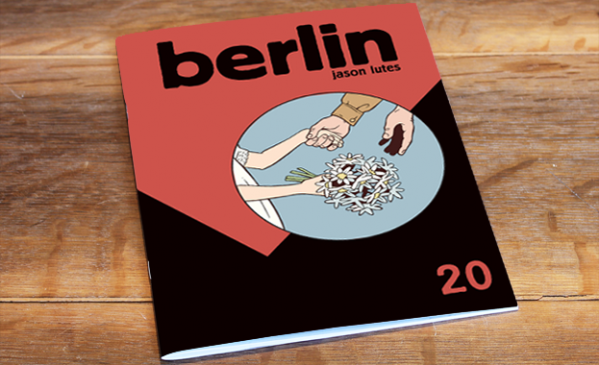 Berlin #20 by Jason Lutes (D+Q) $5.95 – With its twentieth issue, one of the biggest graphic novel events of the early 21st century is fast-approaching—the completion of Jason Lutes' epic Berlin series. Here, the inevitable antagonist of the tale of pre-WWII Germany begins to take center stage. Marthe and Kurt find their way back to each other—he, from the bottom of the bottle and she, from a one-sided relationship. Fascism creeps into every corner of society, but some can see it better than others.
Gaylord Phoenix #7 by Edie Fake (Perfectly Acceptable Press) $15.00 – Edie Fake returns to his award-winning, abstract-o queer comic series after a seven year hiatus.
I Cant Help It and I Cant Stop It by Matt Haas $5.00
No One is Born Complete by Jarad Solomon $8.00
Fiends #2 Spr 17 by Tim Tyler $10.00
*GRAPHIC NOVELS*
Hypothetical Love Triangle by Henna Rasanen (Cats Who Cater Comics) $20.00
The Legion of Regrettable Supervillains: Oddball Criminals from Comic Book History by Jon Morris $24.95
Imagine Wanting Only This by Kristin Radtke $29.95
Roughneck by Jeff Lemire $29.99
Animals of a Bygone Era: An Illustrated Compendium by Maja Säfström $14.99
Stripburger #68 $8.00 – Comics from artists all over the world: Bruno Borges (Portugal), Erik Svetoft (Sweden), Izar Luna?ek, (Slovenia) and more!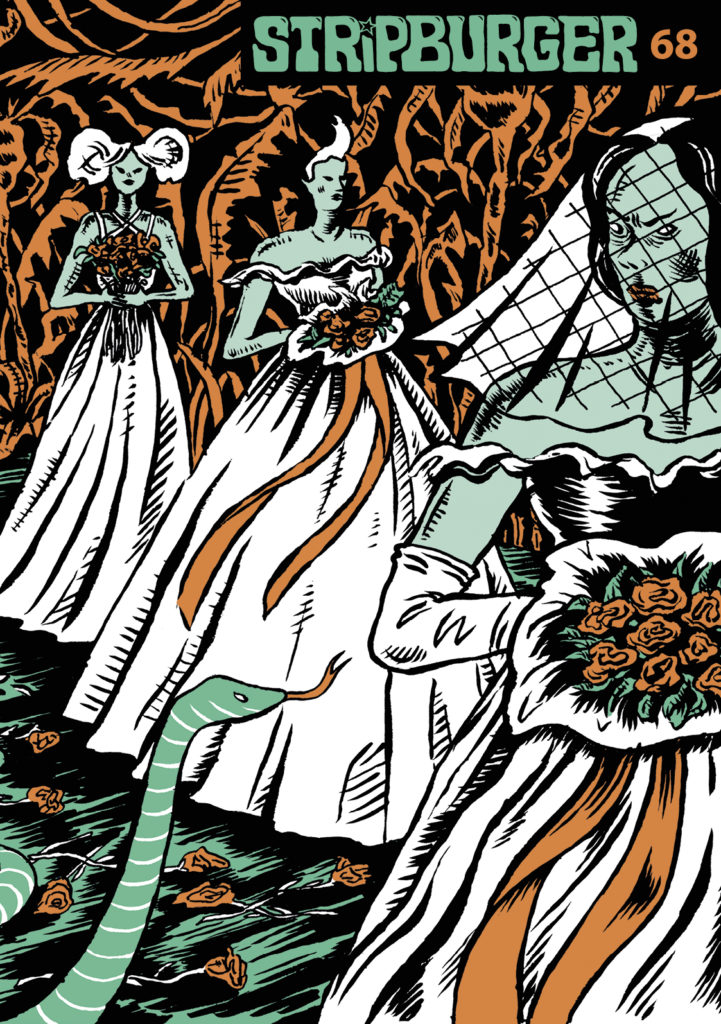 *ART & DESIGN*
Junk Type: Typography – Lettering – Badges – Logos by Bill Rose and Mike Essl $35.00 – A graphic compendium of vintage American design and typography.
Talk About Street Art edited by Jerome Catz and Elisabeth Couturier $9.98 – Anthology about this underappreciated, ephemeral, and illegal art form.
*POLITICS & REVOLUTION*
Free Women, Free Men: Sex, Gender, Feminism by Camille Paglia $26.95 – Fiery intellectual provocateur Paglia's essays about sex, gender and feminism collected in one concise volume.
The Age of Inequality: Corporate America's War on Working People edited by Jeremy Gantz (Verso) $24.95 – The stories behind the inequality crisis—a forty-year investigation by In These Times. Featuring contributions from Chomsky, Žižek, Bernie Sanders, Arundhati Roy & more.
Trouble in Paradise: From the End of History to the End of Capitalism by Slavoj Žižek (Melville House) $17.99 – Draws insights from phenomena as diverse as "Gangnam Style" to Marx, The Dark Knight to Thatcher.
Enemies of Society: An Anthology of Individualist and Egoist Thought by various (Nine-Banded Books) $20.00
Here We Are: Feminism for the Real World by Kelly Jensen $16.95
*ESSAYS*
Bit Rot: stories + essays by Douglas Coupland $27.00
*OUTER LIMITS*
Blitzed: Drugs in Nazi Germany by Norman Ohler $28.00
A Really Good Day: How Microdosing Made a Mega Difference in My Mood, My Marriage, and My Life by Ayelet Waldman $25.95
Murder in Plain English: From Manifestos to Memes–Looking at Murder through the Words of Killers by Michael Arntfield & Marcel Danesi $24.00
Bad Days in History: A Gleefully Grim Chronicle of Misfortune, Mayhem, and Misery for Every Day of the Year by Michael Farquhar $14.99 – Now in soft cover!
The Geography of Madness: Penis Thieves, Voodoo Death, and the Search for the Meaning of the World's Strangest Syndromes by Frank Bures $16.99 – Now in soft cover!
Party Like a President: True Tales of Inebriation, Lechery, and Mischief From the Oval Office by Brian Abrams, illustrated by John Mathias $14.95
*FICTION*
The Familiar, Volume 4: Hades by Mark Z. Danielewski $26.95 – Fourth book in the acclaimed series from the author of House of Leaves.
A Decent Ride by Irvine Welsh $16.95 – Adventures of 'Juice' Terry Lawson: top shagger, drug dealer, gonzo pornstar, and taxi driver.
The Erstwhile: The Vorrh (2) by Brian Catling $16.95 – Sequel to The Vorrh. The angels that failed to protect the Tree of Knowledge are reanimating themselves, and their reawakening will have major consequences.
Mountainhead by New Juche (Nine-Banded Books) $15.00
*MUSIC BOOKS*
Infinite Tuesday: An Autobiographical Riff by Michael Nesmith $28.00 – Put on your knit cap and journey from the the set of The Monkees to the heart of swinging London and beyond!
*FILM BOOKS*
Make Trouble by John Waters, illustrated by Eric Hanson $14.95 – Based on the graduation speech Waters gave to RISD grads. Eavesdrop, he tells them, and listen to your enemies, and horrify with new ideas! The perfect advice for artists of any age.
Splatter Capital: A Guide for Surviving the Horror We Collectively Inhabit by Mark Steven (Repeater Books) $14.95 – A discussion about splatter horror films as a metaphor for the nightmare of systematized bloodshed caused by capitalist accumulation.
*FOOD BOOKS*
Clara Cakes: Delicious and Simple Vegan Desserts for Everyone! by Clara Polito (PowerHouse) $24.95 – She sold her cakes at punk shows. Now get her recipes!
Tiki Cocktails: 200 Super Summery Drinks by David Adams, illustrated by Heather Menzies $19.95 – Alongside quintessential tiki recipes, Tiki Cocktails also includes some more modern takes on tiki concoctions.
*HUMOR*
From The London Library's "Found on the Shelves" series:
*Cycling: The Craze of the Hour by Charles Spencer & friends $9.95 – From that velocipede craze of the 1890s!
*On Corpulence: Feeding the Body and Feeding the Mind by Lewis Carroll and William Banting $10.95 – Tweedledum and Tweedledee — fat seemed to be getting fatter under Queen Victoria! Lewis Carroll and overweight undertaker William Banting elaborate on the vices of consuming too much "fatty" food and culture. Oddly prescient for our contemporary culture full of crappy media overload.
*The Gentlewoman's Book of Sports by Lady Greville and Lady Colin Campbell $10.95 – It wasn't easy being a sportswoman at the end of the nineteenth century!
CraftFail: When Homemade Goes Horribly Wrong by Heather Mann $12.95 – From the files of CraftFail.com!
*OTHER*
Lamia Enamel Pin by Corinne Halbert $10.00
Yellow Owl Workshop Risograph Print Blank Cards! $4.50 each.