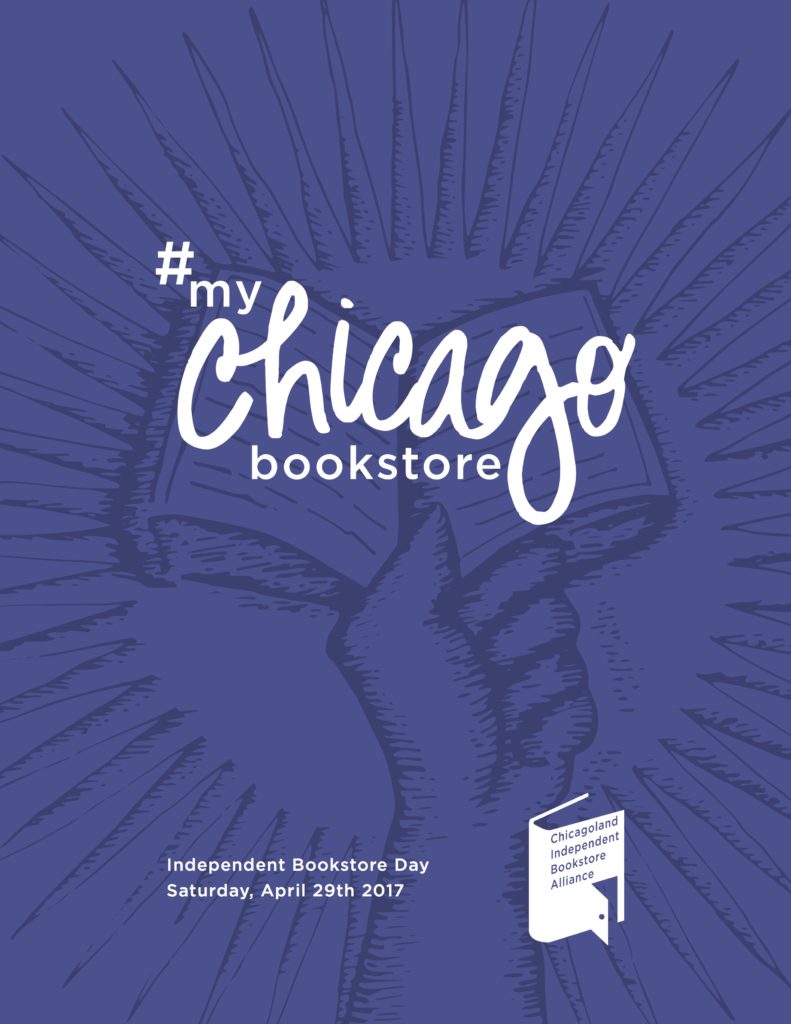 On Saturday, April 29th Quimby's Bookstore, along with two dozen independent bookstores all over the Chicago area, are collaborating to make this year's Independent Bookstore Day (IBD) an event that celebrates the vibrancy of Chicagoland as a dream destination for book lovers. Each store creates its own unique events and Quimby's is no exception.
Quimby's is celebrating IBD in two ways. First, we welcome co-authors Steven Nodine and Eric Beaumont will celebrate the release of Brick Through the Window: An Oral History of Punk Rock, New Wave & Noise in Milwaukee, 1964-1984, celebrating our midwest sister city Milwaukee (because hey, let's show some major metropolises the love on this one-day party). More info on that event at 7pm here.
Secondly, Quimby's will collaborate with at least 24 stores, jointly sponsoring the #MyChicagoBookstore Challenge, which encourages book lovers to indulge in bookstore tourism by visiting 10 or more stores on that one day.
To begin their trip, readers can pick up a #MyChicagoBookstore carabiner and their first "luggage tag" from the store of their choice (from any of the independent bookstores listed below) with an initial purchase of $25 or more. Get it? "Luggage Tag," as in Chicago being a dream destination for book lovers? As in, where books take you, somewhere?! SO CLEVER.
Bookstore visits throughout the day (no purchase required) enable them to collect an additional tag at each subsequent bookstore. The payoff comes for visits at the following levels:
Visit TEN stores and get 10% off at all bookstores listed below for the ENTIRE YEAR!

Visit FIFTEEN stores and get 15% off at all bookstores listed below for the ENTIRE YEAR!  
Also, readers are encouraged to post a snapshot of themselves and their Independent Bookstore Day haul, and enter to win more prizes!
On Twitter: Use #CHIBD17 or @chibookstore
The #MyChicagoBookstore Challenge is being sponsored by the Chicagoland Independent Bookstore Allliance (ChIBA), an association formed last year to raise awareness about the vitality of the area's indie stores. ChIBA also maintains a Facebook page–#MyChicagoBookstore—where all member stores can post readings and other literary events to create one central "billboard" for literary culture in the greater Chicago area.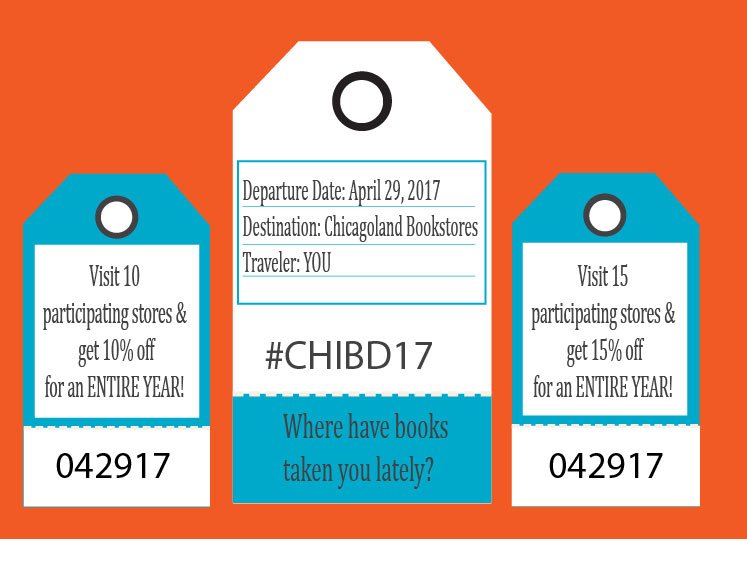 #MyChicagoBookstore Luggage Tag Challenge Participating Stores:
Quimby's Bookstore 1854 W. North Ave, Chicago
57th Street Books 1301 E. 57th St., Chicago

Anderson's Bookshop (three stores): 5112 Main St., Downers Grove, 26 S. La Grange Rd., La Grange, 123 W. Jefferson Ave., Naperville

The Book Bin 151 Church St., Northbrook
The Book Cellar 4736-38 N. Lincoln Ave., Chicago
The Book Stall Chestnut Court, 811 Elm St., Winnetka

The Book Table 1045 Lake St., Oak Park
Bookends & Beginnings 1712 Sherman Ave., Alley #1, Evanston
Bookie's 2419 W. 103rd St., Chicago
Centuries and Sleuths 7419 Madison St., Forest Park

Magic Tree Bookstore 141 N. Oak Park Ave., Oak Park

Newberry Library Bookshop 60 W. Walton St., Chicago
Open Books (two stores): 905 W. 19th St., Chicago (Pilsen), 651 W. Lake St., Chicago (West Loop)
Powell's Books Chicago 1501 E. 57th St., Chicago
Read It & Eat 2142 N. Halsted St., Chicago
RoscoeBooks 2142 W. Roscoe St., Chicago
Sandmeyer's Bookstore 714 S. Dearborn St., Chicago
Seminary Co-op Bookstore 5751 S. Woodlawn Ave., Chicago
Volumes Bookcafe 1474 N. Milwaukee Ave., Chicago

Wicker Park Secret Agent Supply Co./826CHI 1276 N. Milwaukee Ave., Chicago
Women & Children First 5233 N. Clark St., Chicago