Quimbys Logo Enamel Pin Button $10
pictured: multiple issues of Frontier by Lauren R. Weinstein, Hannah Waldron, Anatola Howard & more. $8 each, Crap Hound Big Book of Unhappiness by Sean Tejaratchi (Feral House) $42.95, Four White Horses and a Brass Band: True Confessions from the World of Medicine Shows, Pitchmen, Chumps, Suckers, Fixers, and Shills by Violet McNeal (Feral House) $16.95, Pieces #15 On Altered States by Nichole Baiel $3, Go All The Way: A Literary Appreciation of Power Pop edited by Paul Myers and S.W. Lauden (Rare Bird) $27, Rotten Faith by Corinne Halbert $5, Dayglo!: The Poly Styrene Story $36.99, Cults! Mad, Bad and Dangerous to Know: A Guide to the Highly Unusual by Kim Cooper $14, Hallowzine Horror Anthology: Sometimes They Come Back $9.95
Zines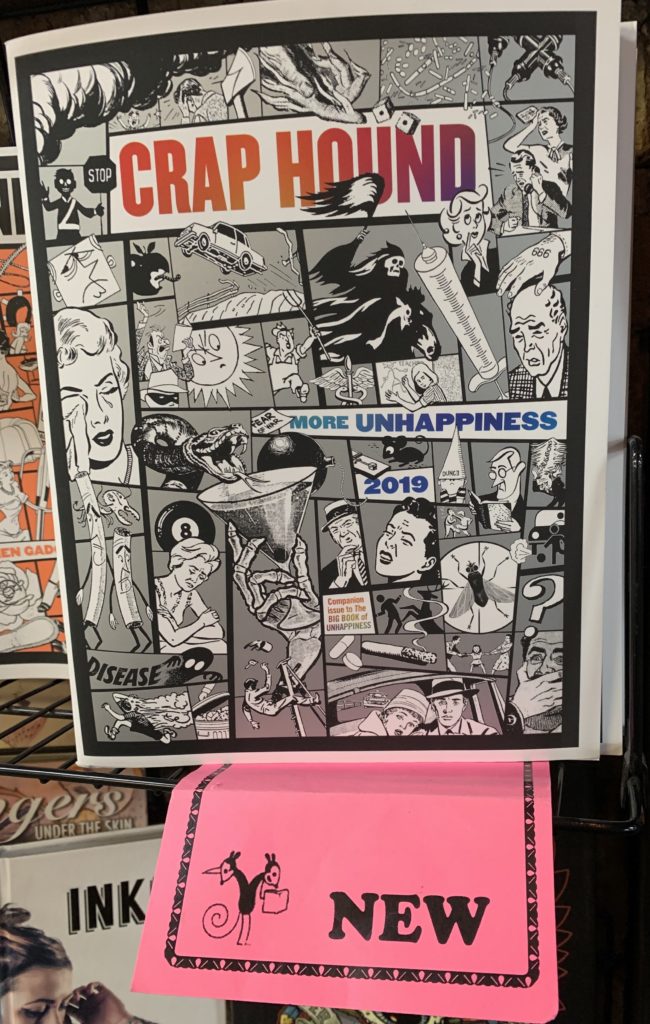 Crap Hound More Unhappiness 2019 Zine by Sean Tejaratchi $15 – Companion Issue to The Big Book of Unhappiness.
Joy Ride by Madi Baker $10
Welcome to the Keep You Miracle – A Neural Network Poetic Zine by Erin J. Watson $5
Held Safe Hold Space by Nick Disabato $15
Comics & Minis
My Dog Ivy by Gabrielle Bell (Uncivilized) $5
Sweaty & Upsetty Autobio Comics Sort of by Kathryn Hemmann $2
Lovers Only #2 Love Triangle by Sophia Foster-Dimino, Carta Monir, and Mickey Zacchilli (Youth In Decline) $6
When Do You Stop Growing and Start Aging by Madi Baker $10
Graphic Novels
Dog Days of Snake Pit by Ben Snakepit (Silver Sprocket) $25
Holy Hannah by Will Dinski (Uncivilized) $24.95
Algernon Blackwood's The Willows adapted by Nathan Carson and illustrated Sam Ford (Floating Worlds) $12.95
The Complete Curvy by Sylvan Migdal (Iron Circus) $50
Winter Warrior by Eve Gilbert (Fantagraphics) $19.99
The Tower In The Sea by B. Mure (Avery Hill) $12.95
The Arab of the Future 4: A Graphic Memoir of a Childhood in the Middle East, 1987-1992 by Riaf Sattouf $30
Palimpsest: Documents From a Korean Adoption by Lisa Wool-Rim Sjöblom (D&Q) $24.95
Art & Design
Arcade Game Typography: The Art of Pixel Type by Toshi Omagari $34.95
Protest! A History of Social and Political Protest Graphics by Liz McQuiston $39.95
The Art of the Devil: An Illustrated History by Demetrio Paparoni $45
Silver Skate Seventies: California Skateboarding 1975-1978 by Hugh Holland $40
Politics & Revolution
Sticking It to the Man: Revolution and Counterculture in Pulp and Popular Fiction, 1950 to 1980 edited by Andrew Nette & Iain McIntyre (PM Press) $34.95
Outer Limits
The In-Betweens: The Spiritualists, Mediums, and Legends of Camp Etna by Mira Ptacin $26.95
Jack the Ripper's New Testament: Occultism and Bible Mania in 1888 by Nigel Graddon $19.95
Lee Harvey Oswald, Lyndon Johnson & the JFK Assassination by John Delane Williams (Trine Day) $24.95
Magic Is Dead: My Journey into the World's Most Secretive Society of Magicians by Ian Frisch $16.99
Music & Film Books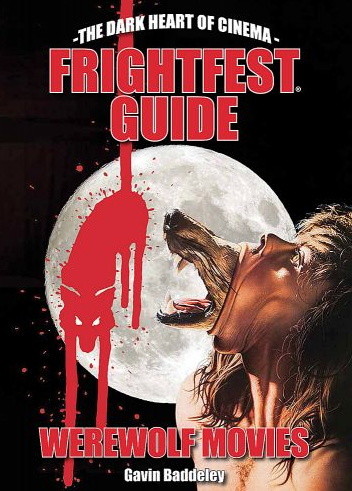 Frightfest Guide Werewolf Cinema by Gavin Baddeley (FAB Press) $24.95
Defying Gravity: Jordan's Story by Jordan Mooney with Cathi Unsworth $28.99 – Jordan Mooney was described as the first Sex Pistol by Derek Jarman, Jon Savage and those who dared to walk up to 430 King's Road between 1975 and 1981. Her achievements include being the public face of SEX, Seditionaries, and World's End, as well as the motivating force behind Jubilee and the first manager of The Ants.
Crossover the Edge: Where Hardcore, Punk And Metal Collide by Alexandros Anesiadis (Cherry Red Books) $27.95
Bowie's Bookshelf: The Hundred Books that Changed David Bowie's Life by John O'Connell $18
The Lady from the Black Lagoon: Hollywood Monsters and the Lost Legacy of Milicent Patrick by Mallory O'Meara (Hanover Square Press) $26.99
Hollywood's Eve: Eve Babitz and the Secret History of L.A. by Lili Anolik $17
God Save the Queens: The Essential History of Women in Hip-Hop by Kathy Iandoli $27.99
Fiction
Talk Like a Man (Outspoken Authors Series) by Nisi Shawl (PM Press) $14
Vernon Subutex 1: A Novel by Virginie Despentes $16
Some Trick by Helen DeWitt $15.95
The Factory by Hiroko Oyamada $13.95
Little: A Novel by Edward Carey $17
Essays
Rebent Sinner by Ivan Coyote (Arsenal Pulp Press) $19.95
Local Interest
Chicago's Lollapalooza Days: 1893-1934 by Jim Edwards $21.99
Magazines
Wire #428 october $12.50
Mojo #312 october $11.99
Poetry & Lit Journals
Collected Poems of Bob Kaufman edited by Neeli Cherkovski, Raymond Foye, Tate Swindell (City Lights Books) $19.95
The Common Literary Journal #18 $14