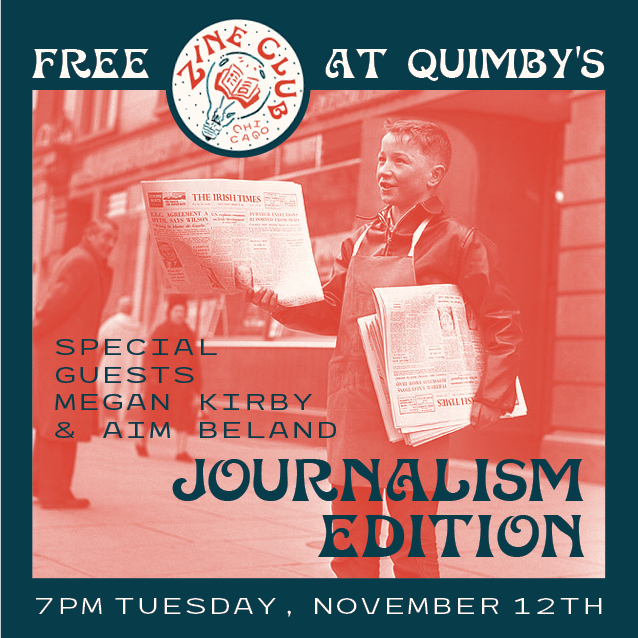 Zines have always flouted the conventions and constraints of mainstream media, making them an ideal vehicle for journalists with important information to convey and the desire to skirt corporate restrictions, gatekeeping editors, and clickbait clichés. This month, we'll be exploring our favorite journalism zines with special guests Megan Kirby and Aim Beland, who will co-facilitate our discussion. Megan, a zinemaker (Coffee Spoons) who covers pop music for the Chicago Reader and runs the live zine-making/storytelling showcase Meanwhile, will lead an interactive journalism activity.
Zine newbies and longtime enthusiasts alike are always welcome to join us for a fun discussion and snacks at Zine Club Chicago, the city's only book club-style event for people who read zines. This free monthly series is produced by Chicago Zine Fest/Midwest Perzine Fest organizer Cynthia E. Hanifin and hosted by Quimby's. Thank you to Zine Club member Aim Beland for suggesting this month's theme and curating the event.
Zine Club Chicago: Journalism Edition with special guests Megan Kirby and Aim Beland

7 p.m. Tuesday, Nov. 12
Quimby's Bookstore, 1854 W. North Ave. in Wicker Park
Free!
Facebook event link: https://www.facebook.com/events/555908891820093/