Some cool stuff this week: A new mini from Alec Longstreth, a new LOEG from Alan Moore, The Comics Journal back in action, a whole mess of awesome stuff from Sparkplug, a book of postcards by local artist Paul Hornschemeier, Adbusters and more.
ZINES & ZINE BOOKS!
She's So Unusual #1 by Toots La Rue (Sparkplug) $2.00 – This is a super awesome zine about Cyndi Lauper!
Franziskas Bike Zine #2 $1.00
Many Many Make One Bit By Bit #1 by Jim Swill $4.99
Lair Molt Selected Works 2008-2011 by Brian Uhl (Now Is The Time) $10.00 – 28p, b&w, silkscreen cover, 8.5″x11″, comes with patch, button and key, edition of 250.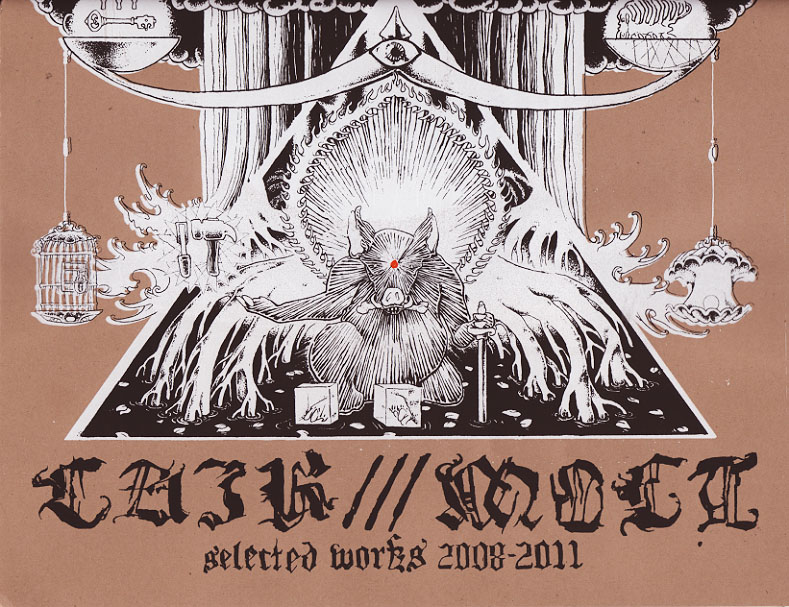 Calypso Zine #2 Featuring Marissa Paternoster Robo Sexism Hairy Pits $2.00
Faux Cal Point Press vol 1 #2 Jun 11 and #3 Jul 11 $3.00 each
COMICS & MINI COMIX!
Phase 7 #016 by Alec Longstreth $5.00
Drip by C Cilla (Sparkplug) $4.00
Any Anyway #1 by Darryl Ayo (Sparkplug) $2.00
In The Tall Grass #3 and #4 by Tessa Brunton $3.00 each
Too Dark to See by Julia Gfrorer (Sparkplug) $5.00
Nurse Nurse #7 by Katie Skelly (Sparkplug) $3.00
Play Overlord by var. (Sparkplug) $5.00
Inventez des Nouvelles Positions Sexuelles Invent New Sexual Positions by Gwenaelle (Sparkplug) $5.00
Dream Grant the Church of Awesome Thought by Sean ABT Christensen (Sparkplug) $3.00
Flesh and Bone – A Colouring Concertina by John Sibbick $18.00
Big Mother #1 by McBess $30.00
Fight Comic by Jack Teagle $8.00
New Ghost by Robert Hunter $11.00
Badaboom Twist: Comics in English Drawn By a French Speaking Guy Married to an American issues #1-#3 by David Libens $3.00 each
GRAPHIC NOVELS & TRADE PAPERBACKS!
League of Extraordinary Gentlemen vol 3 Century #2 1969  by Alan Moore and Kevin O'Neill (Top Shelf) $9.95
The Comics Journal #301 (Fantagraphics) $30.00 – Yes! Finally a new issue and it looks hot. This volume features a focus on R. Crumb plus an interview with Joe Sacco, a peek into the private sketchbooks of (and accompanying interviews with) Jim Woodring, Tim Hensley, and the novelist Stephen Dixon, a conversation between Mad Fold-Out creator Al Jaffee and Thrizzle auteur Michael Kupperman, and more!
Band by Mawil (Blank Slate) $12.99
Snaps by Rebecca Kraatz (Conundrum) $15.00
Suddenly Something Happened by Jimmy Beaulieu (Conundrum) $20.00
Collected John G Miller 1990-1999 (Spit and a Half) $20.00
Setting the Standard 1952-1954 by ALex Toth (Fantagraphics) $39.99
Wormwood Gentleman Corpse HC vol 3 Calamari Rising Deviant Edition by Ben Templesmith (IDW) $24.99
Lives of Sacco and Vanzetti: Treasury of XXth Century Murder by Rick Geary (NBM) $15.99
Everything We Miss by Luke Pearson $20.00
ART & DESIGN BOOKS!
So So Heroes 30 Postcards by Paul Hornschemeier (Chronicle) $9.95
Untitled III This is Street Art (Carpet Bombing Culture) $34.95
Graffiti Burners ed. by Björn Almqvist (Dokument) $29.95 – The most eye-popping graffiti of today! New times, new ideas. In cities worldwide, graffiti art is constantly being taken to higher levels. The will to burn all resistance, to outdo all the others, brings about unexpected and amazing results. Graffiti Burners shows us how techniques have been refined and letter construction distorted, how colour combinations have blossomed and concepts developed. The competition for mastery is burning hot! In addition to amazing pictorial material, several of the writers talk about their pieces and what burners mean to them. Moreover, they offer tips and guidance to those who want to do a burner of their own. Graffiti Burners offers a unique opportunity to acquaint oneself with the progress of the last few years; to be inspired and impressed. In Graffiti Burners the world's foremost writers show us their favourite works. In short, the best of the best! Aroe (UK), Bates (DK), Bio (USA), Kacao77 (D), Rime (USA), Scan (CA) and Suiko (JP) are just a few of the contributors to the book.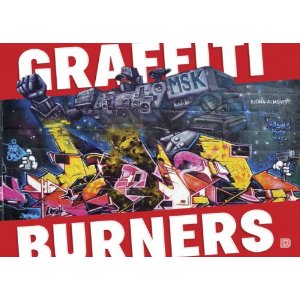 Conseil Juridique et Artistique Legal and Artistic Counsel by Audrey Chan $15.00
Curiosities of Janice Lowry (Grand Cent) $45.00
Big Poster Book of Hindu Dieties: 12 Removable Prints by Sanjay Patel (Chronicle) $24.95
Lowrider Coloring Book by Oscar Nilsson (Dokument) $9.95
OFFF, Year Zero: Artwork and Designs from the OFFF Festival ed. by Rob Chiu (MBP) $60.00 – OFFF is a post-digital culture festival, featuring some of the world's most relevant contemporary artists, designers, and media mavens. This anual collection features artwork and essays created specifically for the festival and only available in this book. This edition has an exclusive DVD, and every page is die-cut, so the artworks can be hung on the walls. Contributing artists and designers includes Stefan Sagmeister, Rick Poyner, Erik Spiekermann, Keetra Dean Dixon, and Vimeo founder Blake Whitman.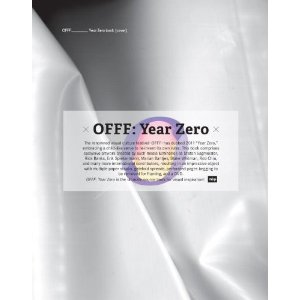 FICTION!
Dream-Quest of Unknown Kadath And Other Oneiric Works by HP Lovecraft (Creation) $14.95
Too Young To Fall Asleep by Sally Weigle (Chicago Center for Literature and Photography) $20.00 – Why would a poetry-writing high-school emo girl from suburban Chicago volunteer for the Iraq War? And when both of her legs are blown off in a non-combat IED explosion, how will she ever recover?
Salt Creek Anthology: A Hyper Fiction Project (Chicago Center for Literature and Photography) by Jason Fisk $20.00 – A couple meet in a mental institution, have six kids, and devolve into violent alcoholism. An elderly Polish woman with Alzheimer's goes insane in front of our eyes. A frazzled empty-nester has her bruiser son move back in, along with a scheming girlfriend planning a surprise pregnancy to get them both back out. And an abusive, overweight, racist monster of a man psychologically lords over them all, a total of twenty-odd characters all living on the same cul-de-sac in the far rural suburbs of Chicago. This "micro-story" collection breaks these families' adventures down into a series of 75 linguistic nuggets. Each story is a different piece of paper in a box, and you can read them in any order you want.
Black Lung Captain by Chris Wooding (Ballantine) $16.00
The Difference Engine by William Gibson and Bruce Sterling (Ballantine) $16.00 – Back in print! 20th Anniversary edition of this classic text of an imagined 1885: the Industrial Revolution is in full and inexorable swing, powered by steam-driven, cybernetic engines. Charles Babbage perfects his Analytical Engine, and the computer age arrives a century ahead of its time.
The Chicago Landmark Project: 12 World Premiere Plays About Chicago Places by var. (Theatre Seven of Chicago) $16.00 – Using distinct locations in zip codes from Rogers Park to the South Side, The Chicago Landmark Project offers twelve diverse snapshots of Chicago life from present day to the distant past.
LITERARY JOURNALS, CHAP BOOKS & POETRY!
Man Who Juggeld His Balls by Aarib Wooten $14.99
Overtime Hour 20 Above the Line by Suzanne Ushie $2.00
DIY!
Psychedelic Shamanism, Updated Edition: The Cultivation, Preparation, and Shamanic Use of Psychotropic Plants by Jim DeKorne (North Atlantic Books) $19.95
Remedy Quarterly #5 Community $7.50
CHILDRENS!
Middle School: The Worst Years of My Life by James Patterson and Chris Tebbetts, with illustrations by Laura Park (Littlebrown) $15.99 – With charming illustrations by local illustrator-comics-Trubble Clubber super-star Laura Park.
MUCKRACKING, MEMOIRS, MAYHEM, MISCREANTS & MISCELLENOUSNESSESESNESS!
Go the Fuck to Sleep by Adam Mansbach and Ricardo Cortes (Akashic) $14.95
Girls of Murder City: Fame Lust and the Beautiful Killers Who Inspired Chicago by Douglas Perry (Penguin) $16.00 – Now in soft cover.
Leatherman: The Legend of Chuck Renslow by var. (Prairie) $24.99
911: The Simple Facts Why the Official Story Can't Possibly Be True by var. (Soft Skull) $12.00
Finding My Place: One Man's Journey From Cleveland to Boston and Beyond by Judah Leblang $15.95
Working in the Shadows: A Year of Doing the Jobs Most Americans Won't Do by Gabriel Thompson (Nation) $14.99
Be Honest and Other Advice From Students Across the Country From 826 National by Ninive Calegari (New Press) $25.95
Page One: Inside the New York Times and the Future of Journalism by David Folkenflik (Public Affairs) $15.99
POLITICS & REVOLUTION!
Unruly Women: T he Politics of Confinement and Resistance by Karlene Faith (Seven Stories) $19.95
Weaponizing Anthropology by David Price (AK) $15.95
Complaints and Distorders (Second Edition) Sexual Politics of Sickness by Barbara Ehrenreich and Deirdre English (Feminist Press) $9.95
MAGAZINES!
Bizarre #178 Aug 11 $10.50
AdBusters #97 Sep Oct 11 $8.95
In These Times Aug 11 $3.50
World Explorer vol 6 #1 $8.95
IdN vol 18 #3 $17.50
Pinstriping #27 Kustom Graphics Magazine $9.95
Wow Magazine #1 $24.99
Gothic & Lolita Bible #38 $33.00
Ack Ack Ack #3 by Matt Average $3.00 – Average's California photo files take you for a ride in their way-back machine: Spazz, Die Monitor Bats, Epileptic Terror Attack, Glass Candy, Tragedy, Reality Crisis, Limp Wrist, Go Go Go Airheart, Red Dons and Life's Halt.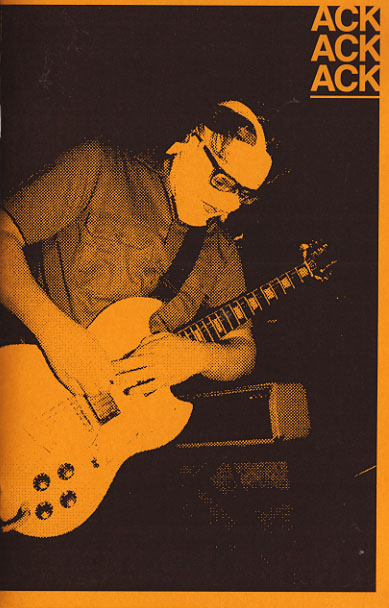 Under the Radar #37 $5.99
Maximumrocknroll #339 Aug 11 $4.00
Me Magazine #21 Sum 11 $7.50
Skin and Ink Sep 11 $6.99
SEX & SEXY!
Sweets Magazine vol 4 #17 $5.99
Psychopathia Sexualis – Classic Study of Deviant Sex (Complete English Language Translation) by Richard Von Krafft-Ebing (Arcade) $16.95