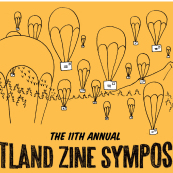 The Portland Zine Symposium aims to promote greater community between diverse creators of independent publications and art. This fun and free event helps people share their work while exchanging their skills and information related to zine culture. Through workshops, panels and discussions, Portland Zine Symposium explores the role and effect of all types of zines.
Time: August 6, 2011 at 10pm to August 7, 2011 at 5pm, Location: Refuge, Portland, OR
For more info:
Click here for more details and RSVP on We Make Zines, an online community for zine makers and zine readers.
Also, not 100% updated: www.pdxzines.com