Here's your Top 10 for the last week. No real surprises in what made the list of bestsellers, since most of it is stuff that's made it on there before. However, COG Magazine is a title we just started carrying, a nice biking mag, about city biking, bike messengering and the like, from all around the world.
Also! Footage from the Deb Olin Unferth event is up. She was here at Quimby's on 3/7/11 reading from her memoir Revolution: The Year I Fell in Love and Went to Join the War. The piece we put up is a super funny bit about how religion got worked into her expereince, and how her Jewish family reacted to her short bout with Christianity. No matter how you feel about religion, this bit will crack you up. Click on the picture of Deb below, and it will take you to where you can watch it at You Tube.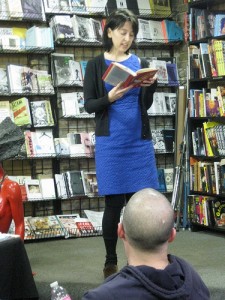 1.    OK OK You Smote Me Stories by Al Burian (Quimby's Exclusive) $3.00 – Al takes us around the corner to his mayhem-prone stint on Wicker Park's Dean Street, unhexing his way-too-hexed apartment and watching the tumult as Old Chicago takes a scraggly, low-level "stand" against encroaching yuppie "neighborhood improvement."
2.    Laphams Quarterly vol 4 #2 Spr 11 $15.00
3.    Cartooning Philosophy and Practice by Ivan Brunetti (Yale) $13.00 – This is about as close you are going to get to having Ivan Brunetti come to your house and teach you how to make great comics. Turns out, it's pretty damn close – Philosophy and Practice serves up a concise and well-honed crash course on finding and fine tuning your comics voice. -EF
4. Proximity #8 Education As Art $12.00 – Writing the book on learning as art and the art of learning: Proximity #8 comes from all angles, focuses, builds, supports. Weighing in at 232 pages, this volume does an exceptional job with a wide variety of profiles, interviews and portfolios and essays, staying both solidly local and vitally connected, you'd be hard pressed to find a smarter art magazine.
5. Monocle vol 5 #42 Apr 11
6. Brilliant Mistake #1 by Carrie $1.00 – What a gem of a debut zine! Beautifully quilted together from bits of a questioning heart, Brilliant Mistake #1 pares down the aches of the social games we play. -EF
7.  Acme Novelty Library #20: Lint by Chris Ware (D&Q) $23.95
8. Cometbus #54 In China With Green Day by Aaron Cometbus $4.00
9. N Plus 1 #11 Spr 11 $13.95
10. COG Magazine #10 $6.00