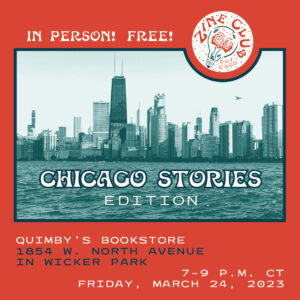 Zine Club Chicago IN PERSON: Chicago Stories Edition
7-9 p.m. CT Friday, March 24
Quimby's Bookstore, 1854 W. North Ave
Free!
The big-shouldered metropolis we call home has inspired countless self-publishers, so this month Zine Club Chicago is celebrating zines about Chicago! We'll be bringing back our discussion-meets-show-and-tell format for this in-person gathering, so please bring your favorite Chicago zines to share.
Join us for Zine Club Chicago In Person: Chicago Stories Edition at 7-9 p.m. Friday, March 24 here at the shop, 1854 W. North Avenue in Wicker Park. We'll have snacks on hand! Masks are strongly encouraged when you're not noshing.
Out-of-town friends, Zine Club Chicago will be back on Zoom with y'all in April! If you'd like to get together virtually with zine pals in March, check out Zine Party!, hosted by Michael Verdi, at 7:30 p.m. CT Tuesday, March 14. For more info and the Zoom link, visit next.zine.party
Zine newbies and longtime enthusiasts alike are always welcome at Zine Club Chicago, the city's only book club-style event for people who read zines. This free monthly series is produced by Cynthia E. Hanifin and sponsored by Quimby's Bookstore. Anna Jo Beck designs our monthly flyers, created our logo, and made our Zine Club Chicago Shout-Outs site, where folks can peruse and recommend zines we've discussed at our events.
More info on the Zine Club Chicago social media channels: @zineclubchicago. Facebook event here.
Image description: A red-and-blue infographic flyer, with an image of the Chicago skyline and text that reads: "Zine Club Chicago: Chicago Stories Edition; In Person! Free!; Quimby's Bookstore, 1854 W. North Ave. in Wicker Park; 7-9 p.m. CT Friday, March 24, 2023"