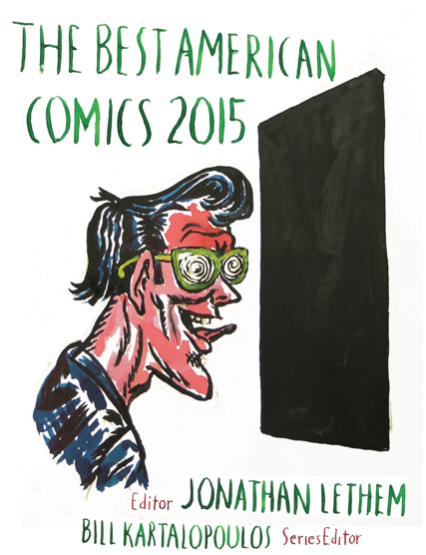 Now in its tenth year, THE BEST AMERICAN COMICS 2015 (Houghton Mifflin Harcourt), guest edited by Jonathan Lethem with series editor Bill Kartalopoulos, showcases the work of both established and up-and-coming contributors, and pulls from graphic novels, pamphlet comics, newspapers, magazines, minicomics, and the Web to create a unique and stunning collection. This year's edition is a stirring journey into the world of comics, featuring pieces by Chicago contributors Gina Wynbrandt and Anya Davidson. Yes, you can preorder Best American Comics 2015 from Quimazon!
BILL KARTALOPOULOS is a Brooklyn-based comics critic, educator, curator, and editor. He teaches comics history at the School of Visual Arts. More information may be found at on-panel.com.
GINA WYNBRANDT was born in Chicago in 1990. She writes comics about personal humiliations, sexual disappointment, and popular culture. Her favorite food is ice cream. www.ginawynbrandt.com
ANYA DAVIDSON was born in Sarasota, Florida, in 1983. She graduated with a BFA from the School of the Art Institute of Chicago in 2004. She is a cartoonist, musician, teaching artist, and printmaker whose work appeared in many 'zines and anthologies, including Kramers Ergot, before her debut graphic novel, School Spirits, was published by PictureBox Inc. Her current project, the Ignatz Award-nominated comic Band for Life, will be available in print from Fantagraphics Books in the not-too-distant future. She lives and shreds in Chicago. www.anyadavidson.com
"As I know well from my own field, true vitality consists of stuff that's further off the radar of general acclaim. The influx of raw arrivals. The deep cuts." —Jonathan Lethem, from the Introduction
This years Best American Comics features: Gabrielle Bell, Mat Brinkman, Roz Chast, Anya Davidson, Eleanor Davis, Jules Feiffer, Blaise Larmee, Raymond Pettibon, Ed Piskor, Joe Sacco, Esther Pearl Watson, and others.
For more info:
The website of Bill Kartalopoulos.
The website of Gina Wynbrandt.
Facebook invite for this event to tell the world you're coming and invite people.
Preordering this book from Quimazon.
This event is on Friday, October 16th, 7pm at Quimby's!