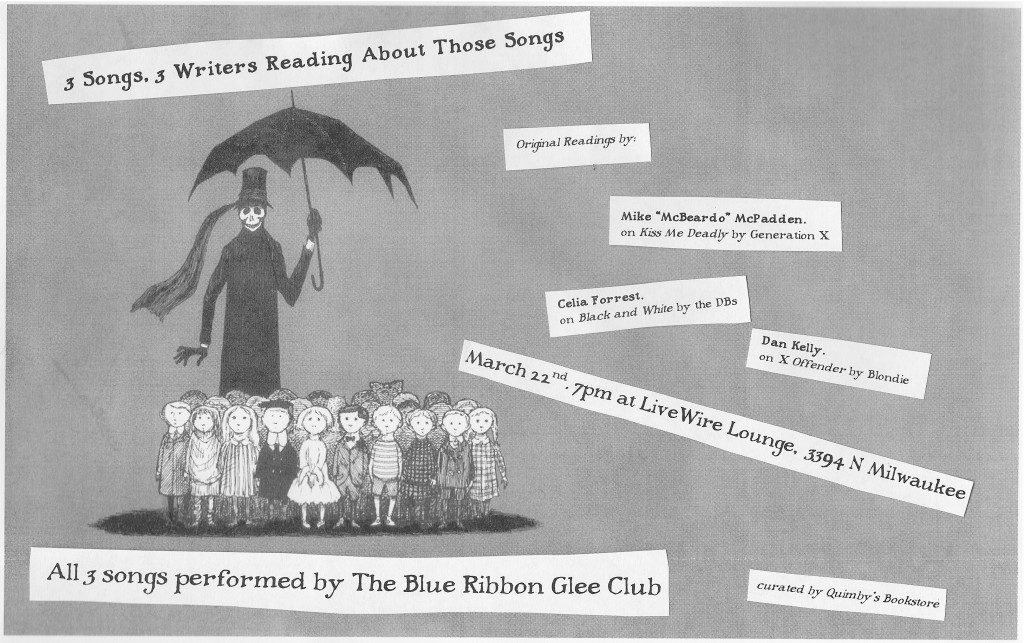 The LiveWire Lounge (3394 N Milwaukee) asked Quimby's if we wanted to curate a night at their lounge. And we said yes. So this is what we're bringing, a themed mix of reading and music with a very specific focus:
Quimby's Night at LiveWire Lounge: 3 Songs, 3 Writers Reading About Those Songs
Original Readings by:
Mike "McBeardo" McPadden, reading about Kiss Me Deadly by Generation X
Celia Forrest, reading about Black and White by the DBs
Dan Kelly, reading about X Offender by Blondie
All 3 songs performed by The Blue Ribbon Glee Club
Celia Forrest is a writer, director, teacher and actress who was born and raised in Fairbanks, Alaska. She is a new mother and couldn't shut up about it if she tried. She is well-known in Minnesota for her work teaching theater to kids and her award-winning turn in Neil Labute's Fat Pig. In Chicago she is mostly known for her sketch comedy writing and directing, as well for her work on The People's Republic of Edward Snowden. Celia is also famous in a subset of radical activists as a co-host of Morning Damnit, the morning news and talk show on Q4 Radio, and the weekly program The Celia and Erik Show, which features comedy, commentary and interviews with local artists. Find her on Twitter at twitter.com/thatcelia
Mike "McBeardo" McPadden is the author of Heavy Metal Movies: Guitar Barbarians, Mutant Bimbos, and Cult Zombies Amok in the 666 Most Ear- and Eye-Ripping Big Scream Films Ever! (Bazillion Points, 2014) and the upcoming Going All the Way: The Ultimate Guide to Teen Sex Comedy Films of the VHS Era (Bazillion Points, 2016). You will love him. More info at mcbeardo.com.
Dan Kelly is the author of Hilaretic. He is not to be confused with the Australian judoka and mixed martial artist Dan Kelly. He occasionally writes for The Baffler and Gapers Block. He blogs at mrdankelly.com/blog.
The Blue Ribbon Glee Club is Chicago's punk rock a capella glee club, and regularly performs songs by Fugazi, Gang of Four, the Dead Kennedys, the Buzzcocks and more.
Please note: This event is NOT at Quimby's. It is at the LIVEWIRE LOUNGE | 3394 N MILWAUKEE AVE, CHICAGO, IL
Facebook event post can be found here.