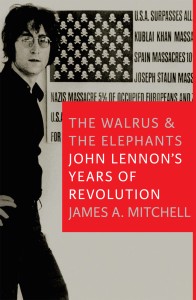 Author and journalist Jim Mitchell will discuss his recently released The Walrus and the Elephants: John Lennon's Years of Revolution. Jim will be speaking about John Lennon's early years of social activism, his music with the progressive New York band Elephant's Memory, and Lennon's special relationship with Ann Arbor.
Based entirely on new interviews and research, The Walrus and the Elephants is the first book about John Lennon to show how his emergence as a solo artist, his embrace of radical politics and feminism, and his love affair with New York City coincided. From controversial television appearances, to benefit concerts, to his new, post-Beatlemania band Elephant's Memory, Walrus and the Elephants is Lennon's story told by a cast of close friends and fellow activists from his Greenwich Village days.
JAMES A. MITCHELL is the author of But for the Grace: Profiles in Peace from a Nation at War, the story of an orphanage in Sri Lanka's war-torn northeast; rock biography It Was All Right: Mitch Ryder's Life in Music; and tales from a rural newspaper, Applegate: Freedom of the Press in a Small Town. A reporter and editor for more than twenty years, his writing has appeared in Entertainment Weekly, The Humanist, and Starlog.
"The Walrus and The Elephants is an indispensable window into an amazing time in American history and the history of rock and roll." —Danny Goldberg, author of Bumping Into Geniuses
For more info:
The book at publisher Seven Stories' site.

To arrange an interview with James Mitchell, please contact Ruth Weiner at ruth(at)sevenstories(dot)com or (212)-226-8760.
Thursday, February 13th, 7pm – Free Event