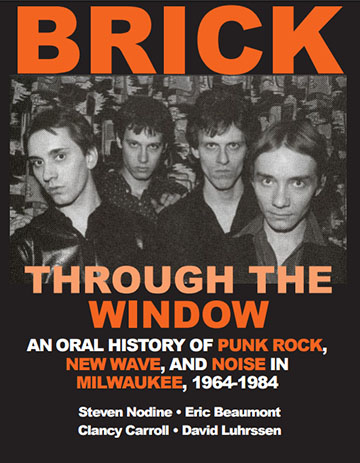 In late-1970s Milwaukee, a compact circle of locals drew from their city's cultural heritage, as well as the examples of New York, London and Los Angeles, to embrace the new in the form of a dynamic punk rock scene.  Drawing on influences from 1960s garage rock and early '50s rock 'n' roll, Milwaukee punks created a formidable body of work.  A new book published by Brickboys/Splunge Communications, Inc., tells the story in the words of the pioneers and participants.
Brick Through the Window: An Oral History of Punk Rock, New Wave & Noise in Milwaukee, 1964-1984 chronicles a small number of people who made history in a setting that produced internationally recognized bands such as the Violent Femmes, Die Kreuzen, Plasticland and Oil Tasters. Original interviews with such visionaries as the late Mark Shurilla and Richard LaValliere tell stories of imagination, creativity, resourcefulness and sacrifice.  Compiled from hundreds of hours of interviews, Brick Through the Window brings vividly to life a short-lived period of creativity and excitement in a heartland American town that was home to a musical subculture more prolific and diverse than that of many larger cities.
And guess what? The last Saturday in April is Independent Bookstore Day (IBD), so enjoy it here with this extraordinary book! Click here for more info about taking the #MyChicagoBookstore challenge for an opportunity to get discounts on books!
"For the men and women who created the world of music in Milwaukee, the most American of cities, this book is not just an important historical document; it's critical.  Their story is told, and told well.  In interviews with the players, and fantastic photos, the adventures and misadventures are chronicled with more gusto than the beer that made Milwaukee famous."  –Wayne Kramer, singer/guitarist/activist, founder, the MC5
Co-authors Steven Nodine and Eric Beaumont will celebrate the release of Brick Through the Window with a discussion and book signing, with recordings of music mentioned in the book.
For more info: 
e_beaumont(at)yahoo(dot)com
Invite your friends with the Facebook invite for this event!
Sat, April 29th, 7pm  –  Free Event