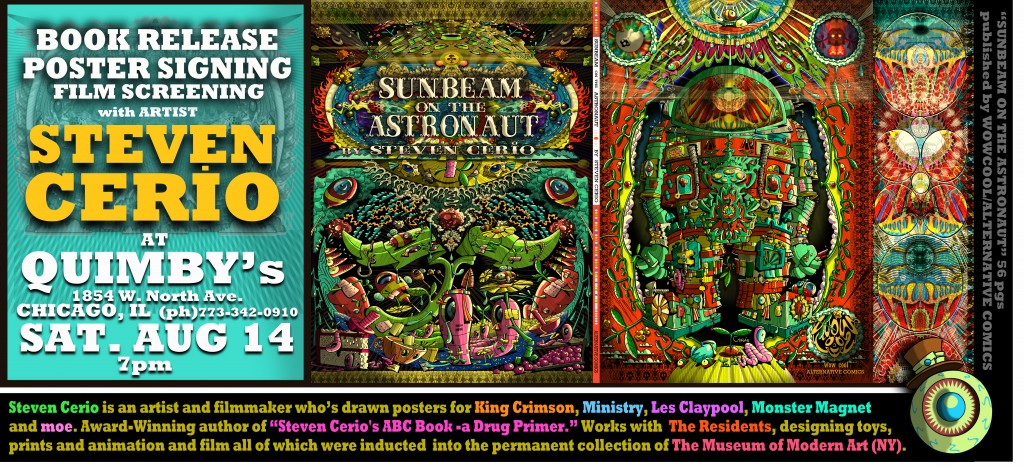 Award-winning artist Steven Cerio will sign copies of his new book, SUNBEAM ON THE ASTRONAUT (Wow Cool/Alternative Comics, 2015), and screen examples of his films.
Cerio will also be selling limited editions of prints and posters of his work, which he has created for music artists including The Residents, King Crimson, Ministry, Les Claypool, Moe, Monster Magnet and White Zombie during his more than 30-year career.
The Quimby's appearance will serve as a launch for Cerio's latest print collection, SUNBEAM ON THE ASTRONAUT, a hallucinatory graphic album of all-new, never before published comics and art.  The 56-page book features comic book adventures of Cerio's characters from his various films with the legendary top-hatted eyeball performance greats THE RESIDENTS; a dozen short narratives; a collection of paintings and collages and stills from his newest film, THE MAGNIFICENT PIGTAIL SHADOW; and much more.  Cerio's work with The Residents is included in the permanent collection of The Museum of Modern Art in New York.
Steven Cerio is an artist, writer and filmmaker with an unmistakable style, which set the stage for the neo-psychedelic revival in New York City in the late eighties. Cerio created his own loving and sarcastic expressions of joy for three decades. In the 80's he started with zines and soon after called upon by galleries and by diverse clients: Nickelodeon, Warner Brothers, A&M Records, Entertainment Weekly and Penguin books. He has drawn posters for King Crimson, Ministry, Les Claypool, Monster Magnet and White Zombie. His prints occupy the set of Comedy Central's hit series Workaholics. Award-Winning author of "Steven Cerio's ABC Book-A Drug Primer " (Gates of Heck) and "PIE " (WowCool). He has been involved with performance pioneers The Residents, designed vinyl toy figures, prints and images for animations and film all of which were inducted into the permanent collection of The Museum of Modern Art in New York. Steven has written for Juxtapoz, as well working as associate editor and art interviewer for Seconds magazine from 1995 to 1999. His film "The Magnificent Pigtail Shadow" was released in 2012 . Cerio's work has appeared in numerous comics anthologies, including Snake Eyes, Graphic Classics, Hotwire Comics, Last Gasp Comix & Stories and Buzzard. After a decade working as an artist in New York City, Steven moved his studio to Baldwinsville, New York.
"If you are curious, Steven Cerio is a mandala-spewing tempunaut Picfisher from the universe signed tomorrow whose ritterings reveal all you need to know concerning omni-dimentional phase shattering imagery."
—Gary Panter, Pee Wee's Playhouse Designer/Jimbo Creator
More info:
Trailer for his last film:
Video about the book:
https://www.youtube.com/watch?v=cVvywbnW3yo
Facebook  invite for this event:
https://www.facebook.com/events/489274917898996/