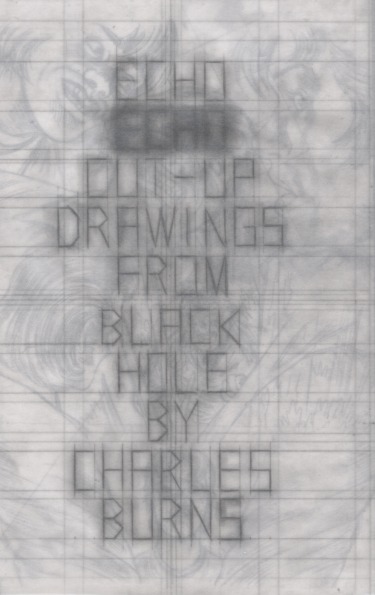 Limited Edition Echo Cut Up Drawings From Black Hole  by Charles Burns $30.00. And if you hustle now, we have an even more limited edition version with one of Mr. Burns' original pencil sketches tucked inside for $125.
Zines & Zine-Related Books
World in Darkness World in Bloom $1.50
Reckless Chants #17 Formerly Sad and Beautiful World Just One More Beer… $2.50
Duped #1 The New Age by Scrappy Dobbins $3.00
Cloud Factory #3 March 2012 by Ryan Homsley and Laura Walker $3.00
Gather by Todd Freeman (Artist Publications Editions) $12.00
Tributaries #1 by JC $2.00
Brooklyn to Mars #1 $8.00
Comics & Comix
Benjamin Marra comics: Lincoln Washington Free Man #1, American Psycho Drawings Newsprint (for reals, crazy)
Squa Tront #13 The EC Comics Magazine (Fantagraphics) $9.99
Now In Lemon $5.50
Do Not Cross #1 by John Gregg $4.00
EJ Barnes comics: Birds of the Baltic: An Ornithological Travelogue Drowned Town, Beautiful Young Nymph Going to Bed by (with Jonathon Swift), Carolines Catalog: Historical Comic Book, How Dear To Me Is Sleep a 24 Hour Comic
Feedback #11 by John Isaacson $2.00 – John goes to see bands play and does awesome comics about the shows.
Graphic Novels and Trade Paperbacks
Days of Destruction Days of Revolt by Chris Hedges and Joe Sacco (Nation Books) $28.00
Angelman Fallen Angel by (Nicolas) Mahler (Fantagraphics) $18.99
Channel Zero Complete Collection by Brian Wood and Becky Cloonan (AIT) $19.99
Zombies: T by Craig Yoe et al. (IDW) $24.99
Boy Who Made Silence vol 1 by Joshau Hagler  (Markosia) $22.99
Fables Deluxe Edition Book 5 by Bill Willingham et al. (Vertigo) $29.99
Graphic Canon vol 1 Worlds Great Literature as Comics and Visuals by Russ Kick et al. (Seven Stories) $34.95
Batman Death by Design by Chip Kidd and Dave Taylor (DC) $24.99
Monsieur Jean – The Singles Theory by Dupuy and Berberian (Humanoids) $24.95
Kick Ass 2 by Mark Millar and John Romits Jr. (Marvel) $24.99
Art & Design Books
Super iam8bit: More Art Inspired By Classic Video Games of the 80s by Jon M. Gibson et al. (iam8bit) $24.95
You Animal You by Charlotte Cory (Black Dog) $29.95
Some really great street art books: Glorious vol 3 Kings of Green vol 1 #1 (Whole Train Press) $29.95, Eloquent Vandals History of Nuart Norway $39.95, Street Art Norway Deluxe $29.95
Destroying Everything Seems Like the Only Option by Ricky Adam (HLP) $39.95
Sex & Sexy
Beaver Street: A History of Modern Pornography by Robert Rosen (Headpress) $19.95
Themed erotica short story books for $15.95 each!: Bound By Lust: Romantic Stories of Submission and Sensuality, Suite Encounters: Hotel Sex Stories, Girl Fever 69 Stories of Sudden Sex for Lesbians
DIY and FOOD and DRUGS
Growing Things: A Guide For Beginning Gardeners by Joshua James Amberson et al. $3.50
Time to Eat Cake by Students of 826 et al. (McSweeneys) $12.00 – Little book thingy about cake written by little kids.
Music Books
Punkademics: The Basement Show In the Ivory Tower by Zack Furness (Minor Compositions) $20.00
Howlin' Wind: Pub Rock and the Birth of New Wave by John Blaney (Soundcheck) $29.95
Mayhem, Miscreants, Memoirs & Misc
Enigma of Cranial Deformation: Elongated Skulls of the Ancients by David Hatcher Childress $19.95
Conspiracy Cinema: Propaganda, Politics, and Paranoia by David Ray Carter (Headpress) $19.95
Against Their Will Sadistic Kidnappers and the Courageous Stories of Their Innocent Victims by Nigel Cawthorne $14.95
Saucers snd Swastikas and Psyops: A History of a Breakaway Civilization, Hidden Aerospace Technologies and Psychological Operations by Joseph P. Farrell $19.95
Politics & Revolution
Me the People: One Man's Selfless Quest to Rewrite the Constitution of the United States of America by Kevin Bleyer $26.00
Indispensable Zinn: The Essential Writings of the Peoples Historian $19.95
Occupy by Noam Chomsky – part of the Occupied Media Pamphlet Series (Zuccotti) $9.95
Fiction
Mammoth Book of Steampunk: 30 Extraordinary Tales $13.95
Literary Journals, Poetry & Chap Books
Fragile Acts by Allan Peterson (McSweeneys) $18.00
Planets Gourds and Traveling Staffs by Maya Odim $10.00
Flash Card Fiction #2 by Thomas Fricilone and Shawn Rosenblatt $3.00
I Love Science by Shanny Jean Maney (Write Bloody) $15.00 – From co-founder of The Encyclopedia Show.
Map of the System of Human Knowledge by James Tadd Adcox $8.00 – A short encyclopedia, full of entries that waver between fiction and memoir. The entrails of vacuum cleaners are examined for hints of a dark future. Gift shops are burned down, rebuilt, burned down once again. Entries end, almost inevitably, not on what we know, but on what we cannot know.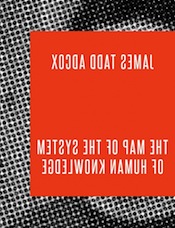 Magazines
Bitch #55 $5.95
Wallpaper Jun 12 $10.00
Cabinet #45 Games $12.00
True Crime May 12 $8.99
Ponystep #3 $34.99
Murder Most Foul #84 $9.99
Fortean Times #288 Jul 12 $11.99
Pinstriping #32 Kustom Graphics Magazine $9.95
BlackBook #92 Jun Jul 12 $4.95
Worn #14 $8.00
Shock Cinema #42 $5.00
Mojo #223 Jun 12 $9.99
Decibel #93 Jul 12 $4.95
Monocle vol 6 #54 Jun 12 $12.00
Z Magazine Jun 12 $4.95
Evolved #1 $6.99 – New tattoo  mag.
Other Stuff
2013 Moleskine Small Monthly Notebook Diary Planner Soft Cover $14.95
The things listed in this list are at our brick and mortar store at 1854 W. North Ave. Occassionally we make some of it available for mail order on our website, but we curate what we put up there. To see which new items are on our website, see quimbys.com/store and mail order them for prompt home delivery.