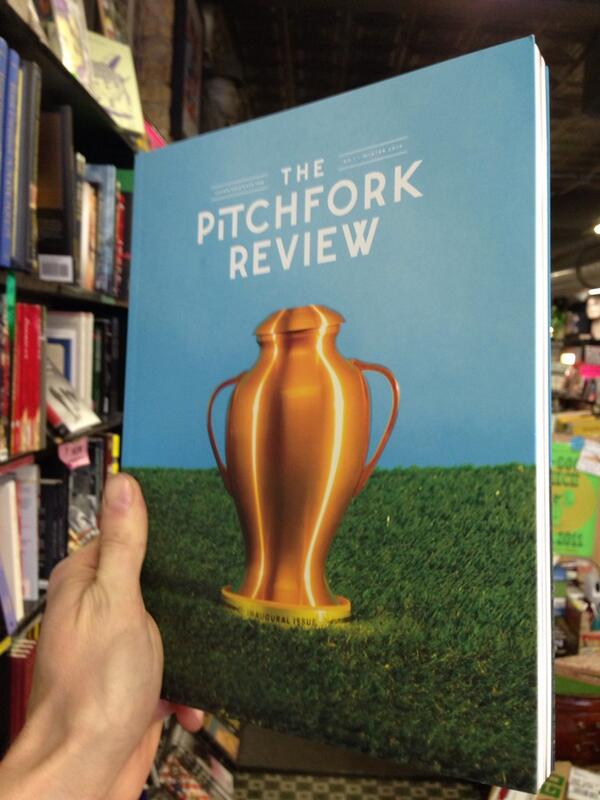 The Pitchfork Review #1 Win 14 $19.96 – Quarterly music publication that combines new long-form feature stories, photography, illustrations and other ephemera with selected recent pieces from Pitchfork. With contributions from the Pitchfork staff and edited by J.C. Gabel of Stop Smiling and The Chicagoan.
Zine & Zine-Related Book
Pedway of Today by Hui Min Tsen (Green Lantern Press) $15.00 – Always wanted to learn where the pedways in Chicago are? Here's your chance!
No Regrets: Three Discussions (N+1 Small Book Series) $9.00
Gun Fag Manifesto by Hollister Kopp $20.00
FOUND Parking Notes $16.99 – Courtesy of FOUND Magazine, these 25 reprints of previously found parking notes.
Can't Tell No One What To Do by Michael F. Conway $4.00
Night Watch #2 Warning Contains Beer Boobs and Barf & Night Watch #3 Eyeball Issue by Tallboy and Krusty $6.00 each
Sutterlinschrift – The Lost German Handwriting by Grace Dobush $4.00
Power Places by Joseph Wilcox $8.00
Museum of Reclaimed Urban Space Opening a Moments Catalog December 8 2012 / Journal of Aesthetics and Protest by Benjamin Shepard, Mrc Herbst and Emily Larned $15.00
Viscera of My Konos #1 Art Zine About Greek Mythology and Mythos by Jake Lawrence, Byron Buslig et al. $2.00
Punks Thugs Vandals $8.00
Margin Creep 2 $6.00
Data Bodies by Daniel Borzutzky $10.00
These Necrotic Ethos Come the Plains by Devin King (Green Lantern Press) $10.00
Judas Goat Quarterly #60 $1.50
Singkre Nisite by Esme O. $6.00
Comics & Comix
You Dont Get There From Here #27 by Carrie McNinch $2.00
Belly Wot Leaflet 2012 Knoze Clippah Edition (Half World Books) $5.00
Seven or Eight by Lara Antal $3.00
Dust Motes Parts 1 and 2 – A Journal Comic by Kevin Budnik $6.00 each
Desk by Leslie Stein (Oily Comics) $1.00
Outside 3 of 3 by Marc Geddes and Warren Craghead (Oily Comics) $1.00
Dumpling King #4 by Alex Kim  (Oily Comics) $1.00
Blood Visions #3  by Zach Worton (Oily Comics) $1.00
Teen Creeps #5 by Charles Forsman (Oily Comics) $1.00
Keep Fresh by Zejian Shen (Retrofit) $6.00
Exes #1 Comic by Dave Kiersh and Cole Johnson $2.00
RL #3 Rosalie Lightning Comic by Tom Hart $3.00
Graphic Novels & Trade Paperbacks
Infomaniacsby Matthew Thurber (Picturebox) $22.95
The Best of Wonder Warthog by Gilbert Shenton $29.95
B+F by Gregory Benton (Adhouse) $19.95
Deep Park by David C. Mahler $12.00
Spy vs Spy Fight to the Finish by Peter Kuper $9.99
Delusional by Farel Dalrymple (Adhouse) $24.95
Art & Design
Greetings From Shitsville UK by Monty Cantsin $24.95
Rope Rapture and Bloodshed by Trevor Brown and Antoine Bernhart $36.00
Inkslingers: Under the Skin by Jakob Schultz et al. $49.95
I Think of Thee When Far Away 16 Postcards by Femke Hiemstra (Last Gasp) $12.95
Film, TV & Music
Hedwig and the Angry Inch: The Complete Text and Lyrics to the Cult Smash by Cameron Mitchell and friends $14.95
This Planet Is Doomed: The Science Fiction Poetry of Sun Ra $12.95
Fiction
Benzedrine Highway Hi-Octane Early Work by Charles Plymell and Allen Ginsberg $14.95
Politics & Revolution
Depression Alphabet Primer by D. Riccuito $19.95
Magazines
Shots #122 Win 13 $6.95
Frankie #56 $13.95
Wrap #9 Telling Tales $19.99
Bizarre #209 Feb 14 $10.50
Interzone #249 Nov Dec 13 $9.99
Backwoodsman vol 35 #1 Jan Feb 14 $4.95
Brownbook #42 $12.95
I-D Magazine Win 13 #328 $12.99
Specimen Magazine #7 $6.00
Wire Dec 13 #358 $11.25
Clash #90 $8.99
Harpers Magazine Jan 14 $6.99
Poetry, Chap Books & Lit Journals
The First Line vol 15 #4 Win 13 $3.00
Sex & Sexy
OP Original Plumbing #12 Trans Male Quarterly $9.00
To see new stuff available from our website, see quimbys.com/store/.