Since 1991, Quimby's Bookstore has specialized "…in the importation, distribution, and sale of unusual publications , aberrant periodicals, saucy comic booklets and assorted fancies as well as a comprehensive miscellany of the latest independent 'zines' that all the kids have been talking about." So reads the hand-painted sign when you walk in the door.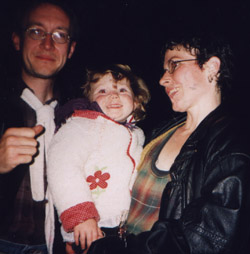 A Brief History of Quimby's Bookstore
September 15, 1991 – Steven Svymbersky, the founder of Quimby's, opened Quimby's in Chicago on 1328 N. Damen (at Evergreen) in Wicker Park, in a 1000 sq. ft. space. Since 1985 he had published over 50 zines with his friends, and had published Quimby Magazine for five years in Boston. Steven's philosophy of the store: "I really want to carry every cool – bizarre – strange – dope – queer – surreal – weird publication ever written and published and in time Qvimby's will. Because I know you're out there and you just want something else, something other, something you never even knew could exist."
1997 – Steven sold the store to Eric Kirsammer, the owner of Chicago Comics. Steven moved to Amsterdam with his family shortly thereafter. Eric purchased the store from Steven in order to continue Steven's commitment to the First Amendment. After a few years, the rent became too expensive to keep Quimby's at the same spot in which Steven had opened it. Eric moved it to it's current locale, 1854 W. North Avenue, to provide it with a more permanent locale. He also still owns Chicago Comics. Quimby's and Chicago Comics have a reciprocal "sister store" relationship
FAQ: What's the deal with Quimby's the store and Quimby the Mouse?
Chris Ware's Quimby the Mouse character does appear on the Quimby's sign, but in a way, it's sort of coincidental; although Steven, the original owner of Quimby's, and Chris Ware were friendly, the Quimby store is not named after the Chris Ware character. Ware was kind enough to lend his mouse as a "mascot" (for lack of a better word) of sorts for the store. In a weird coincidence, both the name of the store and Ware's Quimby the Mouse character were serendipitously created at the same time without the knowledge of each other's creation. Eric is an artist and an obvious comics enthusiast. As such, he is also friends with Chris Ware, who has done a lot of the new signage for Quimby's.