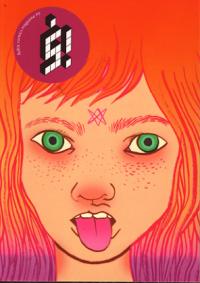 A lot of this stuff is not on our website (ones that are have links). Guess you'll just have to come in to see 'em.
1. Lucky Peach #2 The Sweet Spot (McSweeneys) $12.00 – Come n' get it.
2. Butt #29 $9.90
3. Abuela Y Los Dead Mexicans #1 by David Ortega $6.00
4. Go the Fuck to Sleep by Adam Mansbach & Ricardo Cortes (Akashic) $14.95
5. Paris Review #199 $12.00
6. King Cat #72 by John Porcellino $3.00 – Porcellino feels out the fall apart as life unravels…and unravels some more….the first half of this issue travels through some solitudes and stillnesses. An LSD story rustles the banches a little and punctuates a South Beloit diary. Also squirrely letters and bat dancers. Understated, quietly eloquent comics… but you already knew that, right? -EF
7.  S #9 Baltic Comics Magazine (Kus) $9.50 – As pictured above.
8. Habibi by Craig Thompson (Pantheon) $35.00 – The hit of the season.
9. Bitch #53 $5.95
10. Go For Broke #2 Klimbing Kilimanjaro $2.50