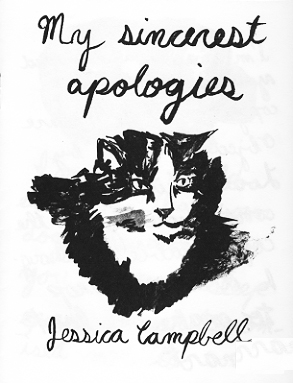 Jessica Campbell's My Sincerest Apologies is at #5 this week.
1. Hypo: The Melancholic Young Lincoln by Noah Van Sciver (Fantagraphics) $24.99 – The debut graphic novel from Noah Van Sciver follows the twentysomething Abraham Lincoln as he loses everything, long before becoming our most beloved president.
2. King Cat #73 by John Pocellino $3.00 – Porcellino goes cuckoo for cuckoo birds, plus cats at the movies, plus a South Beloit Top 36, plus a recurring spermophile theme.
3. Juxtapoz #141 Oct 12 $5.99
4. Neil Hamburger Comics Digest by Gregg Turkington $6.00
5. My Sincerest Apologies by Jessica Campbell (Oily Comics) $1.00 – You'll be truly sorry if you miss this lil' gem!
6. OK Cupid Messages I Have Not Responded To by Delphine Beidient $4.00 – Oh-kay OK Cupid…these unresponded messages are like forensic evidence to reverse engineer Bedient's dating profile. There's a lot here, and it's all pretty much different angles on goofy and polite. I hope this gets followed up by a zine of things Bedient has written on the OKC – I think therein may lay the meat of the matter. -EF
7. No Better Than Apples #8 $3.00 – Health, pinecones, rock camp, singularity, and self-knowledge.
8. I Swallowed the Key to My Heart #2 by Liz Prince $6.00 – How do you outfox the fox? This Liz Prince series is all about players gettin' played, Boston style.
9. Bitch #56 $5.95
10. Laphams Quarterly vol 5 #4 Fall 12 $15.00