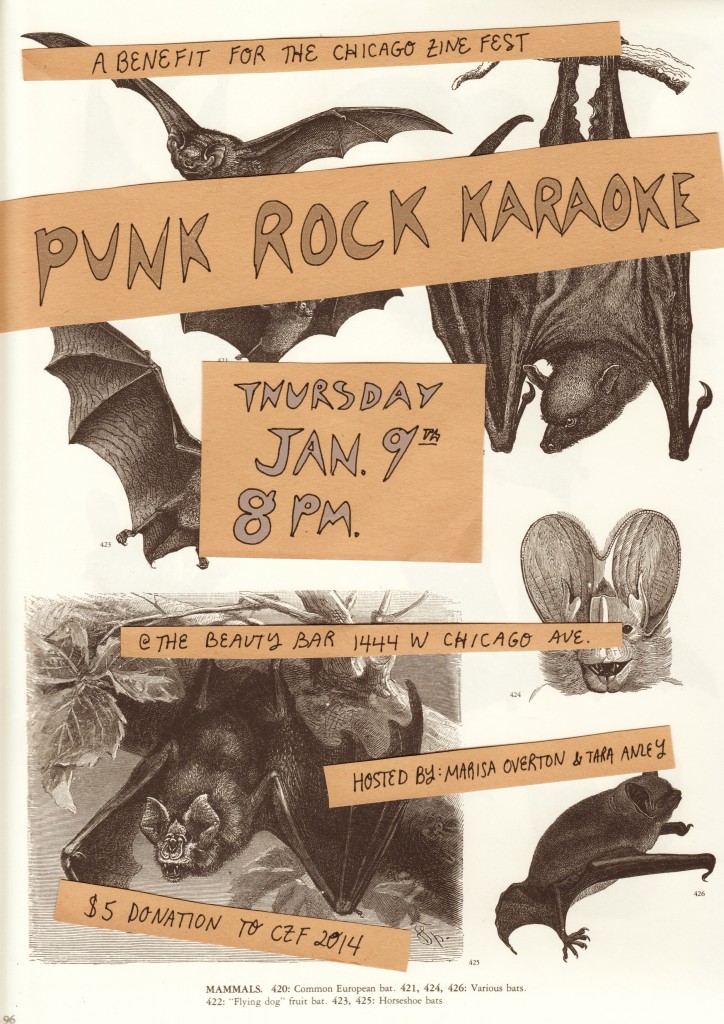 Prepare to belt out your favorite punk songs Thursday, January 9th at Chicago Zine Fest's first fundraiser of 2014, their 3rd annual event partnering with Punk Rock Karaoke Chicago at Beauty Bar at 1444 W Chicago Ave.
The Punk Rock Karaoke songbook has selections from bands including Ramones, Rancid, Green Day, Blonde, Against Me!, the Clash, Misfits, the Smiths and more! These tunes will make you pump your fist in the air and pogo around all night long. Bring your friends to join in on the fun.
Beauty Bar staff will offer a unique drink special all night long, a signature martini and a manicure.
Hosts for the night will be the energetic and outrageous duo of Marisa Overton and Tara Anley.
There is a $5 admission which will benefit the 2014 Chicago Zine Fest. The event beings at 8pm and is 21+.
About Chicago Zine Fest: The Chicago Zine Fest is an independent event creating an outlet for small press and independent publishers to showcase their work. Our goal is to make DIY zine-making accessible, highlight the talents of self-published artists, and give independent artists a chance to interact, and swap skills through tabling, community events, and workshops. The festival will be held on March 14 and 15, 2014. For more information visit chicagozinefest.org.
Note: This is NOT at Quimby's! It is at Beauty Bar at 1444 W Chicago Ave.