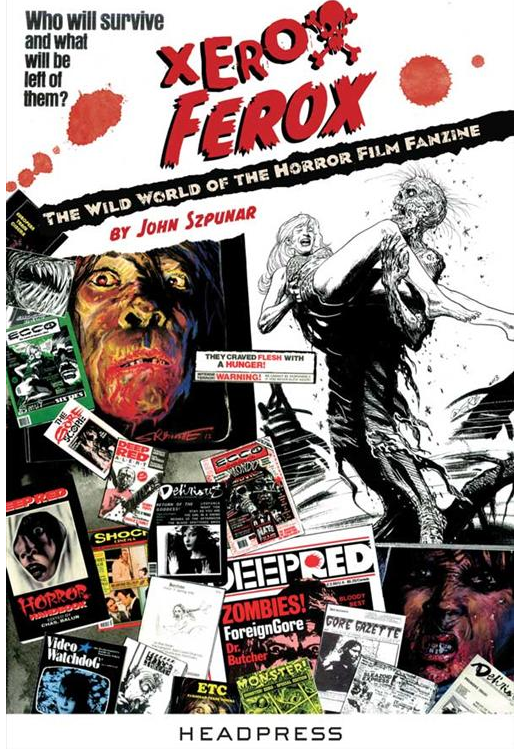 Xerox Ferox: The Wild World of the Horror Film Fanzine by John Szpunar (Headpress) $34.95 – Xeroxferox is the first book to cover the horror film fanzines and the culture they spawned…XEROXFEROX traces the rise of the horror film fanzine, from the Famous Monster-starved kids of the 1960s to the splatter-crazed gorehounds of the Fangoria generation.
zines & zine-related
Put a Egg On It #8 Win 13 $7.00
Vintage Pin Up Girls $10.00
Halfling Zine #2 2013 $7.00
I'm Definitely Not Going On Tour: Stories and Thoughts From the Race Riot Tour (Think About the Bubbles #9) by Joyce Hatton $2.00
Moral Fiber #9 by Chris Pernula $2.00
Queer Art Activism – various issues by Miyuki Baker $4.00 each
Book of Myths Book #52 by Dan Gleason abnd Theresa Currie $3.00
Last Night at the Casino #6 Dec 13 by BJ McCall $2.00 – Zinester turned card dealer in Vegas!
KerBloom #105 Nov Dec 13 by Artnoose $2.00
comics & comix
Henry and Glenn #4 Forever and Ever by Igloo Tornado and friends $5.00
Last Playlist by Marta Chudolinska $7.00
King Cat #74 by John Porcellino $4.00
New Comics #2 by Patrick Kyle $8.00
The Next World Over by Ian McDuffie $6.00
Blackwax Boulevard  #1 by Dmitri Jackson $5.00
graphic novels & trade paperbacks
Kid Mafia Digest by Michael Deforge (Secret HQ) $10.00 – Collects issues #1-3 of Kid Mafia. Don't miss Michael DeForge here at Quimby's Feb 8th!
Qu33r New Comics From Thirty threee Creators $29.99 – Includes work from Edie Fake, Marian Runk, MariNaomi, Diane DiMassa, Ed Luce, Kris Dresen, Carrie McNinch, Nicole Georges and more!
art & design
The Graffiti Cookbook: Complete Do It Yourself Guide to Graffiti by various $29.95
Ed Hardy Interviews by V. Vale  (ReSearch Publications) $14.99
For Kids
Atop a Hill in Frostville by Daniel Frost (ittle Otsu) $15.95
fiction
Monster: A Novel of Frankenstein by Dave Zeltserman $14.95
Sounds of War: Iraq Attack of Thomas Edington by Thomas Ferreolus $10.00
Tale for the Time Being by Ruth Ozeki $16.00
sexy
Delicious Torment a Story of Submission by Alison Tyler (Cleis) $16.95
Study in Fetishisms vol 1 Manifesto $18.00
Transformation #88 $12.50
RFD #156 Win 13 $9.95
music-related
Words Will Break Cement: The Passion of Pussy Riot by Masha Gessen $16.00
politics & revolution
Diaries of an Unfinished Revolution: Voices From Tunis to Damascus by Layla Al Aubaidi and Matthew Cassel $17.00
mags
Cabinet #51 Wheels $12.00
Design Bureau Jan Feb 14 $8.00
ArtForum Jan 14 $10.00
Dwell Feb 14 $5.99
Hi-Fructose #30 $7.95
Skeptic vol 18 #4 $6.95
Skeptical Inquirer Jan Feb 14 vol 38 #1 $4.95
American Atheist 1st Quarter 14 $4.95
True Crime Dec 13 $8.99
Ladygunn #8 $9.99
Dapper Dan #8 Fall Win 13 $10.99
Boneshaker #43-400 A Bicycling Almanac $8.00
Sofilm #2 Dec 13 $9.99
Wax Poetics #57 $11.99
Maximumrocknroll #368 Jan 14
Mojo #242 Jan 14 $9.99
Uncut Special: Neil Young $13.99
Tattoo Traditional Special #10 From Tattoo Life $9.99
Our Tattoos vol 3 Best Tattoos From the Worlds Best Artists (WP Tattoo Series 4) $9.99
poetry, lit journals & chap books
Boulevard of Broken Discourse by Matthew Freeman $11.95
Tombo by WS DiPiero (McSweeneys) $20.00
The Paris Review #207 $15.00
Creative Nonfiction #50 Fall 13 Win 14 $10.00
Six By Six #29 Reduced to Survival $5.00