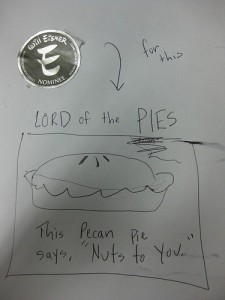 The Eisner people must regret sending us those stickers.
New Stuff!
ZINES!
Heh Head Corpuscorpus #3 ed. by Paul Nudd $20.00 – Show catalog for the Heads On Poles exhibit at Western Exhibitions (the show being up until Feb 19th). Each artist used the idea of Heads On Poles their own way. Artists include David Shrigley, Onsmith, Lilli Carre, Mike Diana, John Hankiewicz, Keith Herzik and more.
Nazi Knife #7 by Hendrik Hegray and friends, including CF and Leon Sadler (Picturebox) $5.00
Brainscan #26 by Alex Wrekk $2.00 – Answers the question, "What's the Deal With You And Microcosm?" Inquiring minds want to know!
Uptown Problems #1 Win 10 11 $4.00
Feel Here Too by Davis Limbach $5.00
Johnny America #8 $3.00
Reality Mom vol 8 #1 Win 11 $3.00
COMICS & MINICOMICS!
Two Eyes of the Beautiful #2 A Grotesque Horror Manga Based on Umezu Kazuos Bloo by Ryan Cecil-Smith $5.00
Phase 7 #008 by Alec Longstreth $4.00
GRAPHIC NOVELS!
Fucussle Blecky Yuckerlla vol 4 A Comic Strip Collection by Johnny Ryan (Fantagraphics) $11.99 – Just to give you an idea, if you're not familiar with the work of omnipresent Johnny Ryan, words that can also be found on the cover of the book are "Fuck You Ass Hole asshole Fuc U Ss Le FYA." Just so you know.
I See The Promised Land by Arthur Flowers and var. (Tara) $16.95 – Modern-day griot Arthur Flowers shares this beautiful graphic novel on Dr. MLK Jr. here at Quimby's on 2/12.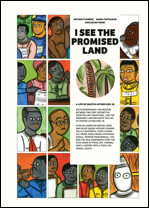 Denis Kitchen's Chipboard Sketchbook (Boom) $19.95 – In 1969, Denis Kitchen founded Kitchen Sink Press and for 30 years published many of the most prominent and innovative creators in the comics field. But he was also underground cartoonist who self-published Mom's Homemade Comics in 1968. Here's his sketchbook.
King of the Flies vol 2 Origin of the World by Mezzo and Pirus (Fantagrphics) $18.99
Stigmata by Lorenzo Mattotti and Claudio Piersanti (Fantagraphics) $19.99
BPRD Plague of Frogs HC vol 1 by Mike Mignola and Guy Davis (Dark Horse) $34.99 – From the pages of the popular Hellboy series.
ART & DESIGN BOOKS!
Before the End by James Kirkpatrick (aka Thesis Sahib) $39.95 – This 60 page hardcover art book comes with a 16 song digital download card and a color 7? record of Thesis Sahib's music. Once finished downloading the album the download card can be planted to grow wildflowers! Don't miss his event here at Quimby's on Sat, Feb 19th. Stay tuned for more info.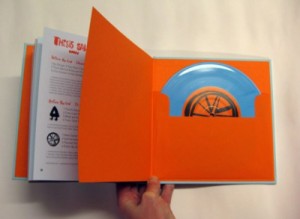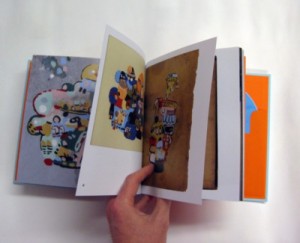 FICTION!
Popular Hits of the Showa Era by Ryu Murakami (Norton) $13.95 – Creepy Asian fiction, finally reprinted and translated into English after its original printing in 1994. And there's a lot of karaoke in it. Does that make it kreepy then?
Skating Rink by Roberto Bolano (NDP) $14.95 – Now in soft cover, another posthumous reprint.
Modem Times 2.0 Plus by Michael Moorcock (PM Press) $12.00 – From beloved British science fiction weirdo Moorcock, continuing the ongoing Jerry Cornelius chronicles in the present day.
MAGAZINES!
Kill Pretty #1 Magazine of Death 2009 $5.00
Bizarre #171 Jan 11 $10.50
Open Minds Feb Mar 11 $6.50
Make vol 25 $14.99 – As in the DIY makin' stuff magazine, not the Chicago literary journal.
Bust Feb Mar 11 $4.99
Fangoria #300 $8.99
Creative Nonfiction #40 Win 11 $10.00
Maximumrocknroll #333 Feb 11 $4.00
XLR8R #137 $4.99
Harpers Magazine Feb 11 $6.99
Against the Current #150 $5.00

LITERARY JOURNALS & CHAP BOOKS!
Knee Jerk Offline vol 1 MMX $14.00
POLTICS & REVOLUTION!
Black Mask & Up Against the Wall Motherfucker: The Incomplete Works of Ron Hahne, Ben Morea, and the Black Mask Group (PM Press) $15.95 – Chronicling the history of two New York City 60s provocateur groups—Black Mask and Up Against the Wall, Motherfucker—this account complies the complete 10 issues of the newspaper Black Mask; numerous leaflets, articles, and flyers generated by Black Mask; the Up Against the Wall Motherfucker Magazine; and Free Press and more.
MUSIC BOOKS!
1000 Indie Posters ed. by John Foster (Rockport) $40.00 – Lotsa bands and lotsa artists. Who do you like? The Melvins? Yeah, there's a Melvins poster or two. Like posters designed by Nick and Nadine of Sonnenzimmer? Yeah, they're in there. Small Stakes? Yeah yeah, everybody's there. Nice and geeky. Just the way you like it.
MAYHEM, MISCELLANY, MEMOIR, MIRTH & (M)OUTER LIMITS!
Blade Runners, Deer Hunters & Blowing the Bloody Doors Off: My Life in Cult Movies by Michael Deeley (Pegasus) $15.95 – The producor of Blade Runner comes clean about working with such stars as Harrison Ford, Robert DeNiro, Dustin Hoffman and more. But what should really entice you is his quote ""As Ridley Scott famously said, every movie is like going into battle. But Blade Runner was World War I and II combined." Now are you interested?
Loud in the House of Myself Memoir of a Strange Girl by Stacy Pershall (Norton) $24.95
The Amazing Story of Quantum Mechanics: A Math-Free Exploration of the Science that Made Our World by James Kakalios (Gotham) $26.00 – From the author of The Physics of Superheroes.
SEX & SEXY!
Pleasure Bound Victorian Sex Rebels and the New Eroticism by Deborah Litz (Norton) $27.95
Josh #3 Fall 10 Remember Me Forget Me $12.00
Handbook vol 5 #1 2011 $6.00
OTHER STUFF!
Allen Ginsberg Toy Vinyl Figure and CD Set (Press Pop) $44.99 – Introducing the 3rd figure from the Great People Series by Archer Prewitt! The Allen Ginsberg Doll, officially approved by the Allen Ginsberg Estate. Comes with fabric cloth jacket, glasses, book, Uncle Tom hat, beaded necklace, and CD with 5 poetry readings and 1 song (all of the recordings are previously unreleased material).
Limited to 1000 pieces.