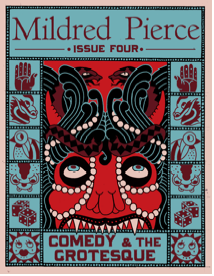 Join us as we celebrate Mildred Pierce's fourth issue, the theme of which is "Comedy and the Grotesque." A number of Chicago artists and writers are featured in this bad boy, with a cover designed and screenprinted by Edie Fake.
The evening's program will feature readings and performances by MP contributors James Tadd Adcox (Artifice Magazine), Edie Fake (Gaylord Phoenix), Jim Joyce (Or Let It Sink), Vicky Lim (Dear Jaguar), Ed Choy Moorman (editor/publisher, Ghost Comics), and writer/artist Ellen Nielsen.
Mildred Pierce is a (maga)zine, co-founded in 2005 by John Bylander and Megan Milks and co-edited by the same. It is a somewhat annual zine dealing in art, writing and countercultural cultural criticism.
Refreshments will be provided. A limited edition zine will be sold.
For more info: http://mildredpierce.wordpress.com