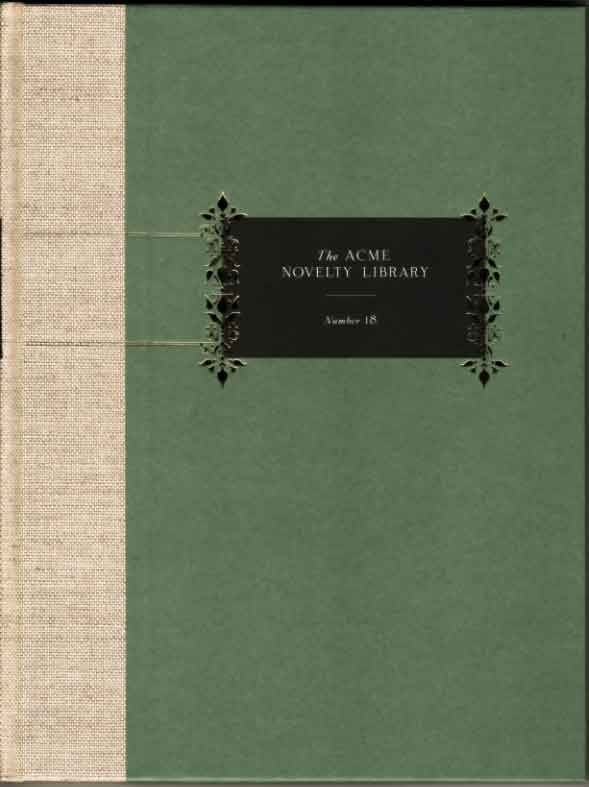 Holy Cow! ACME #18 just dropped on the store like a ton of wet Chicago snow. This volume collects the stories featuring the woman with one leg, well known to local folks who have read these in the Reader over the past years and have been asking for a compilation of the strips for some time. ASK NO MORE It is HERE!
Anayway! The weather has been icy and snowy but we are still getting over run with hot new books and all you last minute holiday shoppers. We got some good restocks this week so you should be safe if you have been procrastinating.
New Stuff Dec 15th
Zines
Watch the Closing Doors #41 $2.50
Bat #5 Art Criticism and Discussion $4.00
Giant Robot #51 $4.99
Juxtapoz #84 Jan 08 44.99
Wax Poetics #26 $7.99
Signal to Noise #48 Win 08 $4.95
Rejected Quarterly #17 Sum Fal 07 $6.00
Comics & Graphic Novels
Acme #18 by Chris Ware $17.95
Hate Annual #7 by Peter Bagge $4.95
Hell Babies UpGraded by Junko Mizuno $42.00 Back in print with extra action!
Walking Dead #45 $2.99
Japan Ai A Tall Girls Adventures In Japan $16.99
New Books
Fight by Eugene Robinson $34.95 tell all book about fighting
Laura Warholic Or the Sexual Intellectual A Novel by Alexander Theroux $29.95
Studio Gangster $29.95 Nice new Steve Powers monograph
Illustration Play $39.95 New compilation from Vict:onary
Live at the Masque $45.00 Nightmare in Punk Alley photos and more
Wax Poetics Anthology Vol 1 $39.95
Urban Illustration Berlin $29.95 Street Art guide with maps and more!
Super Locos by Date Farmers $19.95 The Upper Playground books keep rolling out!
Vossia by Herbert Baglione $19.95 more Upper Playground
How The Dead Dream by Lydia Millet $24.00
Candy In Action by Matthue Roth $16.95
Killer Cuts & Killing Shapes by Ryohei Tanaka $8.00
Awake A Reader For the Sleepless by Steven Beeber $15.95
Erotica Porn Comics and Smut
AG #71 Super Erotic Anthology $4.99
US Constitution Erotic Coloring Book by Donny Miller $17.91
Gifts
Jimbo Ltd Ed Vinyl Figure by Gary Panter $34.99
Thax The Movie $20.00 a movie about Thax Douglas!
Dogs & Water T-shirt $18.00
Sidepony Color by Number Card Sets with Crayons $14.00
Restocks
I Am America And So Can You by Stephen Colbert $26.99
Complete Persepolis by Marjane Satrapi $24.95
Veganomicon $27.50 Ultimate Vegan Cookbook
Unmarketable by Anne Elizabeth Moore $15.95
World War Z SC by Max Brooks $14.95
Best American Comics 2007 $22.00
Keep Your Eyes Open Fugazi $30.00
Chicago's Nelson Algren $19.95
Hand Job $35.00 This years typography book you need!