_________ by Lisa Carver $20.00 – Lisa (as in Suckdog, Rollerderby and so on) took up painting while at the same time exercising her sexual abuse demons and meditates on the long term effects, in this powerful, haunting self-published book, not currently available through very many distribution channels. This material is so raw that she didn't even give the book a name.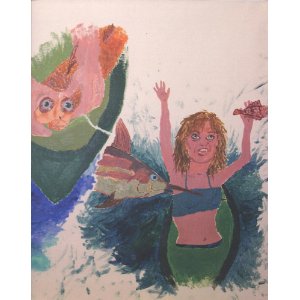 Zines & Zine-Related Books
Doris #29 $2.00
Bound to Struggle vol 5 Praxis Where Kink and Radical Politics Meet by Simon Strikeback $5.00
Dwelling Portably #5 $4.00 – So packed with DIY health/sustainability (etc.) info that the articles start on the cover.
Bamboozled: The Joey Torrey Story by Joey Torrey $5.00 – The story of a boxer on his way to success when he was recruited to "clean up" the boxing industry, whereupon he was "rewarded" with maximum security prison.
Its Down to This #1 A Response to Sexual Violence Abuse and Accountability, Reflections Stories Experiences Critiques and Ideas on Community and Collective ed. by Claire Urb $3.00
Entropy Zine by Peregrine $5.00
Shotgun Seamstress #6 by Osa $3.00
When Language Runs Dry #4: A Zine For People With Chonic Pain and Their Allies ed. by Meredith and Claire $4.00
Nicey Hatey #1 by Dari $.50
Get Fit for the Pit #1: A Zine on Taking Back Our Health and Fitness $2.00 – Zinesters share their adventures with attempting to stay fit and how it plays out in thier own indep publishing peer spheres. What hooked me? The subtitle of this piece: "An Aging Punk Slob Takes Up Running." I will be buying this TONIGHT and reading it the minute I get home. -LM
Joyland Retro vol 1 #1 Selections From Joyland Magazine 2012 $6.00
Simple History Series: Nez Perce Indians by J. Gerlach $3.00
MFB #1 by Francois Brunet $15.00
Hip Mama #51 $5.95
Bitch #54 $5.95
Paper Houses #1 Essays and Elongated Patches of Syllables Pronouns Conjunctions by Kriss Stress $3.00
Avocado #1 by Mellie Manfredi $2.00
Remedy Quarterly #8 Adventure $7.50
Prison Industrial Complex Is by The Chicago PIC Teaching Collective, Project NIA and Billy Dee $5.00
Comics & Comix
You Dont Get There From Here #22 by Carrie McNinch $2.00
Kisses by Jason Wyatt Frederick $2.00
Cheech Wizard vol 3 by Vaughn Bode (Last Gasp) $4.95
Kim Gee Comics #6 by Kim Gee $5.00
Dope Mouthfeel #1 by Steve Schaberg $3.00
Anna Moriarty titles: Art Bitch vol 1 $3.00, Shelf Life issues #1-#3 $5.00 each
Graphic Novels and Trade Paperbacks
Glitz 2 Go Collected Comics by Diane Noomin (Fantagraphics) $19.99
Art & Design Books
Hobos to Street People: Artists' Responses to Homelessness from the New Deal to the Present by Art Hazelwood (Freedom Press) $25.95
Pages From Books vol 1 by Jay Howell $12.00
How and Nosm -The Brazil Diaries (From Here to Fame) $14.95
Zebster Aka Zeb Roc Ski by Zebster $14.95
Fiction
Chicago Stories: 40 Dramatic Fictions by Michael Czyzniejewski and Rob Funderburk $14.99
Threats by Amelia Gray (FSG) $14.00
Fires of Our Own Choosing by Eugene Cross (Dzanc) $15.95
Mayhem, Miscreants, Memoirs & Misc
Rub Out The Words: The Letters of William S Burroughs 1959-1974 ed. by Bill Morgan (Harper) $35.00
UFOs: Myths Conspiracies and Realities by John B. Alexander PhD (Thomas Dunne) $16.99 – Now in soft cover.
DIY
Composting by Bob Flowerdew (Skyhorse) $14.95
Politics & Revolution
Administration of Fear by Paul Virilio (Semitexte) $12.95
Magazines
Maximumrocknroll #346 Mar 12 $4.00
SteamPunk Magazine #8 Lifestyle Mad Science Theory and Fiction $8.00
Purple Fashion vol 3 #17 $45.00
Headmaster #3 $20.00
Color Ink Book vol 14 DIY Art Periodical $10.00
Infamous #6 $6.99
HotShoe Feb Mar 12 $12.00
Backwoodsman vol 33 #2 Mar Apr 12 $4.95
Pop Magazine #26 Spr Sum 12 $14.95
Gothic Beauty #35 $6.95
Lovecat #4 $8.00
Treating Yourself #33 $7.99
Skunk vol 7 #6 $5.99
Boneshaker Magazine #8 $10.00
Pinstriping #30 Justom Graphics Magazine $9.95
Skateboard Mag #97 $3.99
Fangoria #311 $9.99
Filter #47 $5.95
Fader #78 Feb Mar 12 $5.99
Monocle vol 6 #51 Mar 12 $10.00
ASR #57 Win 12 Anarcho Syndicalist Review $5.00
In These Times Mar 12 $3.50
Literary Journals, Poetry & Chap Books
Bad Version vol 1 #2 by The Icarus Project win 12 $9.00
Rock and Sling vol 7 #1 Win Spr 12 $10.00
Public Space #15 $12.00
Camera Obscura vol 4 Spr 12 $12.95
Hobart #13 $11.95
American Short Fiction vol 15 #54 Spr 12 $10.00
Skeptical Inquirer Mar Apr 12 vol 36 #2 $4.95
Sex & Sexy
Beneath Contempt and Happy To Be There: The Fighting Life of Porn King Al Goldstein (Headpress) $19.95
Oh My Comix #3 $4.00
RFD #149 Spr 12 $9.95
Travel Naturally #82 $9.95
Sleazy Slice #5 by Robin Bougie $6.00 – Holy Moly, this is for sure the most solid issue yet of Robin Bougie's cum-drenched comics anthology/cesspool. Bougie and Maxine Frank follow up their absurdly amazing story in Maximum Superexcitement #3 with a sex control megabattle of giant naked ladies (there's an abridged version of this in Oh My Comics #3, btw). Then Karl Wills dicks around with Jessica the junkie schoolgirl and the team of Steve Carter and Antoinette Ryder blow your mind to the Mad Maximum in a post-apocalyptic Down-Under hellhole orgy. Then John Howard does a smash bang job in "Leather Whore" of visualizing Andrea Dworkin's writing on porn. Jason "Fukitor" Karns draws an expectedly nasty, surprisingly undersexed, corndog-fixated shortie called "Carnie Tramp" and the curtains close on a gallery of Tom Crites' pinups for the demonically possessed. Nicely arranged and surely deranged, bang for yr buck, hun. -EF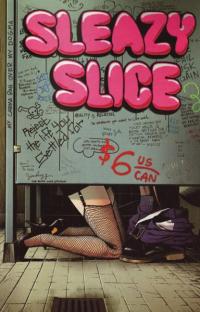 Other Stuff
A bunch of different Field Notes blank books, a variety of sizes/colors/styles $9.95
Everything we list on our blog is available at our brick and mortar store. But not everything we sell at the brick and mortar store is available from our webstore. Click here to see what is new in our webstore!