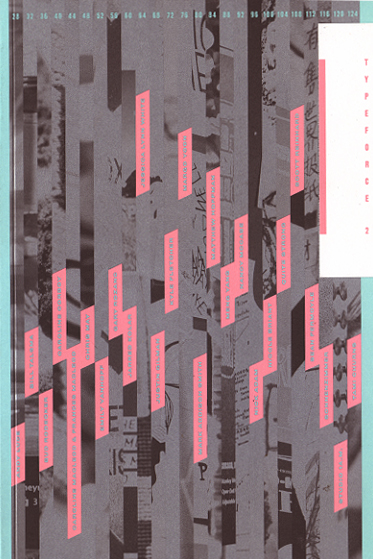 Typeforce 2 The Annual Show of Emerging Typographic Allstars $20.00 – A veritable font of design wizardry -EF
Miss me last week? Well that's because I went out of town. But now I'm back, to tell you about TWO WEEKS worth of new stuff! Spend your tax refund here, perhaps on -LM
Zines
Burn Collector #16 by Al Burian (Paquita Press) $5.00 – It's always a joy to see another installment of Al's adventures, especially since we see him less and less in Chicago due to his relocation in Berlin. There's plenty of flash rant-style review pieces (an Iron Maiden concert for one), books he's read (a YA novel!), and also his comics. Like the last issue of BC there's also some interviews too, like Tim Remis from Sweet Cobra (and of lesser-known Soviet folk singer fame), as well as Sascha Scatter of The Icarus Project. Published by Caroline Pequita's art-freaker publishing house Pegacorn Press in Brooklyn.
Zines 101 An Intro to Zines by Carrie $1.00 – As in the Carrie of My Aim Is True and Brilliant Mistake. Carrie is also responsible for getting a variety of her students to sell their zines here. Passing it along to the next zinester generation!
The Match #110 Spr 12 $3.00
Roam #3 2012 for the Life of Little Things $1.00
9 to 5 #1 by Tom Callahan $8.00
Infect With Intellect #1 Apr 12 $2.00
Anarchist Panther vol 1 #3 Good Readings Zine Spring into Summer 01 by Firestarter Press $3.00
Skulk #1 by Your Secretary $1.00 – Made during the Quimby's 24 Hour Zine Challenge this past January.
Interview Clothes a Paper Doll Zine by Jami Sailor and Jenna B. $1.00
These Boots by KE Bleier $3.00
Seesaw Fidgets by Evah Fan $5.00
Ugly  No 1 #4 Apr 12 a Collection of Stuff and Stuff by Matt Soria $4.00
Gems #1 Interview Zine Featuring Sic Alps Kraftwerk and Geneva Jacuzzi by Mike S and Byron Browne $4.00
Cloud Factory #2 by Ryan Homsley and Laura Walker $3.00
Field Guide to the Aliens of Star Trek The Next Generation, Season Three by Joshua Chapman $1.00
Collection of Jars #1 by Zach Hamilton et al. $4.00
Railroad Semantics #1 Eugene Protland Pocatello and Back by Aaron Dactyl $7.95
Anarchism Marxism and Hope for the Future by Noam Chomsky and the Red and Black Revolution (Microcosm) $1.65
Taking the Lane vol  5 Our Bodies Our Bikes by Elly Blue (Microcosm) $3.00
Hurt Notes on Torture in a Modern Democracy by Kristian Williams (Microcosm) $6.95
Fireweed: A Zine of Grassroots Radical Herbalism and Wild Foods Connecting with Kids and Family Life by Jess (Microcosm) $3.80
KerBloom #95 Mar Apr 12 by Artnoose $2.00 – Comepelling reading about the author's story to finding the right baby daddy for her fading fertility.
Number 4 Privet Drive by Paul Schwartz $1.00
Fag School #4 New Fiction Johnny, Would You Love Me If My Dick Were Bigger, Join the Professionals by Brontez (Pegacorn Press) $5.00 – One half fiction, the other half interviews with activists, photographers, Michelle Tea, Tobi Vail, the DJ Robot Hustle and more.
Comics and Comix
Wigstaff by Ruby Thorkelson $2.00 – Hairy trickster born of bakers!


Spitting Anorexic by Eamon Espey and Andrew Liang $2.00
SF Supplementary File #2C by Ryan Cecil Smith $6.00
Has Anyone Ever Told You That You Look Like Buddy Holly? by Lee Bretschneider $4.00
More Comics by Michael Deforge, various prices: Kid Mafia #1 (of moles and bullies!), Incinerator (a beagle's offspring!), Open Country #1 and #2 (psychic travel!).
Sky In Stereo by Mardou $5.00
Archer by Nate Doyle $5.00
Bicycle Propaganda by Tom Lechner $2.00
Tales of Inertia #1-#3 by Tom Lechner $4.00 each
Wuvable Oaf Gory Details – Official Handbook to the Oafiverse by Ed Luce $6.00
Mad Soul #1 by Bobby Madness (Sparkplug) $3.50
Crass Sophisticate #28 by Josh Reinwald and Justin Rosenberg $2.00
Xerox Candy Bar #19 XCB Newspaper Edition Mar 12 $3.00
Reeds In The Wind Cambodian Life Under the Khmer Rouge by Danielle Chenette $4.00
Spinadoodles #2 The Second Year May 1 2010 to June 24 2011 Daily Sketchbook comic by Sam Spina $7.00
Grandma Stories a sort of 24 Hour Comic by Sam Spina $3.00
Stranger Two Stranger #3 Apr 12 – Actual Stories of Craigslist Missed Connections by R. Hendricks $2.00
Natural World #3 by Damien Jay $4.00
Teenaged Terror issues #4-#6 $4.00 each
Here Comic by Eroyn Franklin (Sparkplug) $7.00
Survivalist by Box Brown $7.99
1999  by Box Brown $5.00
Bellanova Redstar Space Girl 4199 #379 at the Edge of the Universe by Lee Bretchneider et al. $3.99
Howdy Pardner Small Activity Comic by Andrew Brandou (Robot) $2.00
Grump Toast #1 and #2 by Ben Horak $5.00 each
End of The Fucking World Parts 4 and 5 by Charles Forsman $1.00 each
Eat To Survive Spr 12 by Jeff Mahannah $3.00
Lou #1 by Melissa Mendes $1.00
Bonnie N Collide Nine to Five #1-#5 Even Rollergrils Have Day Jobs by Monica Gallagher (various different prices)
Fugue #1 and #2 a Family in Three Parts by Beth Hetland $6.00 each
Comics by Nils Balls: Now Playing In Hell $1.50, Sketchbook Drawings Sketchball $4.00, Joseph UPMC a Production of SkeletonBalls Comics $6.00
Graphic Novels and Trade Paperbacks
Unterzakhn by Leela Corman (Schocken) $24.95
Books by Monica Gallagher: Gods and Undergrads Books 1 and 2 and Boobage (various prices)
Fight a Chapter Book by San Spina $5.00
Curse of the Masking Tape Mummy Basic Instructions by Scott Meyer (Dark Horse) $14.95
Joe Golem and the Drowning City – An Illustrated Novel by Mike Mignola et al. (SMP) $25.99
Saga of the Swamp Thing Book 1 TPB by Alan Moore et al. (Vertigo) $19.99
American Barbarian HC by Tom Scioli (Adhouse) $19.95
100 Bullets HC Book 2 by Brian Azzarello (Vertigo) $49.99
Pete and Miriam and Rich Tommaso (Boom) $14.99
Lovecraft Anthology vol 1 Graphic Collection of Short Stories by HP Lovecraft (Self Made Hero) $19.95
Holiday Funeral by Nick Mullins $10.95
Art & Design Books
Mark Whalen: Human Development (Zero) $45.00
Amalgamate: The Art Design and Exploration of Blaine Fontana (Zero) $45.00
Now and Then: The Cabinet Card Paintings by Alex Gross (Gingko) $14.95
De Nada: The Art of Jeral Tidwell (Presto) $34.99
Physical Impossibility of Remembering Last New Years for Ross Turning Us…by Gregg Evans $5.00
Abstract City HC by Christoph Niemann (Abrams) $24.95
Fuse Collection #1 through 20 From Invention to Antimatter Twenty Years of Fuse by Neville Brody et al. (Taschen) $59.99
Making Wet the Magazine of Gourmet Bathing by Leonard Koren (Imperfect) $39.00
Fiction
Kingdom Come by JG Ballard (Norton) $24.95
Cambridge Street by John Michael Manship $8.99
Ataraxia Boom Boom by Michael Nolan $12.00
Mayhem, Miscreants, Memoirs & Misc
How to Sharpen Pencils: A Practical & Theoretical Treatise on the Artisanal Craft of Pencil Sharpening for Writers, Artists, Contractors, Flange Turners, Anglesmiths, & Civil Servants by David Rees (Melville) $19.95 – Remember Get Your War On and My Fighting Technique is Unstoppable? This is his new John-Hodgmanish book, about sharpening pencils.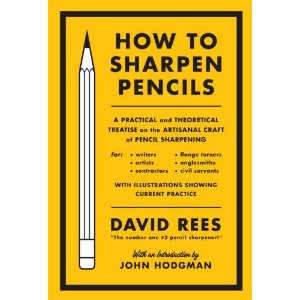 All My Friends Are Still Dead by Avery Monsen et al. (Chronicle) $9.95 – Second book  in the series of a top selling humor book about punnishly showing angst over dead comrads.
Wild: From Lost to Found on the Pacific Crest Trail by Cheryl Strayed (Knopf) $25.95
Wilder Life: My Adventures in the Lost World of Little House on the Prairie by Wendy McClure (Riverhead) $16.00 – Now in soft cover.
New Literary History of America ed by Greil Marcus et al. (Harvard) $24.95 – Now in soft cover.
So You Created a Wormhole: The Time Travelers Guide to Time Travel by Phil Hornshaw et al. (Berkley) $15.00 – All wibbly wobbly timey wimey.
Magazines
Proximity #9 Grassroots Planning and Placemaking Objects Spr 12 vol 4 #1 $11.99
Juxtapoz #136 May 12 $5.99
ArtForum Apr 12 $10.00
Koshka #2 Homesick and Hungry by Kaitlin Kostus $4.00
True Crime Mar 12 $8.99
True Crime Spring Special 12 20 All True Murder Stories $6.99
Dot Connector #15 $7.95
2600 Hacker Quarterly vol 29 #1 $6.25
Pinstriping #31 Kustom Graphics Magazine $9.95
various older Lumpens!
BlackBook #90 Mar 12 $4.95
Acne Paper Spr 12 $17.99
Tiki Magazine vol 8 #1 Spr Sum 12 $6.99
Ghetto Blaster #31 $7.00
Tattoo Flash #113 May 12 $7.99
Make Shift #11 Spr Sum 12 $6.95
Makeshift #2 Win 12 Journal of Hidden Creativity $10.00 (2 different mags with the same name, for real. When thinking up a name for your mag, how about do a simple google search? Just musing…)
Paleo Magazine Apr May 12 $5.99 – For those leading a paleo lifestyle. Are you into digesting your food with rocks in a gizzard? Perhaps this is the magazine for you.
Literary Journals, Poetry & Chap Books
Pageboy Magazine 4 12 $10.00
Ecotone #13 $12.95
Slake Los Angeles #4 2012 Dirt $18.00
Ghetto Blaster #31 $3.95
Pocho Love by Pablo Ramirez $10.00
D: A Novella Deluxe Collectors Edition by Ronald Jones $19.95
Childrens & Radical Parenting Books
Monster Within: The Hidden Side of Motherhood by Barbara Almond (U of Calif) $19.95
Piranha Pancakes: A Buncha Silly Comics and Stories by Ray Fresen $9.95
Adventures of Tintin Young Readers Editions by Herge: Shooting Star (with 20 extra bonus pages), Crab with the Golden Claws $8.99 each
Sex & Sexy
Thickness #2 by Angie Wang et al. $10.00 – Hot 'n slimey crypto-beast on humanoid-beast action. Eagerly anticipated sophmore release for this sexy anthological comic. Works from Lisa Hanawalt, Michael DeForge, Jilian Tamaki and more.
Fukitor #7 $10.00
OP Original Plumbing #9 Trans Male Quarterly $8.00 – The Entertainment Issue. Features with Silas Howard, trans on film, Black Cracker, Schmekel, Geo Wyeth and more.
Handbook vol 6 #2 2012 $6.00 – Starring three previously featured nude guys from past issues.
DIY
Homesweet Homegrown How to Grow Make and Store Food No Matter Where You Live by Robyn Jasko et al. (Microcosm) $9.95
Cannibal Kitchen: A Horror Lovers Cookbook Over 90 Amazing Recipes Each With a Horrific Twist by Shannon Rullo $25.00
Cats Claw Herbal #1 DIY Medicinal Skin Care Stories Instructions…(Micorcosm) $1.10
Other Stuff
Skate Boarding Coloring Book by Magnus Frederiksen (Dokument) $9.95
Steampunk Tarot Card Set by Barbara Moore (Llewellyn) $28.95