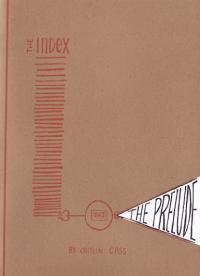 Index #1 by Caitlin Cass $3.50 – Blank comfort and empty anxieties, in the cards.
Zines
Fix Your Clothes by Raleigh Briggs $5.00 – By the author of the smash hit of a DIY book in these parts Make Your Home. Cute and fun, but more importantly helpful.
The Day I Stopped Being Punk by Siue $2.00
Paper Radio issues #10-#12 a Media and Radio Zine by DJ Frederick $3.00 each
Baitline Audiozine $4.00 – From the folks who publish the free, flirty and dirty want ad service broadsheet that one often finds in our free area. Comes with with CD containing interviews and testimonials with satisfied Baitline customers.
Self-Help Self-Fuck A Tiny Story by BR Coyote $1.50
The Printed Blog, various issues, various prices
Loosey Goosey vol II $16.75
Docs #1 Sum 12 Journal of Microbiology Solutions to Puzzles of the Blood by Dan Dorsey, Geff Stiubhairt, Amanda Dorsey $2.00
older issues of Publick Occurances (#10 and #11) by Danny Martin $2.00 each
Comix & Comics
Jiggy Jiggy Boys #1 $5.00
Blunt Naked #1 $3.00
Fatima #3 of 4 the Blood Spinners by Gilbert Hernandez $3.99
Nobrow #7 $24.00
Cloaca Crossing Coloring Booklet $4.00
Gnartoons #1 Apr 12 by James Stanton $6.00
Graphic Novels & Trade Paperbacks
History of Underground Comics (20th Anniversary Edition) by Mark James Estren (Roin Publishing) $29.95
Fight #2 Graphic Novel by Jack Teagle (Nobrow) $13.95
Bicycle by Ugo Gattoni (Nobrow) $24.95
Prophet Volume 1: Remission by Brandon Graham , Simon Roy, Farel Dalrymple, Giannis Milogiannis $9.99 – Collects issues #21-#26.
Art & Design
Getting Into Face: 52 Mondays Featuring JoJo Baby and Sal-E (Schiffer) $45.00 – Photographer Bernard Colbert rigorously captures Wicker Park-based performance artists (and Quimby's regulars!) JoJo Baby and Sal-E in genius moments as psychedelic Hindi gods, comic book villains, fantastical creatures, astronauts, and much, much more. Over 100 photos, as featured in the Clive Barker documentary titled JoJo Baby.
Pictorial Websters:A Pocket Dictionary $12.95
The Tattoo Project: Body, Art, Image by Vince Hemingson (Schiffer) $45.00 – Here are the final results of The Tattoo Project, works by 11 fine art photographers with a variety of styles who shot portraits of 100 heavily tattooed individuals. The brainchild of photographer Vince Hemingson, the event sequestered models and photographers in Vancouver s Photo Workshop for a multiple-day shoot. Thousands of portraits were produced that aimed to explore who each of the subjects was through their ink and the photographic process. This volume features more than 200 images from the event and truly reflects not only who the subjects are, but who the photographers are as well. From differing approaches to lighting, mood, and color to different methods for engaging the subjects, each of the artists clearly has a unique vision. This is an ideal book for photography and tattoo art students, teachers, and enthusiasts.
DIY/Food/Drugs
True Living Organics: Ultimate Guide to Growing All Natural Marijuana Indoors by The Rev (Green Candy Press) $20.00
Hashish: History, Cultures, Ingredients, Recreation, Medicine,  Hashish Making…$35.95
Fifty Ways to Cure a Hangover: Weird Wacky and Wonderful Ways for Prevention and Cure by Sharratt Cara Frost and Jason Ford (Chronicle) $5.99
Fiction
We Only Know So Much by Elizabeth Crane $14.99
Gone Girl by Gillian Flynn $25.00
Filling In the Blanks by Anthony Roberts $12.00
The Pale King by David Foster Wallace (Back Bay) $16.99 – Now in soft cover.
Between Heaven and Here by Susan Straight (McSweeneys) $24.00
Literary Journals, Poetry & Chap Books
Haarp Heavy: Anti Authoritarian Rap Poems by Che Christ $20.00
McSweeneys #41 $27.00
Exact Change Only Win 2012 and Sum 2012 $10.00 each
Mayhem, Miscreants, Memoirs & Misc
Breaking the Mirror of Heaven: The Conspiracy to Suppress the Voice of Ancient Egypt by Robert Bauval and Ahmed Osman $20.00 – Egyptology conspiracy theory! Exposes the many cycles of monument destruction and cultural suppression in Egypt from antiquity to the present day.
Wall Street Coloring Book – Now You Can Color and Draw Like the Big Boys $7.99
Drinking Diaries: Women Serve Their Stories Straight Up ed . by Leah Odze Epstein et al. $16.00 – An exploration and celebration of a controversial tradition that, contrary to popular opinion, is alive and active after more than 150 years.
Truth According to Sally Miller $15.00
Fast Girl: Don't Brake Until You See the Face of God And Other Good Advice From the Racetrack by Ingrid Steffensen $16.00
Be Good: How to Navigate the Ethics of Everything by Randy Cohen $24.95 – By the entertaining and wise Ethicist from The New York Times.
Darkest America Black Minstrelsy from Slavery to Hip Hop by Yuval Taylor and Jake Austen $26.95 – This book investigates the complex history of black minstrelsy, adopted in the mid-nineteenth century by African American performers who played the grinning blackface fool to entertain black and white audiences. We now consider minstrelsy an embarrassing relic, but once blacks and whites alike saw it as a black art form—and embraced it as such. And, as the authors reveal, black minstrelsy remains deeply relevant to popular black entertainment, particularly in the work of contemporary artists like Dave Chappelle, Flavor Flav, Spike Lee, and Lil Wayne. Darkest America explores the origins, heyday, and present-day manifestations of this tradition, exploding the myth that it was a form of entertainment that whites foisted on blacks, and shining a sure-to-be controversial light on how these incendiary performances can be not only demeaning but also, paradoxically, liberating.
Confessions of a Raving, Unconfined Nut: Misadventures In the Counterculture by Paul Krassner (Soft Skull) $18.95
Politics & Revolution
2 Christopher Hitchens Books: Mortality and Arguably: Essays (in soft cover)
The Man Who Never Died: The Life Times and Legacy of Joe Hill, American Labor Icon by William M. Adler $18.00
Music Books
How Music Works by David Byrne (McSweeneys) $32.00
Amy, My Daughter by Mitch Winehouse $27.99
Childrens Books
Stories 1234 by Eugéne Ionesco and Etienne Delessert (McSweeneys) $19.95
Hilda and the Midnight Giant by Luke Pearson (Nobrow) $24.00
Maya Makes a Mess by Rutu Modan (Toon) $12.95
Magazines
Chicago IRL #4 Sum 12 $15.00
McSweeneys #41 $27.00
Harpers Magazine Sep 12 $6.99
Paper Sep 12 $4.00
Cabinet #46 Punishment $12.00
Eye Magazine #83 Spr 12 $30.00
True Crime Aug 12 $8.99
Murder Most Foul #85 $9.99
Interzone #241 $8.50
Fortean Times #291 Sep 12 $11.99
Press the Fashion vol 2 #1 Fall 12 $9.99
Brownbook #34 $14.99
Arise #16 $9.99
The State vol 2 Sum 12 Speculative Geographies $14.00
Empire Sep 12 $9.99
Wire #342 Aug 12 $9.99
Magnet #90 $4.99
Clash #76 $8.99
Uncut Sep 12 #184 $9.99
Sex & Sexy
Stepcest Taboo by Evan J. Xavier $9.00
Other Stuff
New blank journals and notebooks, such as My Beautiful Life: My Autobiography in Drawings $16.95, Mix Tape Mini Eco Journal Set $9.95, Make Something Good Today Blank Journal by Jen Renninger $9.95
Two different 2013 Hark a Vagrant Wall Calendars by Kate Beaton: Beethoven Birthday Party and There She Blows Literary (D&Q) $14.95 each
The things listed in this list are at our brick and mortar store at 1854 W. North Ave. Occassionally we make some of it available for mail order on our website, but we curate what we put up there. To see which new items are on our website, see quimbys.com/store and mail order them for prompt home delivery.