Zines
Cyberpunk Apocalypse #2 Pornopticon $3.00
I Hate Mondays #1 $2.00 – Street art sketchbook 'thology – glorious piles of mad styles from a variety of artistes: Rise UBC ITS, Antonio Martinez, Atlan Arcco, Mark Ernst, Brooks Golden, Naomi Martinez, Ruben Aguirre, Juan Compean, Noshoez, Jose Arceo, and Cesar Ernst.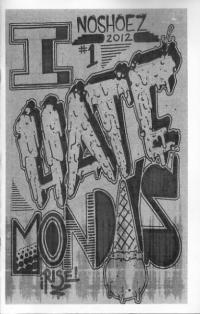 Judas Goat Quarterly #55 $1.50
Waiting by Tom Callahan $5.00
zines by Henry Miller: Escape #1, Things My Daughter Has Said to Me #1
Women by Anya Kieler (Rachel Uffner Gallery) $10.00
Sob Story #10 by Andrew Martin Scott (Needles & Pens) $5.00
Public Notice Zine by Nathaniel Russell (Needles & Pens) $7.50
Total Bummer #1 by KM $12.00
Post Comments Below vol 2 The Big Fat Gay Cats Issue $12.00
Bookstores and Baseball 4th Inning by David LaBounty $4.00
Ghostly Stories: A SPOC (Self-Publishers of Chicago) Publication $3.00 – SPOC's spooky zine. With work from a variety of Chicago locals:Jonas, Eric Barthlolomew, Paul Durica, Nicki Yowell, Grant Reynolds and more.
Summer in Pain $2.00
zines from Georgi: Georgi and the Haunted Minivan Episode 1 Before Aug 12, Cursive Is Not Cryptic #2, Cat Island War Dog
Jargon #1 Words and Phrases From All Walks of Life by Billy Da Bunny $2.00
Not Her Bible – Holy Bible Illustrated $4.00
Comics & Comix
Moose #12 by Max De Radrigue (Oily Comics) $1.00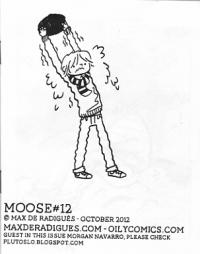 Bjornstrand by Renee French (Picturebox) $12.00
Pompeii Book 1 by Frank Santoro (Picturebox) $12.00
Lou #7 by Melissa Mendes (Oily Comics) $1.00 – Mendes brings the suspense in from all angles: Something is up with that pizza parlor.
Elizabeth of Canada #1 by Michael Deforge (Oily Comics) $1.00 – Our introduction to young Elizabeth, perhaps on the way to great things.  Wascally wabbits of the open plains.
End of the Fucking World #12 by Charles Forsman (Oily Comics) $1.00
Close Your Eyes When You Let Go #3 by James Hindle (Oily Comics) $1.00
Get Off the Stage by Steve Reeder $3.00
Spiros Greek Myths issues #1-#3 by Spiro Dousias $5.00 each
Siamese Grandson and Other Stories by Daniel Patrick McCloskey $3.00
Bears In Space by Nate McDonough and Danny Mac $2.00
Kindlin Quarterly issues #3-#6 Summer Campy Trip $2.00-$2.50
Wild Child Part 1 Fight or Flight by M. Young $7.00
Grixly #23 $2.50
Be The Comics #1 Nov 12 by Jon Dradoer $2.00
Pope Hats #3 by Ethan Rilly (Adhouse) $6.95
SC issues #3-#5 Simplicity Consistency Comics by Grace Tran, Oscar Booth and Gene Booth $1.00 each
I Know You by Cara Bean $2.00
Graphic Novels and Trade Paperbacks
Corpse On the Imjin and Other Stories by Harvey Kurtzman (Fantagraphics) $28.99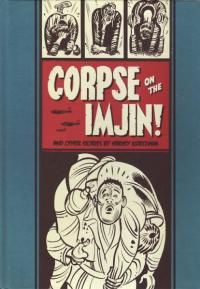 The Halloween Treat by Edward Gorey $13.00
Came the Dawn and Other Stories by Wallace Wood (Fantagraphics) $28.99
Don't Come Back by Nate McDonough  $10.00
August Moon by Diana Thung (Top Shelf) $14.95
Sweet Tooth TPB vol 5 Unnatural Habitats byJeff Lemire and Matt Kindt $14.99
Through the Walls by Jean-Luc Cornette and Stéphane Oiry $29.95
Black Lung by Chris Wright (Fantagraphics) $24.99
17×23 Showcase with art by Isaac Lenkiewicz, Henry McCausland, Nick Sheehy and more (Nobrow) $15.95
El Iluminado: A Graphic Novel by Ilan Stavans  and Steve Sheinkin $24.99
Shattered: The Asian-American Comics Anthology: A Secret Identities Book by Jeff Yang et al. $21.95
Art & Design
Disturbances: Art Technology Activism by The Critical Art Ensemble (Four Corners Books) $40.00
Wayside by Julie Morstad (D&Q) $19.95
Sign Painters by Faythe Levine and Sam Macon $24.99
Art of Storytelling Book vol 1 Under the Influence by Joe Crisafi $24.95
Mayhem, Miscreants, Memoirs, Music & Misc
Samurai Ghost and Monster Wars: Ukiyo-e Master Series vol 1, art by Utagawa Kuniyoshi (Shinbaku) $34.95
Eye of Atrocity Superviolent Art Ukiyo e Master Series vol 2, art by Tsukioka Yoshitoshi (Shinbaku) $29.95
If You Like Quenton Tarantino by Katherine Rife $16.99
Psychedelic Sex Vampires: Jean Rollin Cinema by Jack Hunter (Glitter Books) $24.95
Black Leather Lucifer the Films of Kenneth Anger by Jack Hunter (Glitter Books) $16.95
Chapel of Gore and Psychosis: The Grand Guignol Theatre by Jack Hunter (Creation) $24.95
Reggae Soundsystem: Original Reggae Album Cover Art/Visual History of Jamaican Music from Mento to Dancehall by Steve Barrow et al. (Soul Jazz Books) $49.95
Reggae 45 Soundsystem: The Label Art of Reggae Singles Visual History of Jamaican Reggae Singles 1959-1979 by Steve Barrow et al. (Soul Jazz Books) $49.95
DIY, Food, Drugs
Ganja Kitchen: Revolution the Bible of Cannabis Cuisine by Jessica Catalano and Tyler Kittock (Green Candy) $22.00
Cannabis Chassidis: The Ancient and Emerging Torah of Drugs by Yoseph Leib Ibn Mardachya (Autonomedia) $17.95
Skirt Steak: Women Chefs on Standing the Heat and Staying in the Kitchen ed. by Charlotte Druckman $24.95
Politics, Revolution & Current Events
Hard Times: An Illustrated Oral History of the Great Depression by Studs Terkel $21.95
From Dictatorship to Democracy: A Conceptual Framework For Liberation by Gene Sharp $13.95
Sex & Sexy
Teens at Play: Forever Young by Rebecca (Eros) $9.99
Coloring for Grown Ups: The Adult Activity Book by Ryan Hunter and Taige Jensen $10.00
The Mammoth Book of Sex Scandals ed, by Nigel Cawthorne $13.95
Color My Boobs: A Titillating Coloring Book For Adults by DD Stacks, Billy Armstrong and Chad Powers III $9.99
Duty and Desire: Military Erotic Romance ed. by Kristina Wright $15.95
Sexy Sailors: Gay Erotic Stories ed. by Neil Plakcy $15.95
Fiction
Skullcrusher vol 1 Selected Weird Fiction by Robert E. Howard (Creation Books) $16.95
Vicky Swanky is a Beauty by Diane Williams (Mcsweeneys) $13.00 – Now in soft cover.
Krampus the Yule Lord by Brom $27.99
Madness: The War of 1812: A Novel by Dennis Byrne $19.99
Lore by TP Louise and Ashley Wood $29.99
Betrayal of Trust: A Chief Superintendent Simon Serrailler Mystery by Susan Hill $15.95
Galloping Mountain: A New and Epic Novel by Gunner $6.00
Film About Billy: A Hybrid Novel by Daniel McCloskey $11.95
Magazines
Lucky Peach #5 China Town Issue $12.00
ArtForum International Nov 12 $10.00
Wallpaper Nov 12 $10.00
Backwoodsman vol 33 #6 Nov Dec 12 $4.95
Another Man #15 Fall Win 12 $14.99
Paper Nov 12 vol 29 #3 $4.00
Monocle vol 6 #58 Nov 12 $12.00
Z Magazine Nov 12 $4.95
Poetry, Lit Mags and Lit Journals
Journal of Ordinary Thought Spr 12  $10.00
No Experiences by Erin J. Watson Poems $10.00
Granta #121 Fall 12 Best of Young Brazilian Novelists $16.99 – Don't miss the release event for this special issue of Granta here at Quimby's on Tues, Nov 17th, 7pm!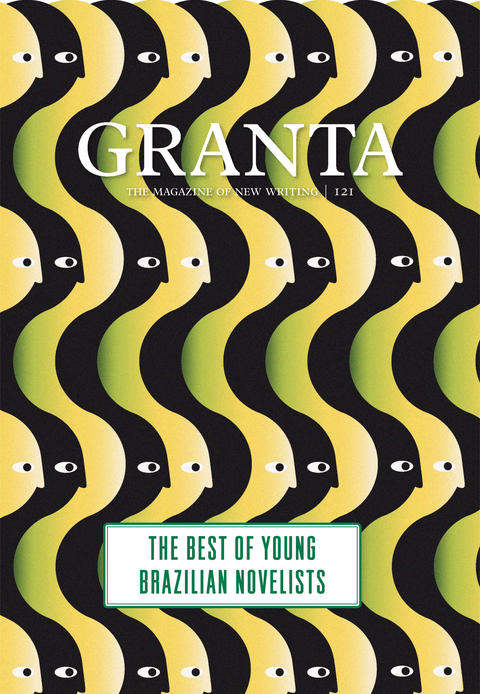 Childrens
Rule Is to Break: A Child's Guide to Anarchy by John and Jana (Manic D Press) $14.95
Hungry Monkey: A Food Loving Father's Quest to Raise an Adventurous Eater by Matthew Amster-Burton $14.95
Other Stuff
Dr. Dre Sticker Pack 2003-2012 $5.00
Click here to see the weekly curated selection available on our webstore.