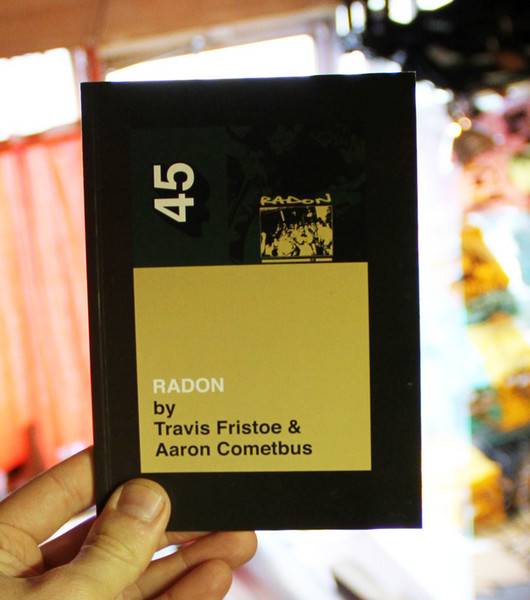 Radon 45 Travis Fristoe and by Aaron Cometbus – An independent publisher take on Continuum's 33 1/3 series, inspired by the 90s Gainesville pop punk band Radon.
Zines
Cometbus #55 Pen Pals by Aaron Cometbus $3.00 – With a cover by Jordan Crane.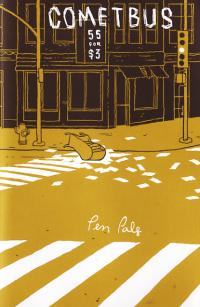 Letters I Will Never Send to You #7 Pocket Full of Rocks Pull Here to Open by Morgan Inez $4.20
Show Me The Money #38 by Tony Hunnicutt $2.50
Comics & Comix
Crass Sophisticate #30 Josh Reinwald Rises by Josh Reinwald $3.00
Farm School by Jason Turner $5.00
Addicted To Garbage vol 1 $2.00
Sleazy Slice #6 by Robin Bougie $6.00
Bandthology #2 Another Music Anthology (King Bone Press) $5.00
World War 3 Illustrated #44 Other Issue $7.00
Graphic Novels and Trade Paperbacks
more Moomin books by Tov Jansson from Drawn & Quarterly: Moomin Builds a House and Moomin Falls in Love $9.95 each
On the Ropes by James Vance and Dan E. Burr $24.95
Goon vol 12 Them That Raised Us Lement by Eric Powell (Dark Horse) $16.99
Fables Deluxe Edition Book 6 by Bill Willingham et al. (Vertigo) $29.99
Art & Design
Mens Group: The Video by Ben Jones (Picturebox) $34.95 – Edited by Dan Nadel. . The last five years of work from this Paper Rad artist, on the theme of maleness: paintings, comics, drawings, products and videos, and is published on the occasion of the his solo exhibition, The Video, at the Museum of Contemporary Art, Los Angeles.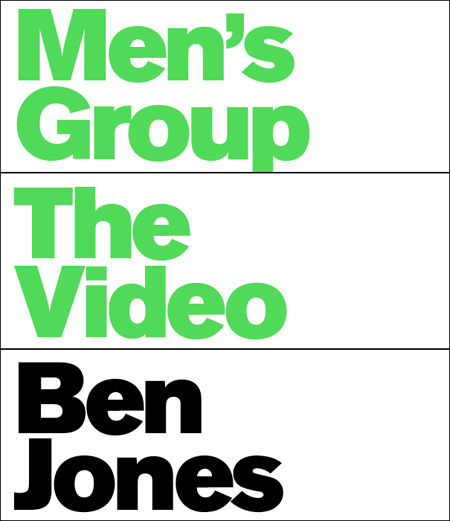 Posada and Manilla Illustrations for Mexican Fairy Tales by Jose Posada, Manuel Manilla and Mercurio Casillas (RM Verlag) $24.95
Sage Vaughn: Ice Age (Zero Plus) $55.00
Os Gemeos by Pedro Alonzo (Gingko) $29.95 – Brazilian twin brothers Otavio and Gustavo Pandolfo, best known as Os Gemeos, are credited as leaders of graffiti and urban art in Brazil. Quirky, yellow, oblong-headed figures have become their visual signature.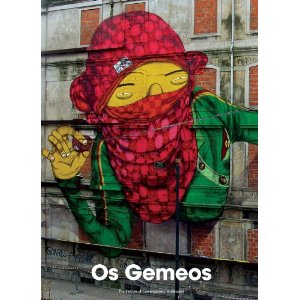 Mommys New Tattoo: A Bedtime Story for People by Levi Greenacres (Schiffer) $16.99 – A young lady takes a trip to a tattoo shop with her mother and finds out what happens inside, and why her mom would get a tattoo. Years later, old enough to get a tattoo of her own, the young lady considers the consequences of making a decision that won't wash off. Based on the author's true childhood story, the book portrays three Pacific Northwest tattooists: Vyvyn Lazonga, Katie Williams, and Ximena Quiroz. Fans of the tattoo central to the story will find that the cover can be used as a color reference, as well as the line art included on its own page to use either as a stencil, or page to color your own way.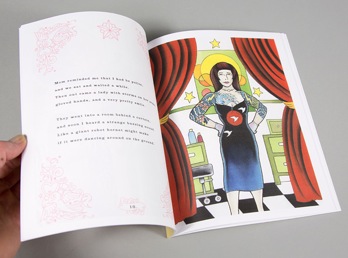 Oriental Tattoo Art Contemporary Chinese and Japanese Tattoo Masters by Du Ying and Shan Shan (China Youth Press International) $35.00
Tattooisme by Chris Coppola and Frederic Claquin (Schiffer) $39.99 – Work from 32 internationally acclaimed tattoo artists working with multiple art mediums, utilizing an array of art movements, techniques and styles.
Steampunk: The Beginning by James P. Blaylock, K. W. Jeter, Tim Powers and Mike McGee (Gingko) $24.95 – Features over 80 illustrations of characters and scenes from three seminal Steampunk novels: Homonculus by James Blaylock, Infernal Devices by K.W. Jeter, and Anubis Gates by Tim Powers. All three authors were students at Cal State Fullerton in the 1970s, where they wrote early steampunk short stories. So it makes sense that tThe illustrations are all by Cal State Fullerton students, alumni, and faculty. Also featuring essays by Blaylock, Jeter and Powers.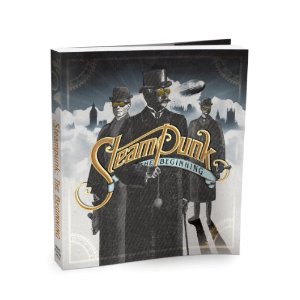 Mayhem, Miscreants, Memoirs, Music & Misc
Everyone Loves a Good Train Wreck: Why We Cant Look Away By Eric G. Wilson $14.00
The Mad Scientists Guide to World Domination by John Joseph Adams $14.99
Fiction
Cyberpunk: Stories of Hardware, Software, Wetware, Evolution, and Revolution ed. by Victoria Blake  (Underland) $15.95 -Thirty years after cyberpunk party-crashed the science fiction scene the future they imagined is here. Stories by legendary cyberpunk authors like Bruce Sterling and William Gibson, as well as stories by new cyberpunk voices like Cory Doctorow and Jonathan Lethem.
Meltdown in the Cereal Aisle by David V. Matthews $10.00
Arrive Breathe and Be Still: Collaboration With 826 Valencia and American Conservatory Theater Monologues and Short Plays by Downtown High School Student Playwrights (826 Books) $18.00
Office of Mercy by Ariel Djanikian $26.95
Sex & Sexy
Hot Moms #17 $4.95
Magazines
Cinema Sewer #26 $4.00 – 44 comic book sized pages, cover by Orc Stain creator, James Stokoe. Includes: Bougie's experiences on the set of the 1980s BMX movie "RAD", Mike Sullivan's review of YOR, an exclusive interview with the director of DAD MADE DIRTY MOVIES, a historical retrospective of the Times Square's Capri Cinema, amazing reviews of Canadian trash classics by Paul Corupe, and piles more.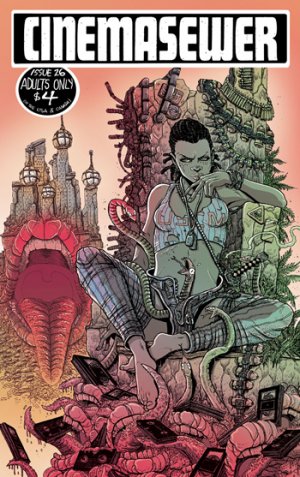 Maximumrocknroll #358 Mar 13 $4.00
Bitch #58 $5.95
Wire Feb 13 #348 $9.99
Design Bureau Mar 13 $8.00
Murder Most Foul #87 $9.99
True Crime Feb 13 $8.99
Interzone #244 $9.99
Hanging Loose #101 $11.00
Boneshaker Magazine #11 $12.00
Dazed & Confused vol 3 #18 Feb 13 $9.99
Harpers Magazine Mar 13 $6.99
Poetry, Lit Mags, Lit Journals, Chap Books
The Believer #97 $12.00
14 Dreams of Death by Ken Baumann, Blake Butler and M. Kitchell $8.00
Granta #122 Win 13 Betrayal $16.99
Creative Nonfiction #47 Win 13 $10.00
Seventeen Television Stories by Justin Maurer $6.00
Kids
Toon Books, $4.99 each: Little Mouse Gets Ready by Jeff Smith, Silly Lilly and the Four Seasons by Agnes Rosenstiehl, Chick and Chickie Play All Day by Claude Ponti, Benny and Penny in the Toy Breaker by Geoffrey Hayes, Benjamin Bear in Fuzzy Thinking by Philippe Coudray.
Steampunk! Anthology of Fantastically Rich and Strange Stories by Kelly Link and Gavin J. Grant (Candlewick) $12.99 – A YA steampunk book. Now in affordable soft cover for when you exclaim "We can't have nice things!" to the Dickensian street orphan in your life with fingerless gloves spilling their porridge on it.
Other Stuff
Hello Chicago Map: a Guide to the Usual (Herb Lester Associates), designed by Mike McQuade $6.00 – Well ain't that just the cutest most design-y map ever?
Notable Reprints and Restocks
Mine – Marking the roughly simultaneous re-release of Peter Sotos' Tool and Mine, Sotos will appear at Quimby's Bookstore Sat, March 23rd with his publisher Nine-Banded Books founder, Chip Smith.
Quiet Rumours Anarcha Feminist Reader by Dark Star (AK) $17.00
Mixed Reviews by Aaron Cometbus $3.00
Crafting With Cat Hair: Cute Handicrafts to Make with Your Cat $14.95
The Lowbrow Tarot: An Artistic Collaborative Effort in Honor of Tarot $34.99
Ganja Kitchen Revolution the Bible of Cannabis Cuisine $22.00
Henry Rollins Interview by V. Vale $9.99