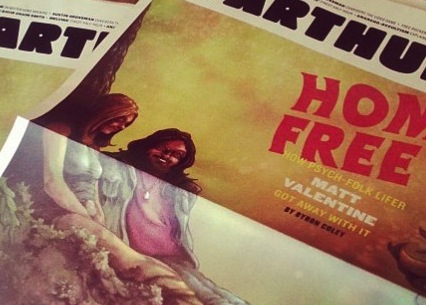 Arthur #34 Apr 13 $5.00 – Nance Klehm on better home brewing, Austin Grossman considers the video game, ecstatic cartographer David Chaim Smith, Melvins' finest half-hour, anarcho-occultism explained, comics, and more.
Zines & Zine-Related (TONS OF STUFF FROM CHICAGO ZINE FEST LAST WEEKEND!)
Pieces #8 On Twelve Years of Running by Nichole $2.00
Well Worn Very Used $1.50
Plump Up For Hibernation: A Vegan Bears Baking Guide by Kara Comegys $5.00
Discomfort #5 $2.00
Kurt Cobain Was a Feminist #1 $.50 – One side in English, the other in French. Oui!
issues of Memento Mori by Gina
Bacterial Turned Viral #5 by Johnny Animal $3.00
Triumph of Our Tired Eyes #1 by Amber Dearest $1.00
Monster Mash #1 by Rosy Phinick $2.00
Jacobsville by Sarah Darnell $6.00
Like Kickies Like Bruises by Tomas Moniz $5.00
Stink Eye #1 and #2: Comprhensive Report on Everything You Ever Wanted to Know About $2.00 each
Three Stories Three by John Wawrzaszek $1.00
Alamo Igloo #2 Chicago 2013 by Keitch Herzik $5.00
Loop Detail #1 by Jon Marchione $8.00
Little Acorns #6 a 24hour Zine Thing Sunday July 29th, 2012 by Maranda Elizabeth $1.00
Daddy Issues – Everything You Ever Wanted to Know About How to Screw Up Fatherhood… by Mia Beatrice $2.00
Cheer the Eff Up #4 by Jonas $3.00
Hoax #8 Feminisms and Mythologies $3.00
Visitor In Myself #1 by Nichole $1.00
Ninetyseven to Three $20.00
You've Got a Friend In Pennsylvania #7 On Queerness Introversion and Friendship Theory by Sari $2.50
Sassyfrass Circus #8 the Sinew That Shrinks by Jenna Brager $2.00
Doykeit #1 $2.00
Zine Crush – Confessions of Like issues #1 and #2  $2.00
Quickest Flipest – Pictures and Words Magazine issues #1 through #3
Broiling For Columbine – Two Kids, One School, Cinnamon Rolls $2.00
Let It Sink Accident Journal by Jim $.50
Read Once and Destroy  – A Compilation, Ouija Yes No by Julia Eff $3.00
Gross and Disappointing #1 by Zo Watt $2.00
Obsesser #4 At Some Point and Obsesser #5 Botanical Endeavors by Jessica Bublitz $2.00 each
Font By Any Other Name by Nicki Yowell $4.00
Collage Zine – a SPOC (Self Publishers of Chicago) Publication $7.00
My Little Friend #6 by Eryca $1.00
Mezzanine MetaZine $2.00
Zine Libs #1 and #2 by Erick Lyle and Caroline Paquita (Pegacorn Press) $5.00
Delineatas Magicae Mysticum Cacas vol 2 by Suuimord Ecnad $6.20
issues of Georgi and the Haunted Minivan
Erik Satie Was a Punk by Georgi Johnston $2.00
Goth Night #1 by Jeff Griffin $5.00
Comics & Comix
CAKE 2013 Digest ed. Max Morris $5.00 – With comics by favorite humans Lale Westvind, Andy Burkholder, Otto Splotch, Jo Dery, Ben Bertin, Krystal Elisa DiFronzo, and Grant Reynolds.
You Don't Get There From Here #25 by Carrie McNinch $2.00
Man In the Trees #1 by Max Morris $6.00
Cuentitos a Collection of Short Stories by Peregrine Angthius  $10.00
Metalheads vol 1 by Scott Wygmans $6.66
BC x FU vol 3 Another Black and White Nightmare Monsters and Misery Comics by Scott Wygmans $10.00
Animal Kingdom #1 by Eric Rivera et al. $5.00
Prizon Food Part 2 $6.00
End of the Fucking World #16 by Charles Forsman $1.00 – Final issue!
Word and Voice #4 Dec 12 by Aaron Cockle $1.00
Lou #11 by Melissa Mendes $1.00
Duh Studge In Real Rap #2 1 Rhyme 4 Every Occasion yo yo $1.00
Outside #1 of 3 by Marc Geddes and Warren Craghead $1.00
I Want to Eat Everything #2 Food Comics by Jessi Zabarsky $3.00
Late Era Clash #25 by Mike Taylor $5.00
Salad Days by JP Coovert $6.00
Immovable Objects by James Hindle $6.00
Graphic Novels & Trade Paperbacks
Puppy Teeth #3 by Kevin Czapiewski and Liz Suburbia $20.00
Caffeinated Toothpaste vol 2 by Josh Bauman $25.00
Hair Shirt by Patrick McEown $24.95
Treasury of 20th Century Murder by Rick Geary $15.99
Hand Drying in America and Other Stories by Ben Katchor $29.95
Buffy the Vampire Slayer Season Eight Library Edition HC vol 4 by Joss Whedon et al. $29.99
When David Lost His Voice by Judith Vanistendael $24.95
Cyanide Milkshake #4 by Liz Suburbia $2.00
How I Get By #1 by Jonathan Marchione $5.00
Grow Up #1 A Homage to Pseudo Adulthood by Sara Baier $2.00
Grin and Bear It by Sara Baier $3.00
Mayhem, Miscreants, Memoirs, Music & Misc
Hot Wind by Adam Wolpa $20.00
Frankensteins Cat: Cuddling Up to Biotechs Brave New Beasts by Emily Anthes $26.00
Great Animal Orchestra: Finding the Origins of Music in the Worlds Wildest Places by Bernie Krause $15.99
Lets Bring Back the Lost Language Edition: A Collection of Forgotten Yet Delightful Words, Phrases, Praises, Insults, Idioms by Lesley Blume $19.95
DIY
Vegan Secret: Supper Bold and Elegant Menues from a Rogue Kitchen by Merida Anderson (Arsenal Pulp Press) $26.95
Politics & Revolution
Pussy Riot: A Punk Prayer for Freedom, Letters from Prison, Songs, Poems, Courtroom Statements – Tributes to the Punk Band That Shook the World (Feminist Press) $12.95
Value of Radical Theory: An Anarchist Introduction to Marx's Critique of Political Economy (AK Press) $12.95
Take Back the Land: Land Gentrification and the Umoja Village Shantytown by Max Rameau (AK Press) $14.95
Dictionary of Operations: Deep Politics and Cultural Intelligence by Operative Cultural Intelligence and Konrad Becker (AUtonomedia) $14.95
Sex & Sexy
Dollars and Sex: How Economics Influence Sex and Love by Marina Adshade $24.95
Magazines
Dwell Apr 13 $5.99
Juxtapoz #147 Apr 13 $5.99
Shots #119 Spr 13 Creatures $6.95
Ain't Bad Magazine #5 Win 13 $18.00
Wilder Quarterly vol 1 #5 Win 13 $18.95
Diffusion #4 2012 $15.00
Skeptical Inquirer Mar Apr 13 vol 37 #2 $4.95
High Times May 13 $5.99
Gastronomica vol 13 #1 $12.99
Laphams Quarterly vol 6 #2 Spr 13 $16.00
Taproot #5 $9.00
Mojo #232 Mar 13 $9.99
NME Special 50 Albums That Built Punk $12.99
Filter Good Music Guide Mar Apr 13 $2.99
Ghetto Blaster #34 $3.95
Shindig #31 $12.99
Monocle vol 7 #61 Mar 13 $12.00
Against the Current #163 March April 13 $5.00
ASR #59 Win 13 Anarcho Syndicalist Review $5.00
GLQ vol 19 #2 Journal of Lesbian and Gay Studies $12.00
In These Times Mar 13 $3.50
Poetry, Lit Mags, Lit Journals, Chap Books
Criminal Class Review vol 6 $12.00
Six By Six #28 Sir Lizard Threw a Party (Ugly Duckling Press) $5.00
After Hours #1 Spr 13 by Matt Questionmark and Lauren B. $3.00
Fiction
Teleportation Accident by Ned Beauman $25.00
Hair Lit vol 1 ed. by Nick Ostdick (Orange Alert Press) $13.00 – Stories inspired by various hair metal songs. Various authors including Megan Stielstra, Lindsay Hunter, Susannah Felts, Ben Tanzer and more.
Kids Books
Barrys Best Buddy by Renee French $12.95
Fannie and Freddie by various $12.00
Other Stuff
French Fry Lip Balm $3.00
Bacon Frosting Artifical Decorating Frosting $5.00
Fish Head Lollipop $4.50
Edgar Allan Poe Metal Lunch Box $15.00
Savory Bacon Bread Sticks with Free Tattoo $3.00
Butter Flavored Lollipop $3.50
T-Bone Steak Noteblock $8.95
Doctors Choice Candy Cigarettes: Sweet and Mild Quality Blend $2.00