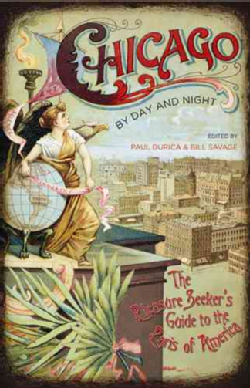 Chicago by Day and Night: The Pleasure Seeker's Guide to the Paris of America by Paul Durica and Bill Savage (NW University) $16.95 – The first time they did the World's Fair in Chicago, Chicago tried to out-Paris with their crappy Eiffel Tower and made a Ferris Wheel. And PBR! Yes! True! And oh yeah, crazy electricity and exhibits from around the world. Can't forget THAT. Local Prof and activist Paul "Ben Reitman" Durica, proprietor of the Pocket Guide to Hell, teamed up with author and fellow prof Bill Savage to take us back 120 years, in the greatest city of the world (Chicago! Not Paris! Get real!) – LM
Zines & Zine-Related
Blighted Blighter a Perennial Art Book by Love Macdonald $2.00
Worlds Most Dangerous Zine #1 a Comedy Zine Apr 13 by Billy Florio et al. $2.00
Wilderness by Carson Davis Brown $18.00
Graze #3 Spr 13 $10.00
Considerate Coworker and Considerate Roommate: A Collaboration by Ashley Elander $8.00
Big and White #1 by Ashley Elander $4.00
Derelict vol 1 #1 Aug 12 by Widgett Walls $3.00
Us & Them #2 by Matt Average $6.00
Stay Cool in the Evil Zone by Kevin $2.00
Deafula #1 $1.00
Deafula #5 Interview With My Mother $2.00
Sirvival in the Second City Transqueer Chicago Poems by H Melt $7.00
Burn Sunburn #4 $5.00
Spartan Holiday #2 Five Pagodas $12.95
All Things Wes Anderson $2.00
Unstuck: A Little Zine Full of Ideas for Writing by Carrie Colpitts $1.00
Lil' Buddies Magazine #1 by Edie Fake $4.00 – New anthropomorphic friendship magazine: Ecstatic Pants, Cute Fruit, Yams in Bikinis…..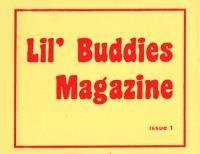 Comics & Comix
Comics by Clint Basinger: Mummynaut #1 Origin Issue and Johnnysaurus Rex #1 $4.50 each
Borg Tron #12 by Jyrki Nissinen $12.10
Keitto Kirja The Sauce Book by Lauri Makimurto $12.10
The Breakers Anthology of Comics – From Atlantic Center For the Arts Residency #147 by Lara Antal and Dave Kelly $15.00
Coup #2 by Carter Lodwick and Conor Eifler $5.00
Punch Out Express #1 1st Punch by David Scheier $2.50
Insecurities 21 Page Poetry Comic by David Scheier $2.00
In Salt by Alexander Rocine $3.00
Astonishing Adventures of the Bloomer #1 by Alexander Rocine $5.00
Himzal #1 by Anthony Meloro $3.00
Famous Hairdos of Popular Music #8 Elvis Presley by Ethan Krause $3.00
Mudd Butt – I Believe in Nuszine $1.00
Loverboy in Gotta Light $1.00
RAV #8 by Mickey Zacchilli $7.00 Double dog dare you to delve back into the twists and turns of the Meat Cave,- this issue builds up to some serious unleashing of forces-shit gets opened up like an uncapped blender and Smoothie Season's just begun. -EF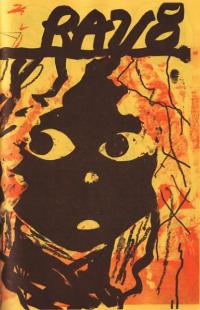 Graphic Novels & Trade Paperbacks
Everything Takes Forever by Victor Kerlow (Koyama Press) $10.00
You're All Just Jealous of My Jetpack by Tom Gauld (D+Q) $19.95
Isa Father by Hanneriina Moisseinen $36.70
Beating by Tommi Masturi $41.70 – All the colors in the world as orchestrated by Finland's most versatile master of drip. This hardcover giant of an art trippp bumped to the brim with obscene density and killer graffix. Make time for it! -EF
We Can Fix It: A Time Travel Memoir by Jess Fink (Top Shelf) $14.95
Sand Castle by Frederik Peeters and Pierre Oscar Levy (Self Made Hero) $19.95
Complete Don Quixote by Miguel De Cervantes and Rob Davis (Self Made Hero) $27.50
Good Riddance: An Illustrated Memoir of Divorce by Cynthia Copeland $17.95
Batman Incorporated vol 1 Demon Star by Grant Morrison et al. $24.99
Paying For It: A  Comic Strip Memoir About Being a John by Chester Brown (D+Q) $19.95 – Now in soft cover!
Bazooka Joe and His Gang 60th Anniversary Collection $19.95 – Includes Bonus Topps Trading Cards!
Batman: Death by Design by Chip Kidd and Dave Taylor $14.99 – Now in soft cover.
Buffy the Vampire Slayer: Season 9 vol 3 Guarded by Joss Whedon et al. (Dark Horse) $17.99
Freaks Amour by Dana Marie, Phil Hester and Ande Parks (Dark Horse) $17.99 -Based on Novel by Tom De Haven and with a cover by Charles Burns.
Adult Babysitting vols 1 and 2 by MarYannaHoggatt $6.00 each
Parecomic: The Story of Michael Albert and Participatory Economics by Sean Michael Wilson and Carl Thompson (Seven Stories) $18.95
Journal by Julie Delporte (Koyama Press) $20.00 – Bright, waxy tones craft Delporte's Journal, her color choices mirroring a palate once described to me as synesthetic. The spectrum feeds the intuition of the work- a diary that chronicles moving through a breakup and moving through the world- and develops her interior spaces while portraying the everyday with subtle flourishes. -EF
Very Casual: Some Stories by Michael DeForge (Koyama Press) $15.00 – Time to start flipping your shit my little sex pets: Very Casual scoops up some of DeForge's best odds and ends from minis, anthologies and auxillery projects the past several years including "Queen" "Incinerator" "SM" and "The Spotting Deer."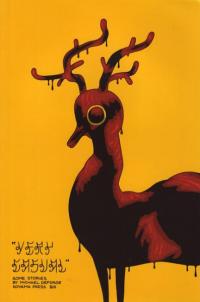 Art & Design
Adhocism: The Case for Improvisation by Charles Jencks (MIT Press) $24.95
DIY
Hop in the Saddle: A Guide to Portland's Craft Beer Scene, by Bike by Lucy Burningham, Ellee Thalheimer and Laura Cary (Into Action) $9.95
An Illustrated Guide to Cocktails: 50 Classic Cocktail Recipes, Tips, and Tales by Orr Shtuhl and Elizabeth Graeber $20.00 – An intoxicating tribute to cocktails, featuring colorful histories, charming illustrations, and delectable recipes.
Mayhem, Miscreants, Memoirs, Music & Misc
The Mammoth Book of Unexplained Phenomena: Astonishing Anomalies, Unkown Dimensions, Panic & Paranoia by Roy Bainton $13.95
Chicago's Unsovled Crimes and Mysteries by Bryan W. Alapsa (Schiffer) $16.99
Anyone Who Had a Heart: My Life and Music by Burt Bacharach and Robert Greenfield $27.99
Let's Explore Diabetes with Owls by David Sedaris $27.00 – Essays Etc.
Sun Ra and Aye Aton: Space Interiors and Exteriors 1972 (Picturebox) $27.50
Rest In Pieces: The Curious Fates of Famous Corpses by Bess Lovejoy $22.00

Fiction or Relevant to Fiction
Butterfly In the Typewriter: The Tragic Life of John Jennedy Toole: The Remarkable Story of Confederacy of Dunces by Cory MacLauchlin $16.99
Try Not to Burn by Michael David Matula $15.00
Sorry Please Thank You by Charles Yu $15.00
Sex & Sexy
B Magazine #3 $9.99
Magazines
Juxtapoz #149 Jun 13 $5.99
Raw Vision #78 $14.00
Bizarre #201 $10.50
Witches and Pagans #26 $6.95
Open Minds Jun Jul 13 $6.50
High Times Jul 13 $5.99
Treating Yourself #40 $7.99
Skunk vol 8 #8 $5.99
Iron and Air #8 Mar Apr 13 $15.00
Blood and Thunder #22 $5.99
Laika Magazine #1 $9.50
Classic Rock Presents #35 Prog May 13 $14.99
Shindig #32 $12.99
Fader #85 Apr May 13 $5.99
Monocle vol 7 #63 May 13 $12.00
Gay and Lesbian Review Worldwide May Jun 13 $4.95
In These Times May 13 $3.50
Rebel Ink #23 $5.99
Against the Current #164 May Jun 13 $5.00
Hello Mr #1 About Men Who Date Men $25.00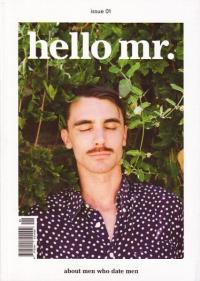 Poetry, Lit Mags, Lit Journals, Chap Books
WomenArts Quartery Journal vol 3 #2 $5.95
Creative Nonfiction #48 Spr 13 $10.00
Normal School vol 6 #1 $5.00
Slice Spr Sum 13 #12 $8.00
Peeping Tom Digest #2 $22.00
Matrix #95 $8.00
Rituals by Jennifer Beth Larson $2.00
Kids Stuff
Faeryland: The Secret World of the Hidden Ones by John Matthews and Matt Dangler $27.50