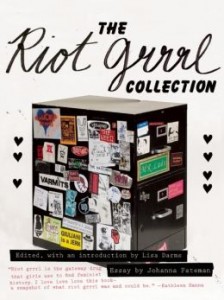 The Riot Grrrl Collection by Lisa Darms and Johanna Fateman (Feminist Press) $34.95 – The Riot Grrrl Collection is an attempt to document the evolution of the Riot Grrrl movement, particularly in the years between 1989 and 1996. Because Riot Grrrl was (and is) both a political and a cultural movement, its output was diverse, including writing, music, performance, film, activism, photography, video, and original art, as well as documentation of activism and performance. This research collection will provide primary resources for scholars who are interested in feminism, punk activism, queer theory, gender theory, DIY culture, and music history.
Zines & Zine-Related
Book of Themes Book #50 by Dan Gleason $3.00 – Don't miss Dan Gleason and friends here at Quimby's on July 6th.
My Aim Is True #8 by Carrie $1.00
Tongueswell #1 by Jen T. $1.00
Roethlisberger Castration Society #1 by Jen T. $2.00
This Page is Intentionally Left Blank $5.00
Blotch: Thoughts on Diversity From Middle School Thinkers $1.00
Tributaries #4 $2.00
zines from The  Awkward Ladies Club, all $3.00:
Never Date Dudes From the Internet #1 A Response to a Craigslist F4M Ad
Never Finish Grad School #1 Excerpts From My Livejournal 2004-2006
Paper Radio: A Media and Radio Zine issues #11.2  and #12.2 by DJ Frederick $3.00 each
Think About the Bubbles #5 Fears Loves by Joyce Hatton $5.00
Suitable 4 Framin #10 Win 12 $5.00
Silkscreened in Pittsburgh Jan 13 by Georgi $.50
Chomp #3 by Mitsu Sucks $9.00
Alamo Igloo #13 by Herzik $5.00
Sloan Simone Szucs #1 $2.00
The The House of Crosses $4.50 – Mingling of narrative memory, urban history and design nerdery, a intro to a former hausterpiece of visionary art in Chicago, the Szewczyk House of Crosses.
Comics & Comix
Scum TV #1 Fall 12 BY Joren Cull $15.00 – Sexy parodies of Thomas the Tank engine etc.
Dubble Trouble vol 1 by Ted Gudlat $15.00
Supermag #1 by Jim Rugg (Adhouse) $9.95
Turtie Needs Work by Steve Woldhard (Koyama Press) $3.00
Crushable: Mary Tyler Moore by Janice Shapiro $5.00
Crushable John Doe: I Must Not Think Bad Thoughts by Janice Shapiro $5.00
Day One by Drew Panckeri $2.00
Hello There How Are You – The Beginning by Tony Rabit $3.00
Fiesta en Piyama by Ines Estrada $4.00
Nervous Tic #1 A Comic Book of Stories with a Manly Theme by Kathryn Newman $5.00
Piss N Shit by Aiden Cook $5.50
Graphic Novels & Trade Paperbacks
User's Guide to Neglectful Parenting by Guy Delisle (D&Q) $12.95
I Watered Everything by Aaron Demuth $8.00
500 Years of Resistance Comic Book by Gord Hill $12.95
Anti-Capitalist Resistance Comic Book by Gord Hill $12.95
Everybody Gets it Wrong and Other Stories: David Chelsea's 24 Hour Comics vol 1 $19.99
Hellboy vol 6 by Mike Mignola $49.99
Walking Dead TPB vol 18 What Comes After by Robert Kirkman $14.99
Art & Design
Awake in the Dream World: The Art of Audrey Niffenegger (PowerHouse) $29.95
Cruel: Bearing Witness To Animal Exploitation by Sue Coe (OR Books) $40.00
Fiction
Taipei by Tao Lin $14.95
Hologram For the King by Dave Eggers $15.95 – Now in soft cover.
Mayhem, Miscreants, Memoirs, Music & Misc
The Big Book of Magic 1400s-1950s by Noel Daniel (Taschen) $69.99
Big Star: The Story of Rocks Forgotten Band by Rob Jovanovic (Jawbone Press) $19.95 – The Revised and Updated Edition.
Ascent of the A Word: Assholism the First Sixty Years by Geoffrey Nunberg $14.99
Freeloading: How Our Insatiable Hunger for Free Content Starves Creativity by Chris Ruen (OR Books) $20.00
End of the World by Reverend Billy (aka Bill Talen) (OR Books) $12.00 – The founder of the Church of Stop Shopping muses on the apocalypse.
Cypherpunks: Freedom and the Future of the Internet by Julian Assange et al. (OR Books) $16.00 – Founder of WikiLeaks and peers discuss the future of the internet.
How to Build an Android: The True Story of Philip K Dick's Robotic Resurrection by David F. Dufty $16.00 – In this remarkable behind-the-scenes narrative, David F. Dufty follows a group of scientists on their mission to create "Phil," a life-size android of famed science fiction writer Philip K. Dick. We witness the obstacles the scientists encounter and the innovative solutions they apply to overcome them. The fact that the subject Phil was built to mimic was a man notoriously paranoid and fascinated by artificial intelligence colors the story all the way to its unforgettable end, when the robot's head goes missing, never to be seen again. A riveting story that will capture science enthusiasts and general readers alike, How to Build An Android traces the line where artificial intelligence and humans collide. Now in soft cover.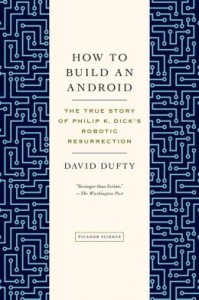 Politics & Revolution
Beautiful Trouble: The Toolbox For Revolution From the People Who Brought You the Yes Men and Billionaires For Bush by Andrew Boyd and Dave Oswald Mitchell (OR Books) $13.00 – New Pocket Edition.
DIY
Lust for Leaf: Veggie Crowd Pleasers to Fuel Your Picnics Potlucks and Ragers by Alex Brown and Evan George $19.99
Sex Guides & Culture
Guide For the Modern Bear: Field Study of Bears in the Wild by Travis Smith (Modern Bear) $19.99
Magazines
Bitch #59 $5.95
Juxtapoz #150 Jul 13 $5.99
Shots #120 Sum 13 $6.95
ArtForum Sum 13 $10.00
Creative Review May 13 Annual Special Issue $14.99
Cemetery Dance #69 $9.95
Paleo Magazine Jun Jul 13 $5.99
Maps vol 23 #1 $8.95
Skunk vol 9 #1 $5.99
High Times Aug 13 $5.99
Taproot #6 $9.00
Cinema Retro vol 9 #26 $11.99
Horror Hound #41 May Jun 13 $6.99
Shock Cinema #44 $5.00
Camera Obscura #82 Feminism Culture and Media Studies $12.00
Big Takeover #72 $5.99
Maximumrocknroll #361 Jun 13 $4.00
Filter #52 $5.95
Radical History Review Spr Sum 13 $9.95
Wax Poetics #55 $11.99
Gather #3 Spr Sum 13 $19.99 – Gather is a lushly photographed and deleriously appetizing food magazine (phood fotography?)- their Spring/Summer film issue is no exception with a slew of cinematicly inspired original recipes.
Monocle vol 7 #64 Jun 13 $12.00
In These Times Jun 13 $3.50
Radical History Review Spr 13 $14.00
Tattoo Venus Special #9 From Tattoo Life $9.99
Inked Jun Jul 13 #56 $6.99
Poetry, Lit Mags, Lit Journals, Chap Books
Fourteen Hills vol 19 #2 2013 $9.00
Public Space #18 $12.00
Other Stuff
Gary Baseman Coasters 4 Coaster Set $9.99
Giggle and Pop Magnet Set by Gary Baseman $8.99
More Moleskine planners. varying prices, sizes, formats and colors.